Northeast Ohio Medical University brings world-class strategy execution and performance management to higher education
In Portage County, Ohio, a dedicated team of strategy and innovation professionals at Northeast Ohio Medical University (NEOMED) have achieved a level of digital transformation not often seen in the public sector. Led by Lacey Madison, vice president for strategy and transformation, and Sam Bliss, strategic initiatives manager, NEOMED is bringing strategy execution and performance management to the higher education sphere in a big way. Lacey notes doing so is the best way to measure the execution of their mission and vision for NEOMED.
"Our mission is to harness diversity, innovation, and collaboration to create transformative leaders and improve health through education, discovery, and service," Lacey shared. "This is the core of what we do. Whether we're training physicians or pharmacists, or folks who might work in an operating room, or enabling our high-impact researchers who are advancing discovery in the areas of neurology, or muscular-skeletal research, or cardiovascular health… it is really all about that transformational impact on improving health."
To succeed in this mission, NEOMED's strategy execution and performance management processes have had to undergo a transformation of their own.
Let's take an in-depth look at how they're doing it.
A plan is not a paperweight
NEOMED's journey towards performance excellence starts in the same place as many others–with a strategic plan being used as a very expensive paperweight.
"Up until a couple of years ago, we had a strategic plan that was pretty typical of a lot of organizations," says Lacey. "We went through the process, and then the strategic plan just kind of went on a shelf and got dusted off every once in a while."
Change at NEOMED began, as it often does, at the top, according to Lacey.
"When our new president, Dr. John Langell, joined the organization, it was agreed upon by both the team and the community that we could do better. We went through the strategic planning process again, but this time we had leadership that believes your strategic plan is the infrastructure for how you operate. We refer to our strategic plan in all that we do, and all decision making. It really is the roadmap for how we operate."
It was at this point that both Lacey and Sam created the Strategy Office at NEOMED, and the work to build a better way to execute on their new, expansive strategic plan began. Transcending the "big, ugly spreadsheet," as Lacey called it, quickly became priority number one.
"We created the framework to track the plan. We started in Excel, but we have a complex plan with six pillars and forty-two strategic initiatives," she says. "We created a standardized framework for folks to create action plans, and a prioritization process to evaluate the plans, and then we had to track all of the different components. We ended up with just an enormous and unwieldy spreadsheet, many spreadsheets really, and hundreds and hundreds of pages of action plans."
"We realized pretty quickly that we were not going to be able to manage that. We started to explore the possibility of using a platform that would enable us to align our overarching KPIs and targets and cascade them all the way through the organization so that we were able to identify the work we were trying to do, identify the measures to gauge our progress, and connect that to every person in the organization."
Envisio helps transcend the big, ugly spreadsheet
To banish the spreadsheet that they felt was holding them back, the team at NEOMED began exploring technology partners that could help them organize, track, and report on the progress they were making on their strategic initiatives. Enter Envisio!
"We had pretty high expectations and we evaluated multiple platforms, and Envisio really fit the bill for us," Lacey shared. "We were excited to work with Envisio and, in the last few years, we are fully transformed in using this digital platform. Sam was really instrumental in building that."
In her role as strategic initiatives manager, Sam Bliss is relied upon heavily to ensure that everything involving the strategic plan (and, by extension, Envisio) is running smoothly. Getting the platform up and running, she says, was relatively painless–and the progress that they've made since onboarding the software has been tremendous.
"When we were building the plan, it was quite unwieldy at first for us to have all this information and no way to track it," Sam stated. "We needed a platform to be able to manage it all, which we have found in Envisio. Our strategic plan is growing every day, and it's nice that the system allows us to be able to look at our plan in a more holistic way, to build the reporting that we need, and to keep track of all this information. By the time we got the system and through the training, which was very thorough and very quick, it made everything so much easier."
Sam and Lacey have done incredible work not only in getting Envisio up, running, and integrated into their strategic efforts, but also in shifting the internal culture of the organization to one that embraces the use of this new digital tool.
"It's very user-friendly," says Sam. "To come from where we started, with a massive spreadsheet, to our community using it…I think we have over ninety users, as of today. They're using it, they see the benefits of it. People ask, 'Is that in Envisio?' They want to build out their analytics in the platform, so we're really building a culture around this digital transformation of the strategic plan."
Strategic focus areas provide new solutions for old problems
NEOMED's strategic plan involves many stakeholders. Reporting on a plan like this can prove challenging, but Sam and Lacey have found an ingenious way to leverage Envisio's tagging function to allow them to report on both action plan progress and, as they call them, their "strategic focus areas." 
"Internally, we're organized around a six pillar structure–people, education, discovery, growth, service and community engagement, and operations," says Lacey. "From there, we have strategic initiatives that were identified under each one of those pillars. From an overarching perspective, our goals are things like taking care of our infrastructure, ensuring the quality of our programming, being financially sustainable to enable us to grow and drive our mission, developing quality researchers and students, delivering a quality education and an amazing student experience…we identified forty two strategic initiatives and to connect them, we created strategic focus areas."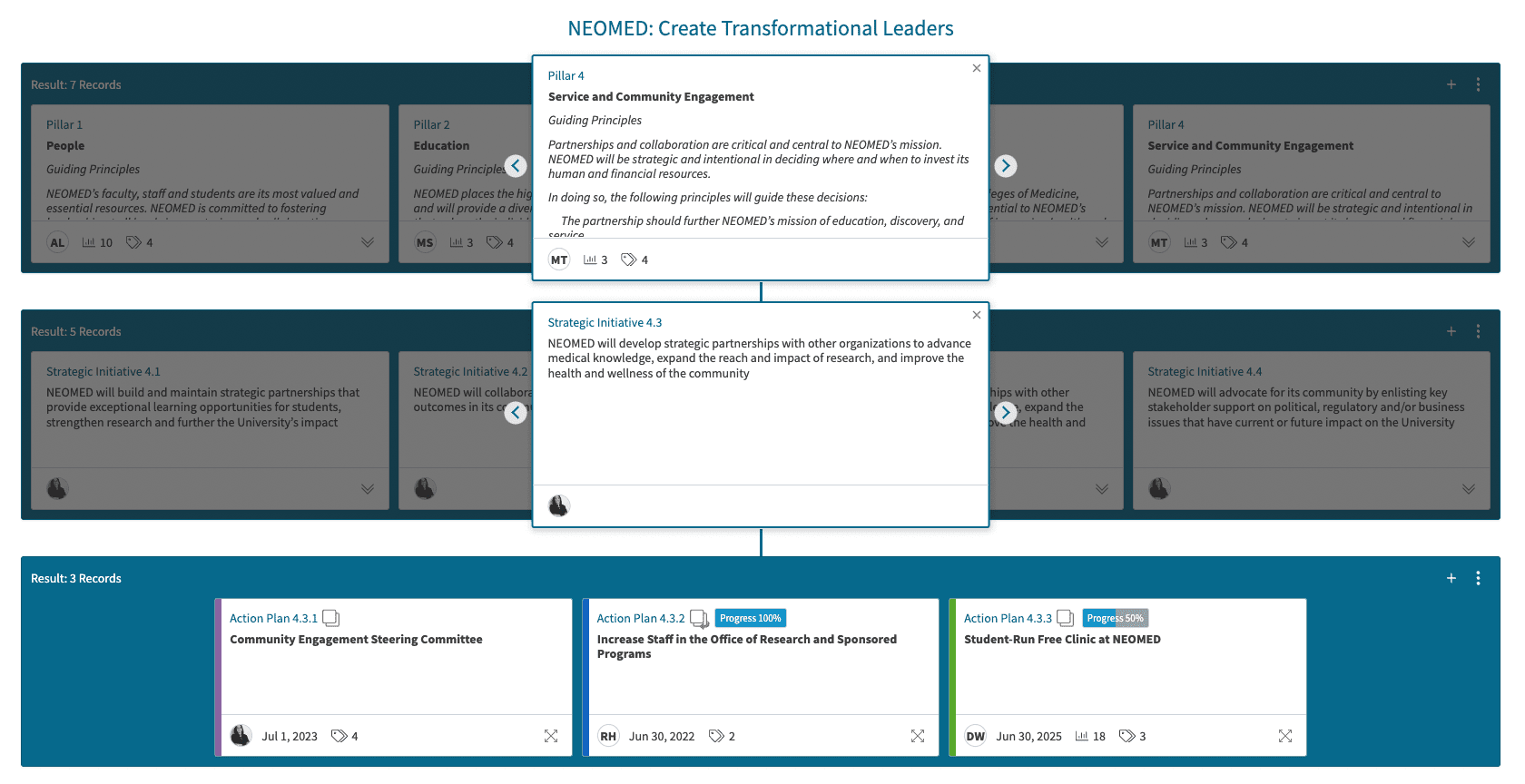 Strategic focus areas are streamlined and include cross-pillar values that NEOMED tracks and reports on. Working with leadership, they have identified four strategic focus areas that permeate all elements of their strategic affairs. They are: 
Exceptional Experience

Diversity, Equity, and Inclusion

Leadership; and 

Developing People. 
"What we've done with Envisio to make it a little bit easier to navigate our strategic plan is to track these four strategic focus areas across everything that we're doing," says Lacey. "One thing that we loved about Envisio was that the way we're set up with our pillars, our strategic initiatives, and then the subsequent action plans, really fit Envisio's structure–we didn't have to change any of that. The platform uses the same language that we use, so we didn't have to do any editing or try to introduce new words into our culture." 
"And we're able to tag each level with our strategic focus areas, so we can easily run a report on everything that we're doing that is impacting DEI or everything that we're doing that's impacting our Exceptional Experience or our Leadership position in the market. We can run that report in seconds and say, "You know what? 83% of our entire strategic plan has a touchpoint here," and that has been really powerful. We use those metrics all the time."
Sam says being able to use Envisio to view their plan from multiple angles has brought a whole new element to their ability to report on their progress.
"Our action plans roll up to the initiatives that roll up into a pillar, but we're able to use our strategic focus area tags to look across the entire plan and know everything that's impacting the Exceptional Experience area," she says. "We can pull a report that then tells us how many action plans within a specific pillar impact our exceptional experience. So we're able to look at everything vertically and then we flip it and look at things from a new angle."
Strategic focus areas have also allowed NEOMED to expedite the difficult task of translating ephemeral, high-level concepts like equity into bonafide results that they can track and report on. It's amazing to see!
"By tagging our strategic focus areas at an action plan level, we can show some actual numbers that demonstrate our progress," says Lacey. "For example, here's qualitative feedback on an amazing diversity, equity, and inclusion program we've launched. And while it doesn't add up to one plus one equals two, it does show that we are operationalizing that concept because we're organized in a way that we can pull all that data and run a report that says yes, we have these graphs that show our progress, but we've also got summative stories or narratives that demonstrate this progress as well. It all contributes to the construct, and it was really important that we were able to do that."