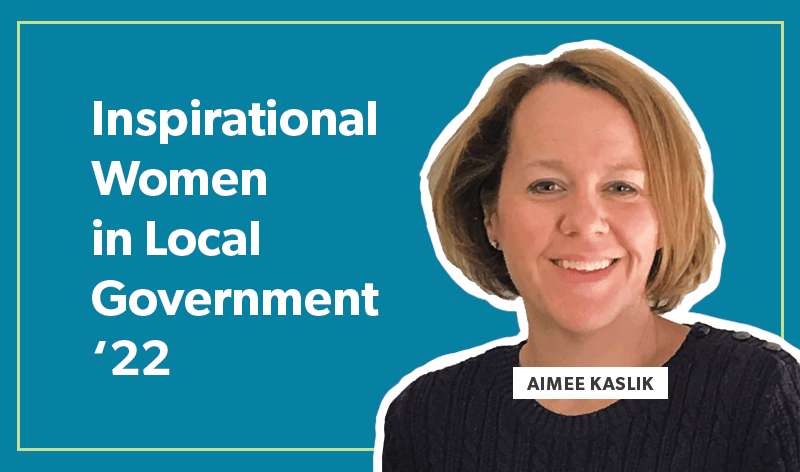 Every year, we celebrate some of the inspirational women we work with in public service who are driving high performance in their local government organizations and positive change in their communities.
This year, as we emerge (hopefully) from two difficult years for gender equality, we wanted to not only highlight the achievements of women but also to talk about some of the challenges they've had to overcome during the COVID-19 pandemic.
We'll be sharing the stories of five wonderful women throughout this International Women's Week. As always, we hope to celebrate, inspire, and educate by sharing some of their wisdom.
Today, we're talking with Aimee Kaslik, Chief Innovation and Performance Officer at the City of Irving, Texas. (You can connect with Aimee here.)
Aimee, what are you reading right now?
This is always such a difficult question. I know I'm supposed to say that I'm reading an amazing book on leadership or empowerment… I am not. I read for escape. Toss a good suspense novel my way, and I'm happy. If you want to talk about professional reads, I've very recently resorted to an app called Headway. During my commute I listen to the cliff notes version of some interesting reads including The Power of Habit by Charles Duhigg and The 4-Hour Workweek by Timothy Ferriss.
Tell me a little about your community, your role, and how you got here.
Founded during the height of the railroad age in 1902, Irving, Texas is located between Dallas and Fort Worth. The city, home to 256,684 residents, encompasses an area of 68 square miles, including Dallas-Fort Worth International Airport. It is the 13th largest city in the state and 95th in the nation. Irving has been recognized as having one of the most diverse zip codes in the United States with nearly 40% of its residents being foreign-born.
Irving has a history of performance excellence. In 2012, Irving became only the second city in the nation to be awarded the Malcolm Baldrige National Quality Award. This is the highest recognition for performance excellence that any U.S. organization can receive. Continuing Irving's tradition of excellence, in 2021 the city achieved silver certification through What Works Cities which is a national standard of excellence for data-driven, well-managed local governments.
How did I get here…? Nearly 25 years of hard work and dedication to local government. I currently serve as the city's Chief Innovation and Performance Officer. I lead a small team that works with departments across the organization to develop strategic initiatives aimed at achieving the city's goals, strengthening data management practices, facilitating process improvement efforts, supporting government transparency, and facilitating customer research and engagement. We are dedicated to improving government efficiency and effectiveness using best practices and national standards, such as What Works Cities criteria.
Prior to joining the Innovation and Performance Office, I spent several years in the city's Water Utilities Department overseeing customer relations, collections, utility billing and meter reading, and utility ratemaking. This role helped hone my analytic skills as I often had to "put the puzzle pieces together" in the early days as I learned the intricacies of conducting a cost of service and preparing for bond sales. I discovered that putting puzzles together and problem-solving is something I excel at.
What are you most proud of professionally?
I'm most proud of the work my team has done over the past three years in making data an asset at the City of Irving. We convened a data governance committee charged with making decisions about how data is collected, used, protected, and made available to stakeholders. We created a council-adopted open data policy and launched an open data portal. We also worked with departments to complete a comprehensive data inventory to make data more discoverable and identify data quality issues.
In the midst of the pandemic, we launched Envisio across the organization. This included publishing two public-facing dashboards. One for the city's strategic plan and another for Irving Connects, the city's smart city initiative. We also created data analytics dashboards that allow departments to analyze data as it relates to each of their key processes and help inform the City Manager's budget decisions.
We recently moved to Envisio as an enterprise system, and I cannot wait to relaunch our public-facing dashboards (coming soon!) with heightened transparency across multiple plans and a greater use of data visualizations to tell the city's story—including this beauty.
We conducted our first ever session of Irving 360 2.0 virtually. This program invites graduates of our civic academy to use data to solve a pressing community issue. As a result of the program's first challenge statement, we launched a resident ambassador program to increase engagement with residents that have historically not been engaged with local government.
Knowing the city's data analytics program was too valuable to put on hold due to the pandemic, we redesigned the eight-week program in a virtual environment using Mural. Participating departments now collaborate online to identify priorities, complete a SWOT analysis, write problem statements, evaluate data readiness, and build project plans.
These last few years have been a time of significant professional and organizational growth. Growth that led to silver certification through What Works Cities. I like to brag that we were told no other city made as much progress towards implementing the program's criteria during that time than the City of Irving. (Oh, and did I mention that we did all of this while I also led the Change Management Team for the city's ERP implementation…?) My next goal is to level up to gold! You'll have to wait and see how we get there….
There is a mountain of research that shows the disproportionate impact the pandemic has had on women. First off, how are you? And are you able to share some of the challenges you have had to overcome in the last two years?
Covid has obviously affected all women, across all demographics but…this is where I get honest and personal. For my family, it has been a time of devastating loss. As the daughter of a former police officer, I've always lived with the knowledge that someone you love today could be gone tomorrow. That certainly proved true during the last two years. Through all of this, I've learned that a life that I thought was in balance, was most definitely not, and there is a cost associated with that. I'm still striving to find the balance I need as a wife, a mother, a friend, and a professional. I'm committed to no longer missing big events in my daughter's life as she grows into an amazing young woman. This included me being witness to her first Chinook flight, which I wouldn't have missed for the world! Next up, college tours. I hope that if nothing else, I've taught her that she can be anything she wants to be and that there is NOTHING (including her gender) that can hold her back.
The theme for this year's International Women's Week is "break the bias". What can we ALL be doing to break the bias and foster greater gender equity in our workplaces?
With the local government workforce aging, there is a significant opportunity for women to move into leadership positions. We need to be doing the work now to ensure that women are in place to take on those roles. Each person, regardless of gender, needs real and meaningful access to opportunities that are based solely on their merit.
There is also an opportunity for women to be more authentic in the way we lead. In the past, a woman needed to "act like a man" to reach her full potential. Women have unique workplace challenges and lived experiences that should impact an organization's approach to achieving its goals. We need to understand the systematic biases and roadblocks that can silence diverse voices and lead to unintended consequences in policy decisions.
Are there other amazing women you know in public service that deserve a shout-out? Celebrate them here!
Vicki Eber, Homeless Policy Advisor, City of Boulder. She is a long-time friend, confidant, advisor, and world-travel buddy.
And, most definitely, Lacy Lewis with her passion for local government and Gabrielle Nguyen for her drive and determination. With these two, the future for women in local government looks bright!