You've got ideas about equity, and you know you could be doing more to create an inclusive, diverse, and equitable workspace. Your team is on board with advancing an equity action plan, and everyone agrees that systemic change in your organization is a necessary thing to do.
But what comes next?
Implementation of high-level goals is an area that many organizations struggle with. Operationalizing equity–actually putting a plan into action–is a critical aspect of creating a successful and sustainably equitable organization.
"Equity" is a structural concept, meaning it is generally evaluated at a systemic level. To achieve this kind of higher-level organizational goal, the gap between the individual and the organizational level needs to be understood, in order to know what needs to be changed.
Taking a high-level concept like equity from idea to action requires concrete steps towards promoting fairness, equality, and addressing imbalanced social systems. Embracing a strategic planning solution can help translate higher level goals into achievable actions, so here are some more tips on how to operationalize equity.
Define your scope from the start with clear equity goals
Clearly defining equity–and establishing your success markers and performance indicators–will be key in ensuring your equity action plan is implemented. Equity is a goal rooted in the idea that justice is fairness, so you will need to get clear on what that looks like for your organization.
For instance, perhaps you want to attract and retain more racially diverse people to your leadership team. Defining equity means asking yourself and your organization, frankly and honestly, what potential current systemic barriers might be in place for such a leadership role. A question like, "How can we be more equitable?" is harder to answer than "How can we make this leadership position more attractive to racially diverse people?" The latter question is strategically minded, and it will make the next steps less abstract and easier to implement.
Here are a few other examples of equity goals from some of our customers:
Conduct frequent equity audits
You'll want to investigate where you may be falling short from an equity perspective. The reason this is important is it gives you the right next step.
Sonoma County, California, for instance, gathered data to lead the way on their decision making. They are mapping out the number of workforce applicants by race and ethnicity and comparing them year by year. This data will help Sonoma County ensure that interview panelists are educated on interview biases (and how to challenge them), as well as assist in developing supplemental or alternative interview questions or exam processes.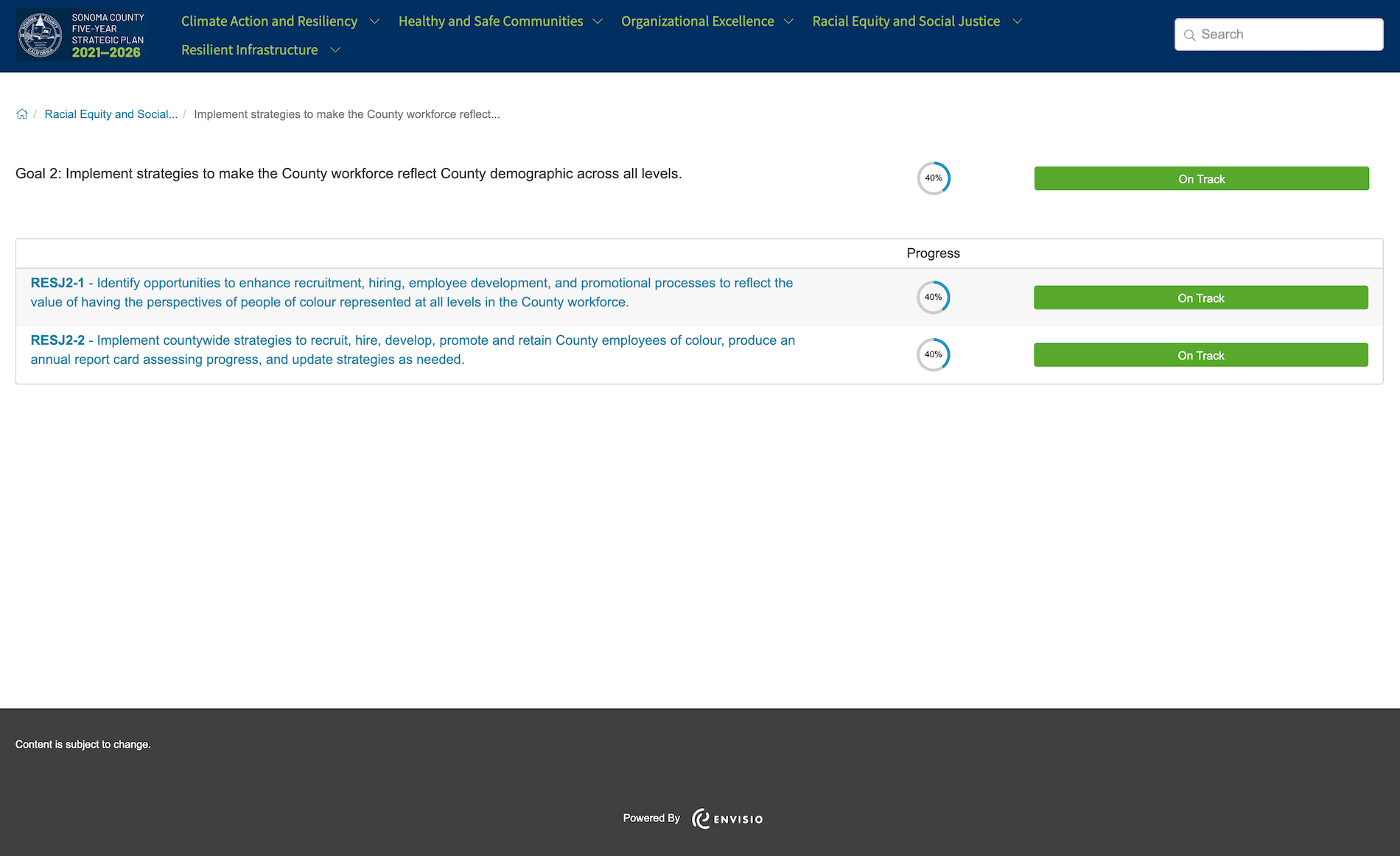 When you conduct your equity audit, you may find that it turns out you have requirements for a role that are not necessary, but that are materially excluding an entire group of people (such as requiring applicants to work in the office when your office is located in an area far away from where diverse communities actually live). Gathering quantitative and qualitative data through tools like surveys or interviews are ways you can start questioning your requirements, assumptions, and biases will help you in taking your next actionable steps.
Get team alignment on budgeting and S.M.A.R.T goals
Philadelphia recently released their Racial Equity Strategy Dashboard, and it's a great example of achieving greater organizational alignment around specific and measurable goals. Their efforts on equity strategy were explored in depth in "Charting an Equitable Future" by Bloomberg Philanthropies as part of their What Works Cities: City Budgeting for Equity & Recovery program. They achieved clarity on budgeting efforts and have tracked careful data for each department.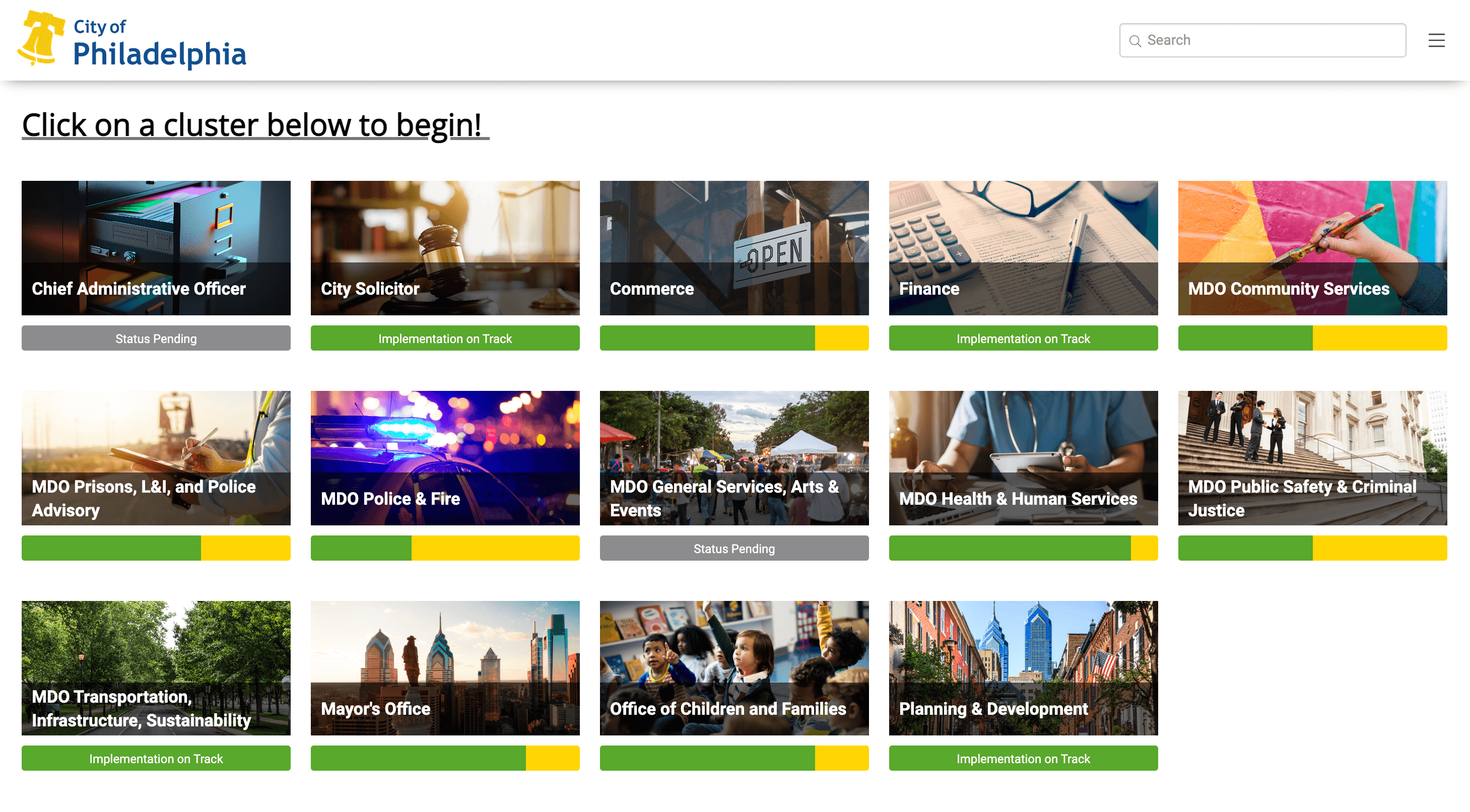 As of August 2022, 23 departments in the city had completed a Racial Equity Action Plan. Movement towards these goals was broken down and measured. The continuous tracking and measurement of progress maintains organizational alignment and allows staff to identify issues early, and get a greater understanding of how to implement plans.
This is how you can help ensure that your plan is operationalized. By ensuring clear alignment and open communication across departments, you're able to move in step with one another and challenge systemic issues in a similarly systematic way!
It's important to remember to keep actions and goals SMART: Specific, Measurable, Attainable, Relevant, and Time-Bound. Achieving higher level change can be hard, and equity can easily become a buzzword when not grounded in action.
Action speaks louder than words; trying to make an action like "be more equitable" is vague, and difficult to communicate both to your team, and potentially to the group you're trying to attract. But a goal like "Hire three paid interns from historically low income colleges by next semester, prioritize BIPOC and underrepresented applicants" is much more grounded, and concrete. "Challenge bias during the hiring process" is a bit vague, but a survey where people can safely self-report their experiences during the hiring process, and their thoughts about questions asked, and approaches, and regular check-ins with staff, is more concrete.
A dashboard is a great way to visualize this process both internally to maintain alignment, and externally to your constituents.
Assign responsibility for operationalizing equity actions
Because you've taken the time to break down your equity action plan into strategic, measurable, deliberate steps, you can strategize on which steps are being carried by which individual/part of your organization. Top-down change is important, but so is bottom-up. Instead of relying on change to come only from the top, or only from the middle, real, systemic change needs to be integrated throughout your organization across all levels. For instance, strategic planning can help clarify whose responsibility it is to double check that your job postings don't have biased language, or aren't excluding a group of people. Assigning responsibility to people across the organization makes it clear that equity concerns everyone.
Benchmark your efforts against other equity leaders
After you've communicated the role everyone plays in your organization's structural shift towards fairness, you need to also make sure that people receive adequate preparation for how to implement those goals, and that they clearly understand the "why". One way to do this is by benchmarking your success against other equity leaders (which can double as a form of equity training!)
Look to other leading examples in the public sector around equity strategies. Things like Roseville's Racial Equity Toolkit, a part of their greater Strategic Racial Equity Action Plan, are a great example on how the relevant training can ensure that the changes you are seeking to make are sustainable, habitual, and ingrained in your greater organizational goals.
Monitor and adjust as necessary during implementation
Gathering the data, planning SMART next steps, getting everyone on the same page, and training them, won't be enough to achieve equity on its own. When your changes are actually up and running in your organization, you may find that new, surprising, and unforeseen challenges turn up.
You may, at first, feel that one issue is solved, and another one seems to pop right up. This is because structural, large-scale change usually involves problems that go much deeper than they initially appear. This is a normal part of operationalizing equity, and it isn't a reason to abandon the plan. Rather, go back to your team, re-evaluate your goals or strategic plans, solicit community feedback, adjust, and carry on.
You're not starting over, you're starting from a place with all of the insights you've already gathered. Continual readjustment will prevent stagnation or stalling altogether!
Operationalizing equity should be built into the structure of the initial plan itself. Because operationalizing equity ultimately involves embedding equity considerations into the day-to-day operations and decision-making processes of an organization, it can be difficult to maintain a high-level overview.
These steps will help keep everyone on your team committed to a clear plan of action. Examining where you are, and where you need to get to in terms of having a more equitable workplace or community, is a chance to create change for the better. By embedding equity considerations into day-to-day operations, organizations can benefit from talent retention, community satisfaction, and a positive impact on individuals in the workplace, the community, and society more broadly.
We hope this has left you feeling excited about taking the next steps towards creating more equitable spaces!
Looking for more ways you can implement those high-level strategies? Check out our Strategic Implementation Guide!