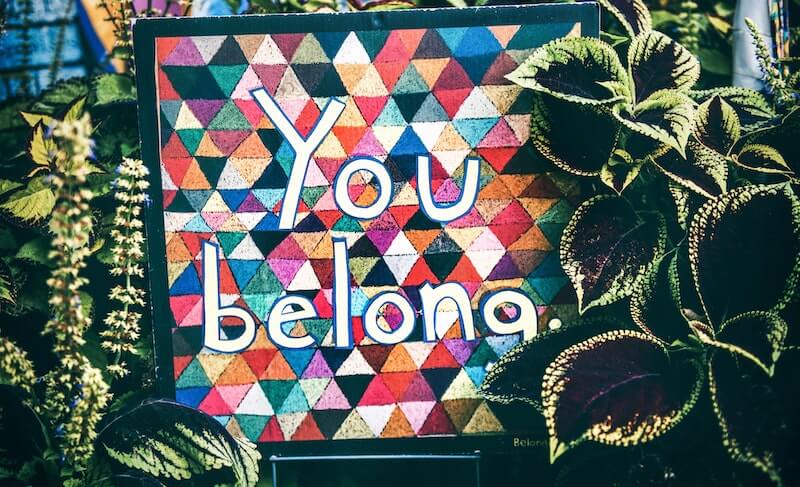 Today, we are going to look at three examples of inspirational diversity, equity, and inclusion (DEI) strategic plans in the public sector, what makes them truly great, and how to put them into action.
Before we start, I would like to acknowledge that, for many, there is a strong preference and recommendation to lead with "Equity" over "Diversity" in the formation and discussion of such plans – Equity, Diversity and Inclusion (EDI). Further, some of our customers include the concept of "Belonging" as a critical pillar of creating inclusive workplace plans – Diversity, Equity, Inclusion, and Belonging (DEIB). In this post, we will look at three types of plans that actually lead with Equity, and pursue the ideal of Belonging. However, as "DEI" is still the most commonly used term within our customer base, we will use that as the overarching term for this post.
Diversity, equity, and inclusion is important across all sectors, but is particularly crucial in the public sector. Because public sector organizations respond to the needs and values of a community, it's especially important that DEI goals are factored into any decision-making that will go on to impact that community. Whether it is fighting for racial equity, or challenging institutionalized sexism, combating the ways in which systemic inequity harms a group of people improves the overall vitality of a community.
That said, it can be easy to get mired down by the big picture. Equitable and diverse in what ways? What is a diversity and inclusion strategy? What should you look for when measuring DEI success?
And the really tricky (but golden) question… how do we need to change?
Worthwhile but high-level goals such as "equity" or "inclusion" can get stuck before lift-off if they are not grounded by a DEI strategic plan that takes those ideas into actionable steps.
At Envisio, we are proud to provide strategy and performance management software exclusively to public sector organizations, and we can point to some of the wisdom from our clients. While they're across different areas of the public sector, what they share in common is their commitment to inclusivity, equity, data-driven decision-making, and being transparent about their progress with the communities they serve. (Note – everything in his blog post is publicly available information, via their Envisio-powered public dashboards!)
So, let's take a little journey and look at the DEI strategic plans of three leading public sector organizations (a city, a public school district, and a university), all of whom have trailblazing DEI strategic plans and have chosen to use Envisio to help them implement their plans and track performance.
Change that starts at the top – City of Roseville, MN
A good DEI strategy takes into consideration all of the people who make the plans, from ideation down to execution. For instance, a diverse group of policy makers, decision makers, and change-agents are going to be more likely going to catch gaps in policy and examine processes that may otherwise go unquestioned. This is important, because who ends up feeling those forever unquestioned gaps the most? The community at large.
That's why we love that the City of Roseville, MN, is embracing change right at the top.
Race is a primary factor when it comes to unequal access to education, housing, and healthcare, as well as representation in the workforce, experiences of public safety, and opportunities for entrepreneurship. That's why Roseville's focus has been improving racial equity as part of their citywide improvement plan.
Envisio has partnered with them to help them execute their Strategic Racial Equity Action Plan (SREAP), which is their means of measuring DEI success, and adjusting action accordingly.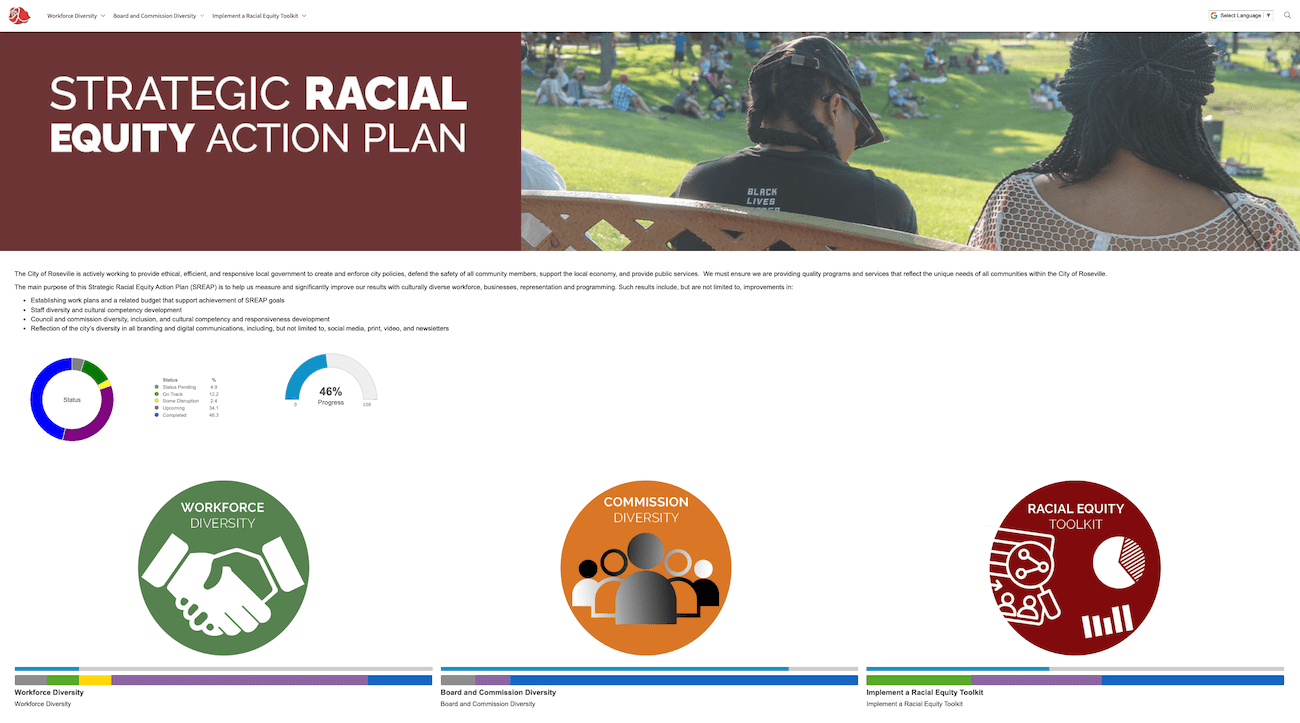 Roseville's SREAP has three main targets:
Diversifying the workforce
Diversifying its boards and commissions
Implementing a racial equity toolkit
Through these three pillars of structural change, Roseville is aiming to improve their workforce, businesses, overall representation, and programming.
These three targets are further broken down into "PLAN", "DO", "CHECK" and "ACT" objectives. Their "PLAN" sections include mapping their city government's workforce recruitment, hiring, and retention process.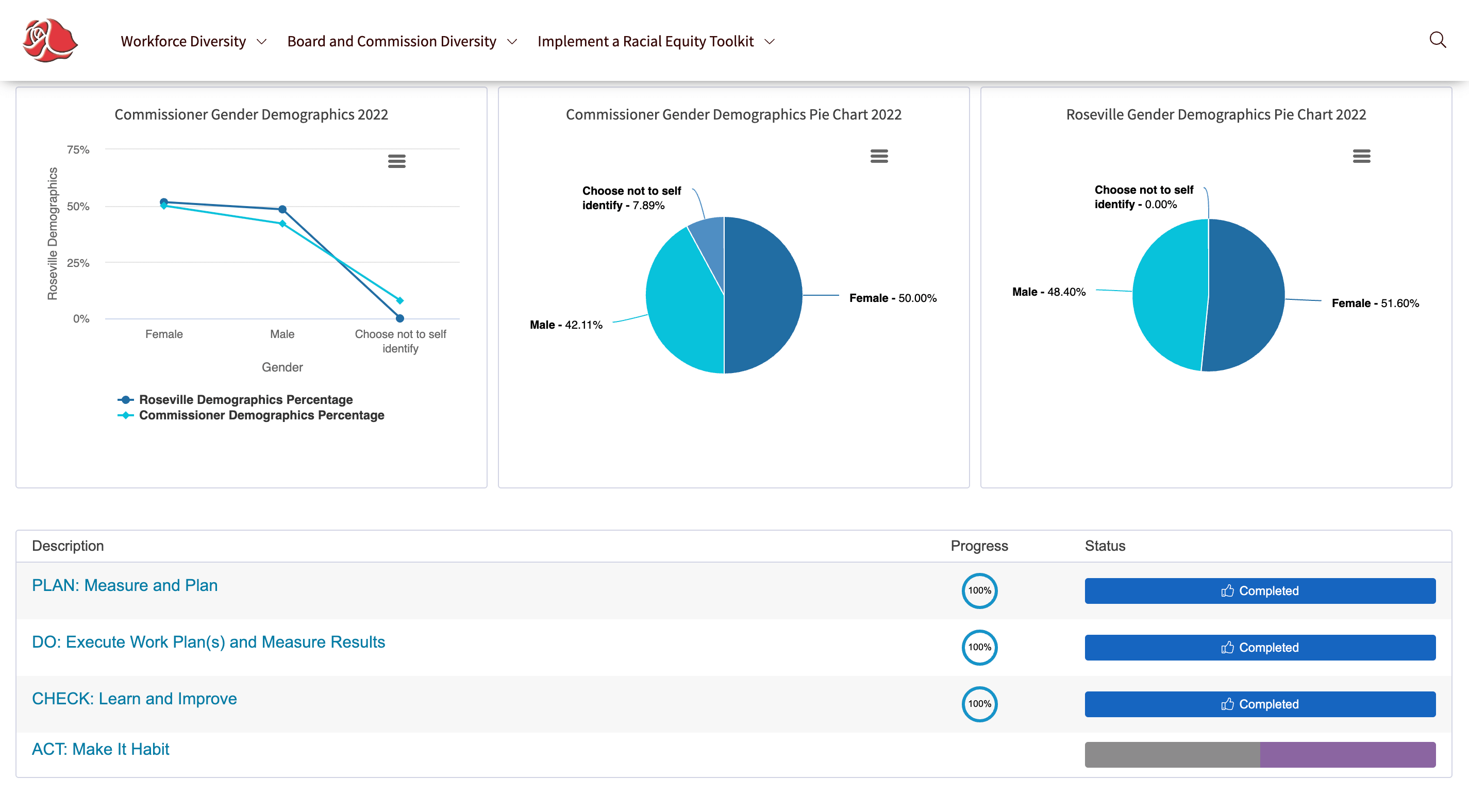 By laying the careful, data-informed groundwork for their next steps, they are improving the overall efficiency and responsiveness of their local government and city policies from the top down.
The transformational power of planning – Portland Public Schools, OR
As educational professionals, Portland Public Schools recognizes the urgency of combatting systems of oppression at every level.
They also recognize that this is no small undertaking; improving the experience of students, staff, faculty, and parents means taking every part of the system to task. Such a vision requires a combination of tenacious ambition and grounded strategy.
Good thing the team at Portland Public Schools has both!
"Forward Together: PPS's 2021–2025 Strategic Plan for Racial Equity, Inclusion and Excellence" is part of Portland Public School's multi-year strategic plan series for their district. They have structured their aspirations around four key areas of focus:
Racial Equity and Social Justice
Inclusive and Differentiated Learning for Every Child
Professional Excellence and Support
Embracing Change
Each one of these four pillars is supported by robust and data-informed action plans that aim high, and don't settle. For example, for Inclusive and Differentiated Learning for Every Child, they really mean every child, regardless of ability or learning need. Through the development of tools such as their Multi-Tiered System of Supports, they are using data-based decision making to support students across backgrounds, abilities, and learning needs – universally and individually – and they are integrating Racial Equity, Social Emotional Learning, and Restorative Justice practices into the learning culture.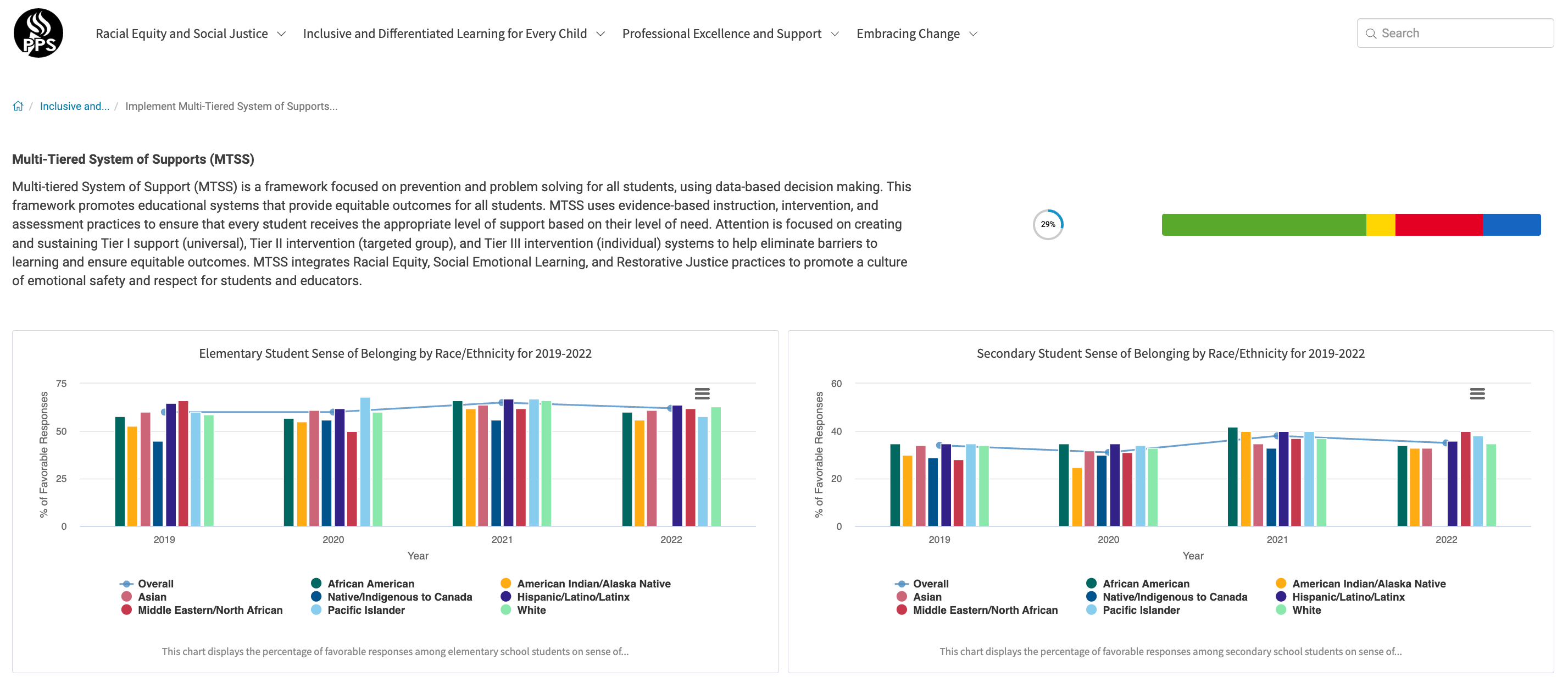 By measuring individual sense of belonging by race/ethnicity, they are gathering the pieces of the puzzle that will give them the picture of what's working and what isn't. This data, combined with community feedback and educational professionals, goes on to inform the development of future tools, centers, and practices.
An integrated approach to inclusivity – Northeast Ohio Medical University, OH
Too often, a DEI strategic plan ends up being siloed, and not fully integrated into the larger organizational scheme.
At Northeast Ohio Medical University (NEOMED), however, inclusive strategies are folded right in with their overarching organizational goals.
They have embraced strategy software to develop and implement a holistic and dynamic strategic DEI plan, supported by meticulously collected data, as part of their five-year Creating Transformational Leaders Strategic Plan.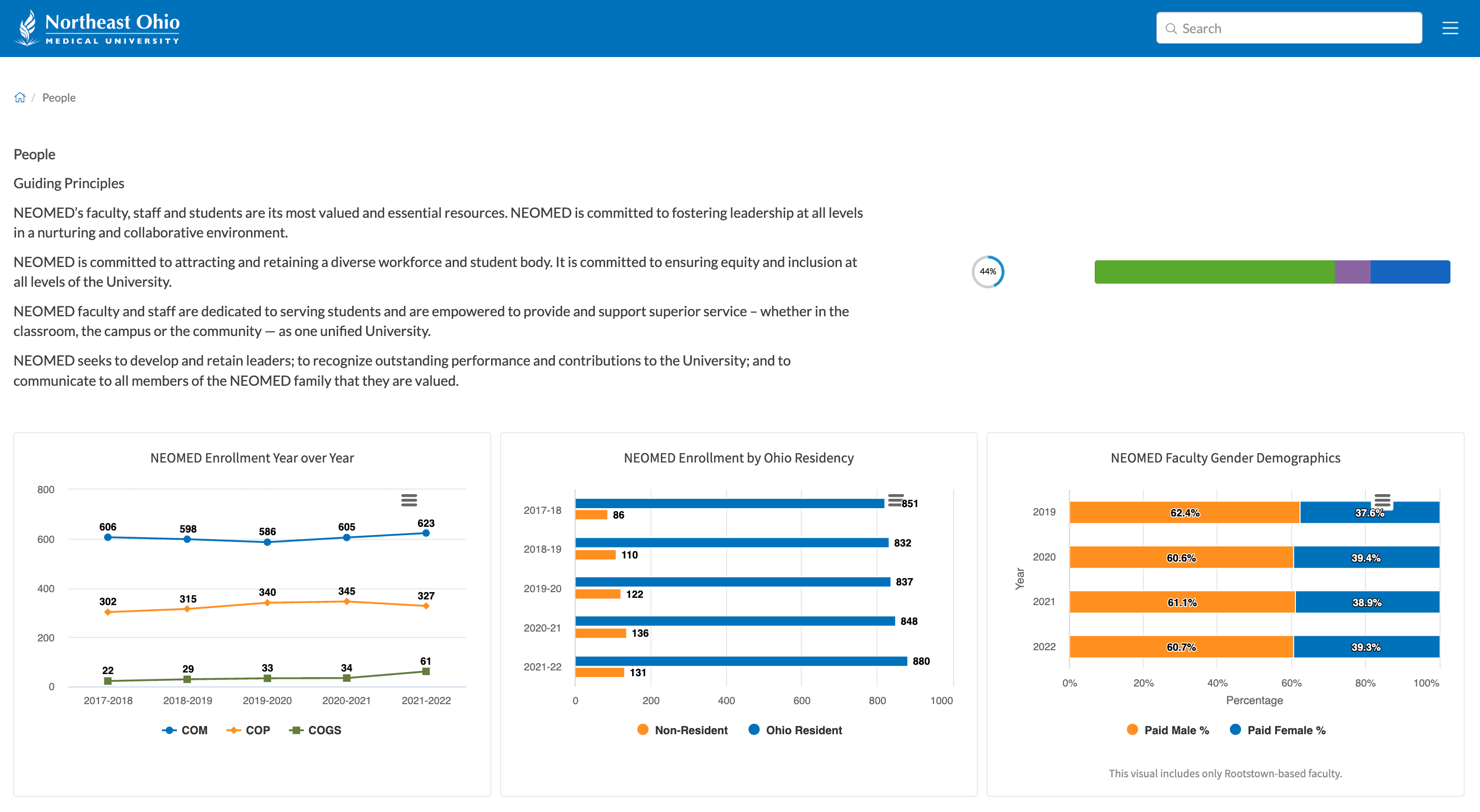 We love the way NEOMED's values of "attracting and retaining a diverse workforce and student body" are at the heart of their overall strategy. Guided by the mission of "harnessing diversity, innovation, and collaboration," NEOMED's plan is organized by a six pillars:
People
Education
Discovery
Service and Community Engagement
Growth
Administrative and Academic Support Operations
And across these six pillars, action is broken down to a stunning forty-two strategic initiatives.
To connect them, NEOMED created what they call "strategic focus areas".
Strategic focus areas are cross-pillar values that NEOMED tracks and reports on. These four strategic focus areas permeate all elements of their strategic affairs:
Diversity, equity and inclusion
Exceptional experience
Leadership
Developing our people
Using Envisio, the university was able to tag each level of their plan with a strategic focus areas, so that they could easily run a report on everything that's happening that is impacting DEI.
Keeping DEI as a top priority dispersed across plans has important implications not just for ensuring a positive experience for the faculty, students, and staff, but also because NEOMED is training future medical professionals.
Their DEI priorities are broken down into actions such as: increased cultural competency training, recruiting a diverse student body by fostering high-impact scholarships, and collaborating with community spaces and mobile clinics to reach a diversity of populations needing care. They are careful to measure their performance as a university in these areas, so they are able to keep the plan responsive and relevant.
Ensuring that their institution is one where diverse genders, races/ethnicities, cultures, and backgrounds can attend, learn, and share their experiences means they are remaining on the cutting edge of truly inclusive medical innovation.
The vibrant potential for your DEI strategic plan
Every community and organization is going to look different, and the obstacles that one community faces will differ from another–however, there are still overarching themes that negatively impact feelings of safety, engagement, and belonging. The realities of oppressive and discriminatory forces compel the public sector to face these challenges with courage, practical tools, strategies, and action.
There is no "one-size-fits-all" approach in the pursuit of equity, greater diversity, inclusion, and belonging, but we can see some themes that emerge from these three DEI strategies. These Envisio clients demonstrate approaches that are unafraid of ambitious steps, that tackle change at the very top, and that integrate their DEI plans every step of the way.
Being in a community is just part of being human. When living among one another, consciously or unconsciously, we are impacted by each other's stories, hopes, and ambitions.
A good DEI strategic plan recognizes this fact, and elevates it: our differences are our strengths.
A great DEI plan has the potential to spark greater celebration of oneself and others, greater senses of belonging across difference, and at its core, create equitable, engaging spaces for people to thrive, collaborate, learn, and innovate.
Looking to get started on building an actionable strategic plan? Why not download our guide, From Strategy to Action: A Guide to Operational Planning for Local Governments & Public Sector Organizations, for tips on how you can get the ball rolling on your dreams for your community or organization.
Get the guide ↓