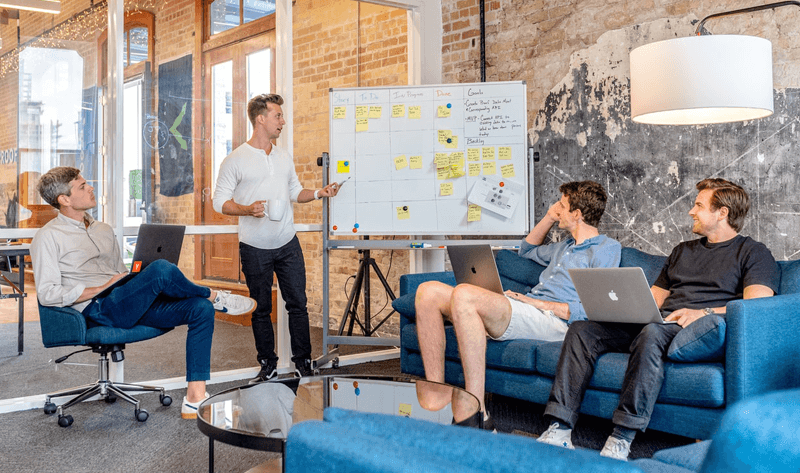 For some organizations, the decision to acquire cloud-based software to plan, analyze and share planning and performance data requires a formal bid process. Depending on local policies this may be as simple as issuing a request for a quote to compare pricing or as complex as a full request for proposal (RFP) evaluation process.
Being as specific and complete as you can with the scope will ensure that you receive bids for the solution that best fits your needs. Since every jurisdiction's procurement process is unique and requirements vary, we suggest that you focus on building a project scope that gets you proposals that meet your vision and desired outcomes.
There are two key elements to a good scope: the project goals and the features list. Project goals describe your vision for the project and the outcomes you're hoping to achieve and the features list defines what you want the planning and performance management software and support to do.
Project Goals Examples
Below, I've identified a number of common project goals and outcomes we see in RFPs. They are usually focused on the rationale behind the purchase and help vendors understand if they're a good fit for your project. It's critical to share this with vendors so they can demonstrate how their solution will help you achieve your goals.
Typical goals include:
Build trust between staff, elected officials and your community
Execute strategies and complete projects
Get visibility into status and progress against plans and keep teams focused
Collect, analyze and visualize performance data to drive better decisions
Promote a culture of accountability and transparency
Enhance communication and collaboration with real time plan access to staff in multiple departments and locations
Align performance measures with plans
Share your story with external stakeholders via interactive public dashboards
Providing high level goals ensures that vendors understand what outcomes they'll be judged by and helps them build a proposal that focuses on desired outcomes instead of focusing solely on features.
Key Features
Features are a critical element of your scope, to ensure you get the functionality you desire. Features come in two flavors—required (must have) and optional (nice to have). The required features are the most important elements you expect to have in the software, the ones that make the purchase worthwhile from your perspective.
Examples of required features might include:
Unlimited users
Multiple, linked plans
Community dashboards for each plan
Notifications to users when updates are due
Automated and manual data loading options
Optional features are the "nice to have" functionality that you find desirable but not critical. When constructing your feature requirements, use a table that identifies the feature, mark it as required or optional, and provide space for each vendor to describe how their product meets the need. Leave a couple of blank rows in each section for the vendor to identify unique features that they have that you may not be aware of.
Examples of optional features are:
Custom update templates for users
A separate area for action planning
In-app chat
Typical sections for this kind of software include system administration, planning and execution, data analytics and visualization, reporting, community dashboards, user experience, infrastructure, product support, and professional services.
The image below highlights 7 of the 100+ key features of planning and performance systems to consider as you develop the scope for your RFP.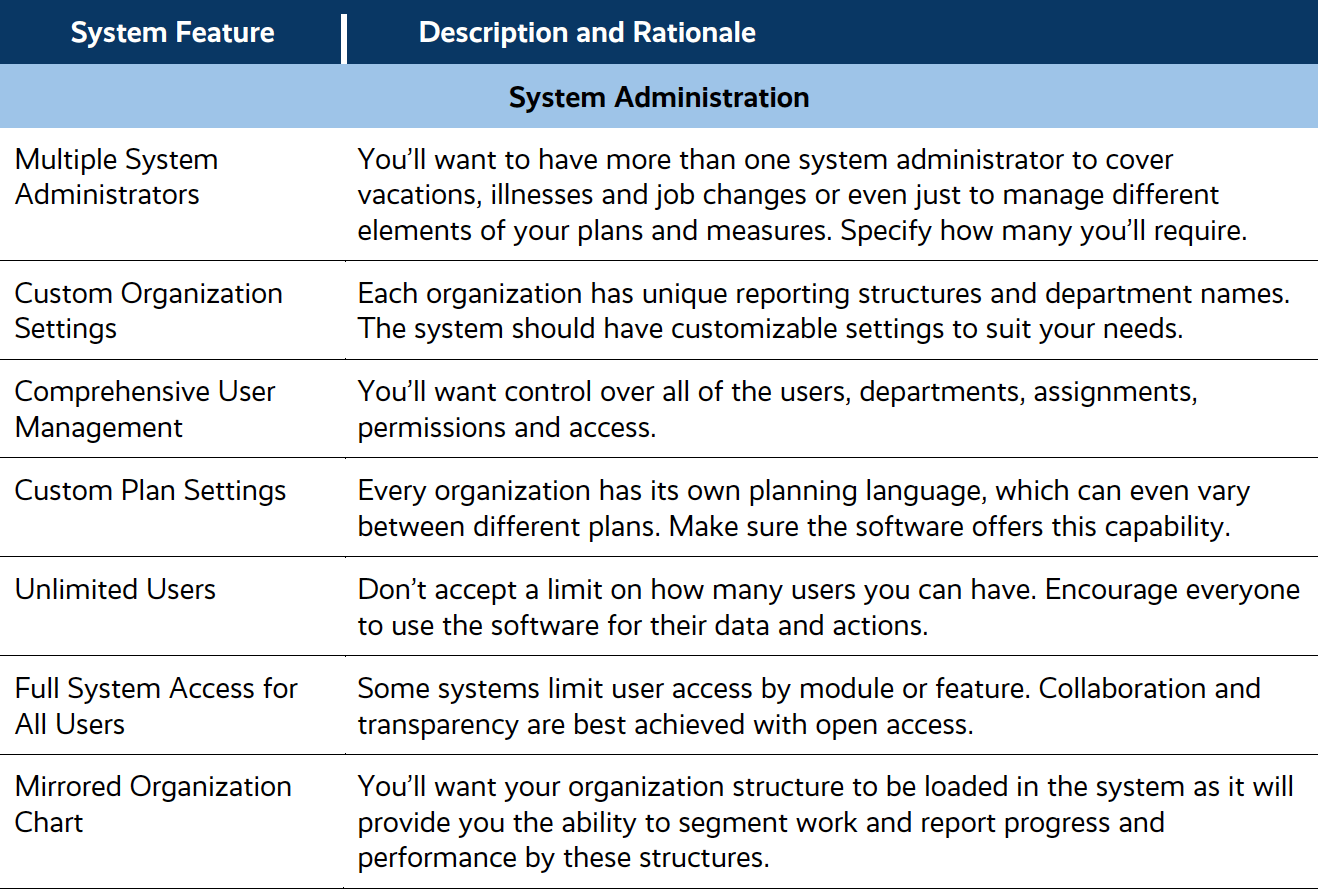 We've created a Request for Proposal Scoping Guide that includes suggested project goals and an exhaustive list of features ready for you to download as a PDF. Simply enter your email below and we'll send you a copy.
Get the guide ↓