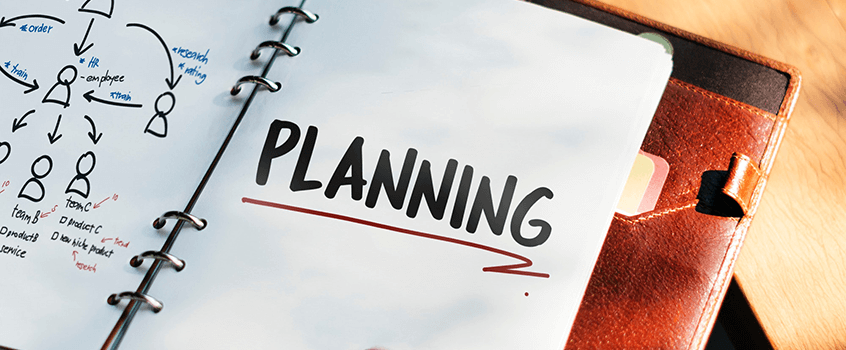 Traditionally, strategic and operational planning have been approached separately. But, this has proven problematic. More often than not, a strategic plan with well-defined goals, strategies and objectives can quickly become overly complex and confusing if the way it's being operationalized and implemented isn't clear or aligned with your strategy.
The ideal situation
Organizations see the best results when they intertwine their strategic and operational plans and approach them as a one-two combo. Simply put, effective operational planning is linear planning and it's guided by your strategic plan as follows:
Start with your vision
Define your goals
Map out your strategies
Plan out your actions
Assign resources – people, technology, budgets and more
Monitor your progress
Make small adjustments to your operational plan as needed
Define operational initiatives
First things first in operational planning: Define the initiatives necessary to execute on your strategic priorities. This is where you determine how to get from point A to point B in the most efficient manner. Each strategic priority you set will be accompanied by an operational plan that outlines:
All the actions that must be executed on
All the resources that must be managed
All the metrics that must be measured to ensure the achievement of that goal
After all, you can't improve what you can't measure. In this way, your operational plan dictates whether or not your strategic plan meets with success or not.
Take baby steps
Once your strategic priorities have been defined and your operational plans have been created, you can then break down your individual operational plans into smaller, more manageable projects with each one designed to take a baby step toward your ultimate goal. It's at this stage that the smaller details are brought into focus, such as time frames, technology and people requirements.
Determine the necessary resources
As your strategic priorities come into focus and your operational planning kicks into high gear, you can start allocating resources. As always, be realistic. Don't shortchange yourself in terms of the time and human resources necessary to complete each task. Such misjudgments will only come back to haunt you later in the form of missed deadlines and missed details. Look at past performance as an indicator of what to expect and plan accordingly.
Technology as a potential solution
If you're an innovative leader, you've likely already thought about how you can streamline the completion of activities and management of resources via affordable technology solutions. But, not just any technology solutions. You're looking for solutions that not only empower your employees by giving them the information they need to make timely and informed decisions but also help them automate a lot of the more tedious elements of their job like reporting and data aggregation.
Budget planning
Resource allocation and management is critical in operational planning because it dictates how you plan out your budgets, where and when you'll need funds and when you can expect projects to be completed. The last thing you need is to run out of money halfway through a project because cash flows and deliverables weren't adequately forecasted. Perform cost-benefit and ROI analyses early to keep budget estimates as accurate as possible.
Always look at the big picture
This includes:
Grouping together similar projects and tasks so that resources can be shared
Determining specific, yet reasonable, timeline
Considering resource allocations
Ensuring all department activities and projects are aligned with your strategic plan
Communicate your priorities
Make sure everyone involved in the creation and execution of the operational plan understands two things: WHAT strategic goals you're trying to achieve and WHEN you need to achieve them by. This, my fellow operational and strategic planners, is something we here at Envisio like to call the "direct communication of priorities." Roles and corresponding responsibilities must be assigned to create a system of accountability.
Assign roles and responsibilities
Clearly defining roles and responsibilities as well as communicating organizational priorities helps each individual member of your team better understand the big picture. They can see exactly how their unique contributions help serve the greater good by moving the company closer to your strategic goals. This is how you connect your people back to your plan.
Monitor and manage performance
To ensure that your strategic plan and operational initiatives are working, you have to monitor and manage performance. This involves identifying, aggregating and reporting on key metrics and progress commentaries that allow you to accurately measure the success of your actions in real-time. When you give your managers full visibility into the status and progress of your strategic and operational plans at any point in time, you're putting them in a power position to make informed decisions that best serve the organization.
Measuring performance allows you to adjust your plan for efficiency. Sometimes adjustments must be made to avoid failure and other times, you'll need to adjust your plan for next steps because you've finally reached your strategic milestones. Remember, the best plans are the ones that evolve continuously over time. Set a plan in stone, and you just might sink!
What are you doing to create a synergy between your strategic and operational planning process?
Get the guide ↓