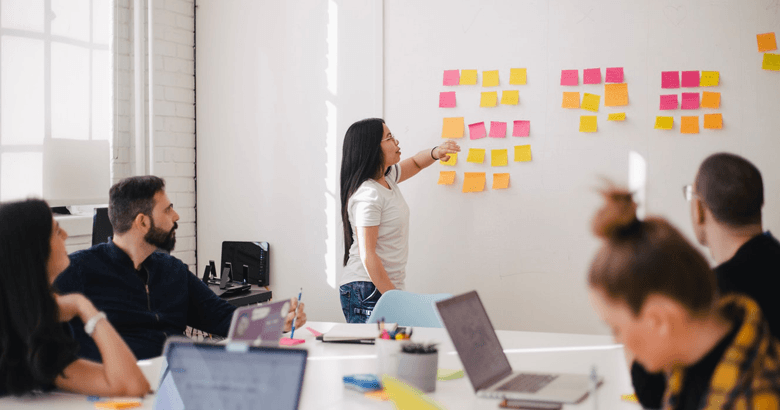 We recently had a customer of ours inform us that she's had great success getting her team more engaged with her organization's strategic plan implementation process.
Here are the 4 tactics she used to not only engage her employees and create organization-wide buy-in, but to also make the implementation, tracking, and reporting process fun for her employees.
1. Create department champions to promote engagement and buy-in
Naming one person in each of the city's departments as the 'go-to guru' helped make employees feel more connected with the new technology and software that our customer was using to help her implement and achieve her strategic priorities. These Department Champions understood the software and were able to act as the resident support expert whenever a team member had a question on how to use the application and how he could apply the software to his daily work.
These Department Champions played a crucial role in keeping everyone on track when inputting their metrics and progress commentaries, which ensured that the organization's senior leadership team enjoyed 24/7 access to a wealth of real-time performance data.
2. Lunch and learn sessions
Whenever an organization decides to adopt a new software or technology, there are obvious initial learning curves that must be addressed. One of the ways our customer was able to bridge that learning versus doing gap was by scheduling in Lunch and Learn sessions with their employees. Staff would be gathered into the office boardroom, lunch would be catered in, and the software would be reviewed as a team. As a group they go over new features, share quick tips on how to use the system effectively, and open the floor for any Q&A.
Our customer found these quick, refresher training courses extremely helpful in keeping employees engaged with strategy and consistently using the software to help them stay focused on their day-to-day work and long-term objectives. She found these Lunch and Learn sessions especially beneficial for employees who were newer to her organization and did not have the same level of in-depth training as the rest of her team who had been onboarded months ago.
Our customer instituted monthly, internal newsletters created by staff members from different departments that help foster a work culture that is rooted in communication, collaboration, and teamwork. Content is centered around announcing team achievements, performance milestones, and recognizing employees who have gone above and beyond the call of duty, just to name a few. Updating her team on the success and progress of her organization's strategic plan implementation process was a great way to keep them consistently engaged and on-track with their own strategic priorities.
If there are employees within your organization with specific talents, such as writing or graphic design, this could be another way for them to showcase their abilities and add value to the team in different ways. Our customer shared with us that employees seemed more engaged with the strategy implementation process once they received the newsletter up and running, and that staff were already looking forward to creating and reading the next one.
4. In-house contests
A little competition never hurt anyone, right? Our customer made each of her departments into teams and had them all entered into a monthly prize draw that senior management used to incentivize their teams to use the strategic plan implementation software. Not only has the friendly competition improved organizational morale and encouraged more teamwork, the gamification of tasks has resulted in increased employee productivity and software usage.
Now that you've learned how one customer engaged her staff and achieved full organizational buy-in with her strategic plan implementation process, how do you plan on doing the same?