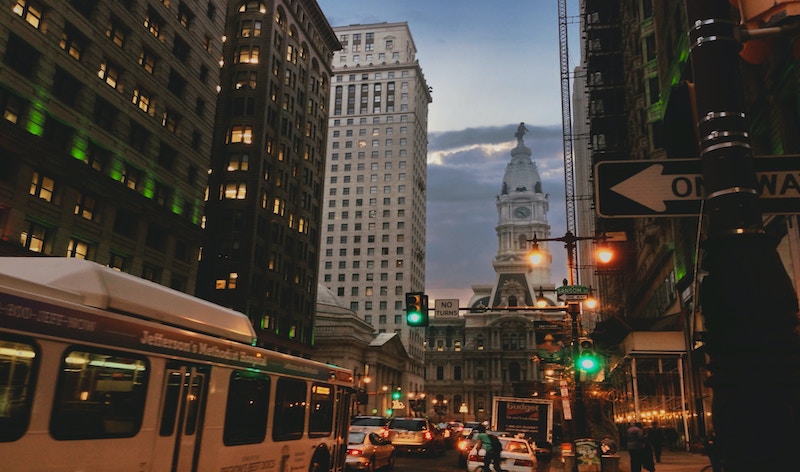 What's the key to your community's success? The answer is your city's strategic plan. The strategic plan of a city determines what visions you bring to life, and how you intend to do it. A city strategic plan defines a vision for everyone to rally around, keeps employees engaged, and provides a sense of direction for community members. Having a shared vision and sense of direction also helps instill a sense of trust and goodwill with your community and other key stakeholders. When community members are able to see where you're trying to get to, or see the outcomes of what you've already achieved, this creates a greater sense of forward momentum in the community. We know that local government leadership has struggled with trust—data from Polco shows that confidence in local government dropped 8 points from 2020 to 2022, and data from Government Leadership Solutions shows that 58% of local government leaders said that lack of trust is an issue. A strategic plan can help with building trust. Not to mention, having no plan means having no alignment on that shared vision—that all can add up to a lot of wasted money and effort.
But not all plans are created equal!
Our team at Envisio have helped hundreds of cities and local governments use Envisio to create a city strategic planning process and put their strategic plans into action. We have learned firsthand what differentiates a strong strategic plan from a weak one.
Below are four municipalities who are doing it right—and why.
City Strategic Plan Example 1: City of Bloomington, MN
Bloomington has been causing a buzz in the news with their strategic plan. They have leveraged strategic planning software to advance and display their community-driven plan. Centered around three community-led strategic outcomes, they are working towards:
A connected, welcoming community
A healthy community
A community with equitable economic growth
They are an example of a strategic plan with very clear data to support their actions.
Takeaways: Clear outputs make clear impacts
It is good for cities to measure abstract concepts like "connection" with specific, output based measureables. Bloomington measures "connection" by looking at whether or not each neighborhood is reaching a target of being within walking distance of a community center. They are also working on connection literally, by connecting community trails. By meticulously measuring whether or not residents are physically able to easily gather with one another by quantifying the number of community spaces they have, they are able to see shortcomings and identify areas for improvement.
City Strategic Plan Example 2: City of Philadelphia, PA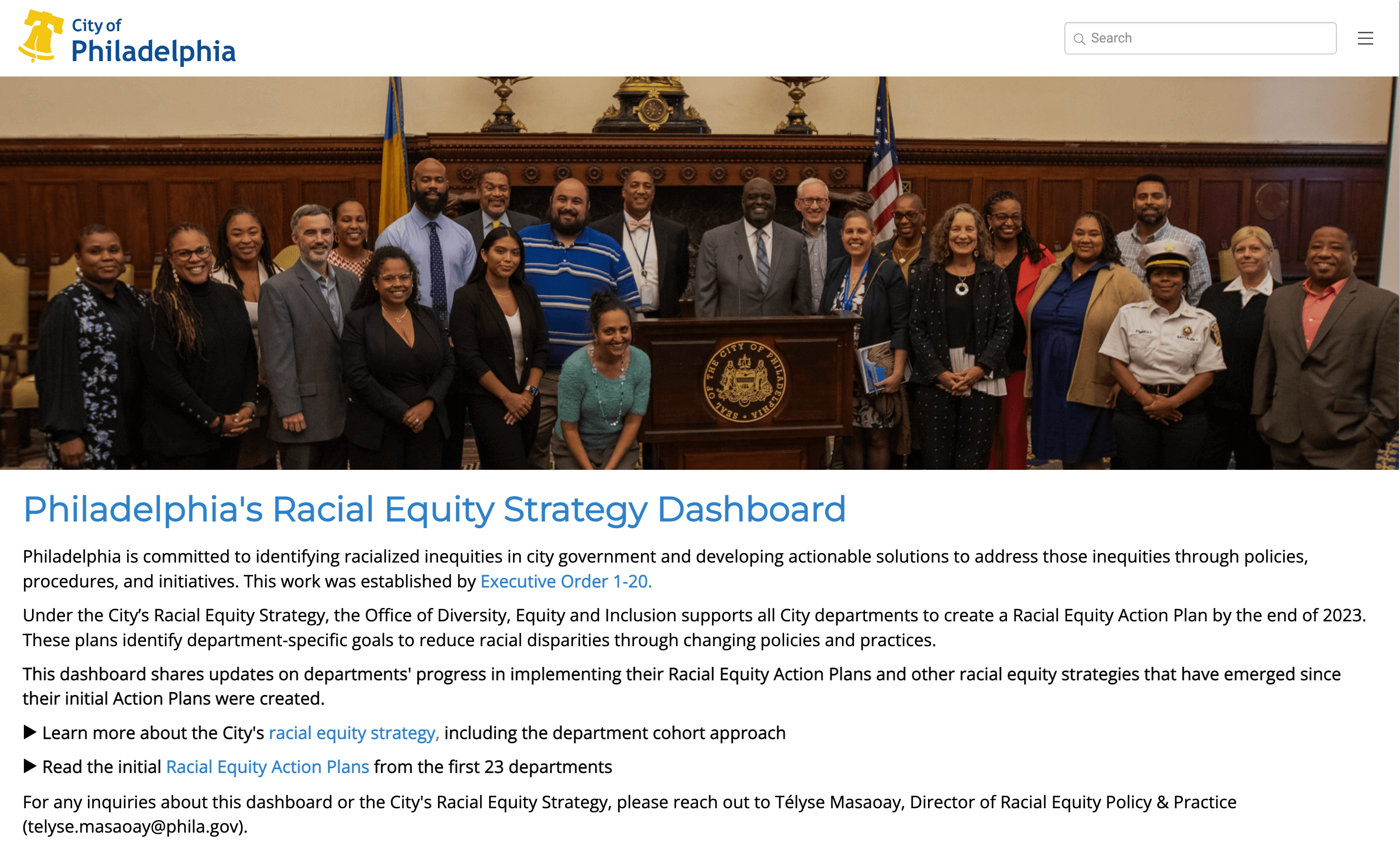 Philadelphia recently unveiled their Racial Equity Strategy Dashboard, and it is a fantastic model of strategic planning and successful implementation. Each department cohort has a racial equity strategic plan, and the details of the plans can be seen by clicking on each individual department.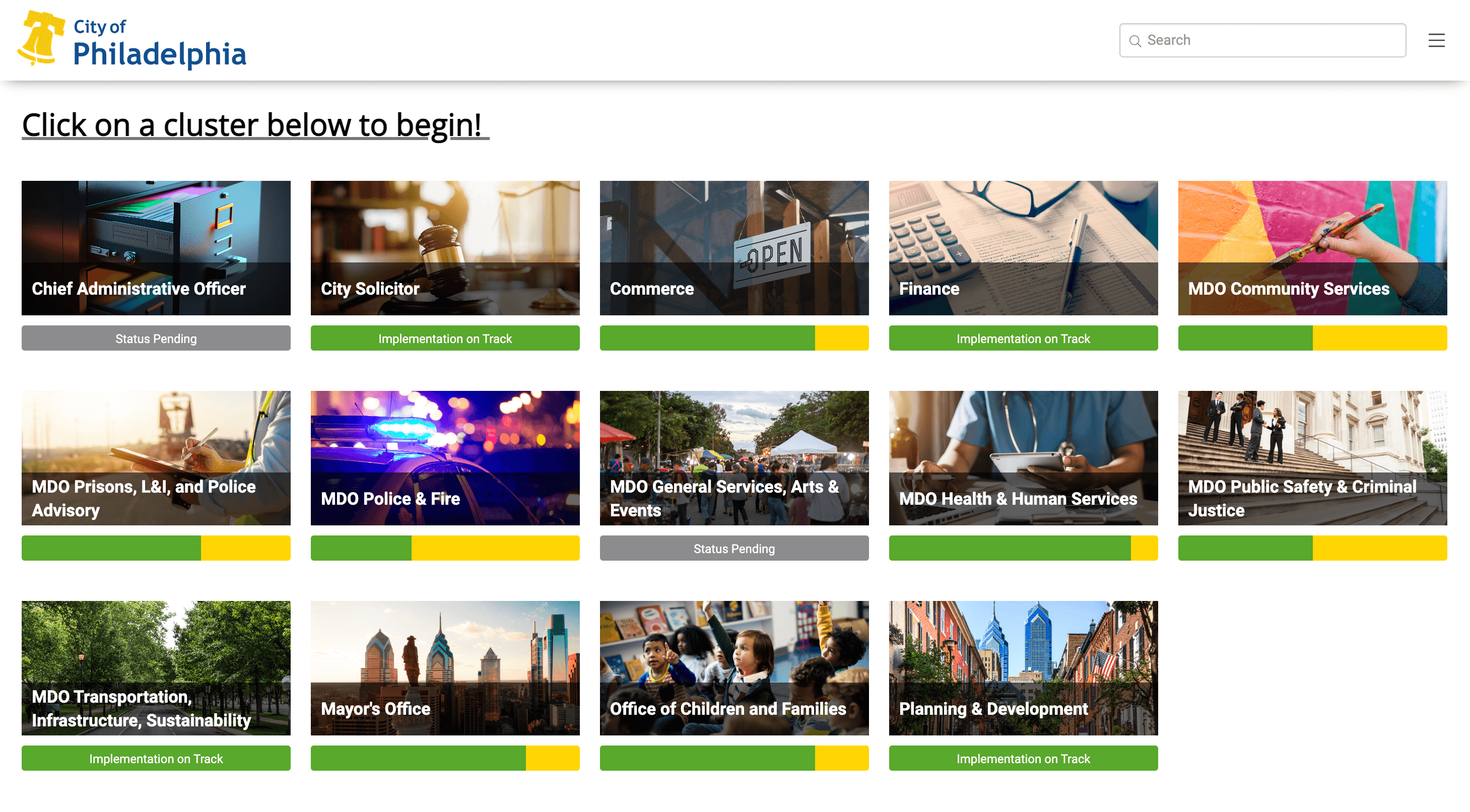 As you can see, each department is continuously tracking and measuring the progress of their plan, allowing staff to identify issues early, as well as celebrate successes. They also have a tutorial video to help people understand how to use the public dashboard. They are a great example of planning with implementation in mind; they are considering accessibility, they have busted silos by engaging multiple departments, and they are each planning and benchmarking against each other.
Takeaways: Busting silos makes implementation easier
When it comes to implementing action items on large scale systemic issues like racial equity, it is really important to have organizational alignment. This doesn't mean waiting for everyone to agree with every part of a strategy; it means making sure that everyone is taking control of their end of the strategy. When organizations are too tightly siloed from one another, it is easy for critical work to be duplicated (or ignored). The visibility between departments helps ensure implementation of the strategic plan.
City Strategic Plan Example 3: City of Montpelier, VT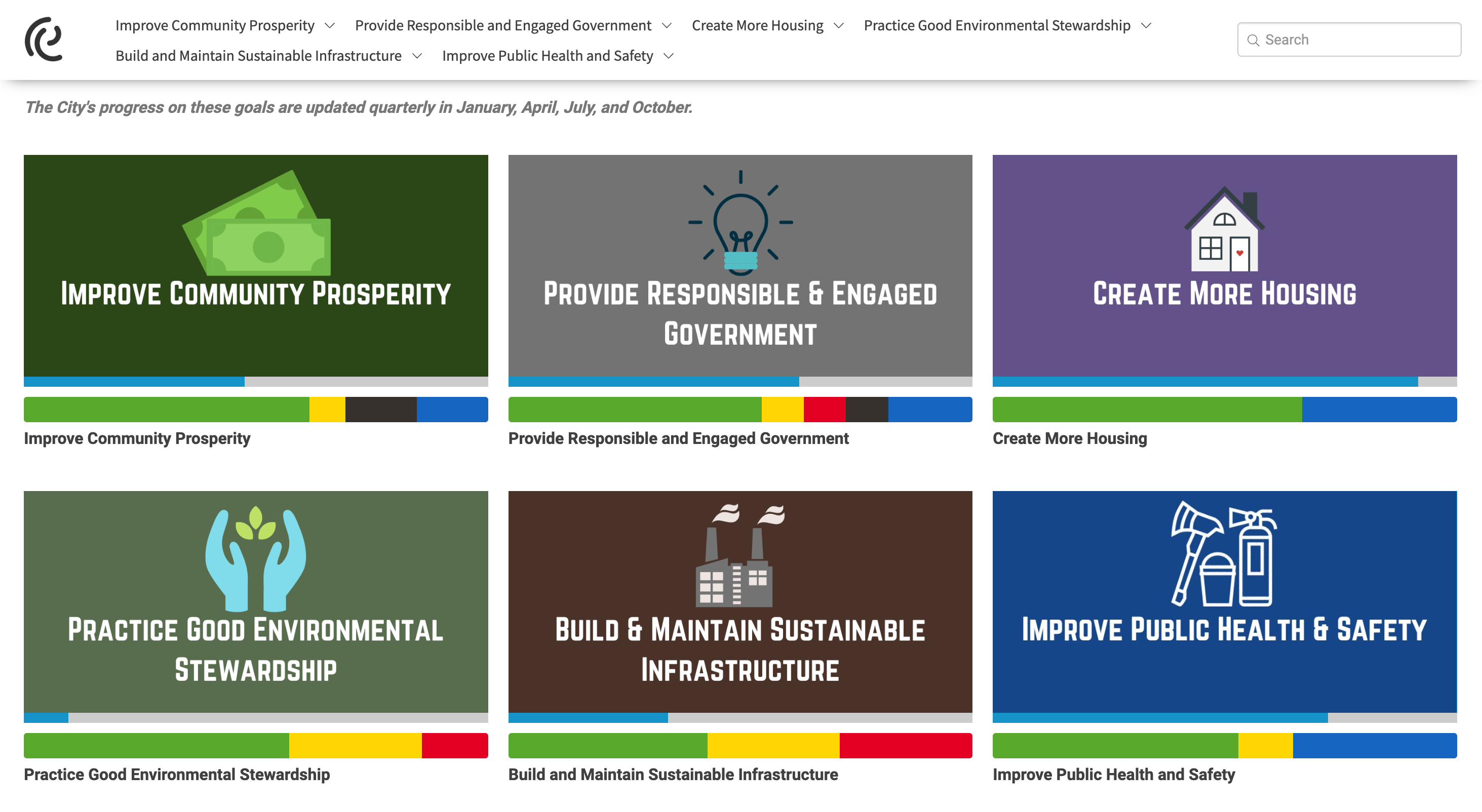 The City of Montpelier, VT, has big ambitions across all six of their strategic pillars, and they are being diligent about how they're showing their progress towards those goals by updating about both successes and setbacks. They are showing that setbacks are an invitation to tweak the plan and try again. Their plan came out of a collaborative process between both the Council and City staff to ensure optimized engagement. Montpelier also has a goal to become the first State-capital to be net zero by 2030—meaning, the city aims to produce as much renewable energy as it consumes, resulting in a net-zero carbon footprint. Things like establishing a renewable energy transportation fleet, and embracing alternative energy sources, are a part of this goal.
Takeaways: Transparency keeps a city strategic plan agile
A good city strategic plan should be able to pivot, and it's also important to be able to know when you need to give things time to percolate. By updating frequently on small action items in a plan, your staff are able to detect which elements of a plan are in need of tweaking or changing, or which items will take time to see the overall impact.
City Strategic Plan Example 4: City of Gaithersberg, MD
The City of Gaithersburg's Strategic Plan spans 5-years and contains an impressive nine Strategic Outcome Areas to advance the City's goals. This plan emerged out of collaboration with community stakeholders, officials, and employees, and their dashboard is set to be updated on a quarterly basis.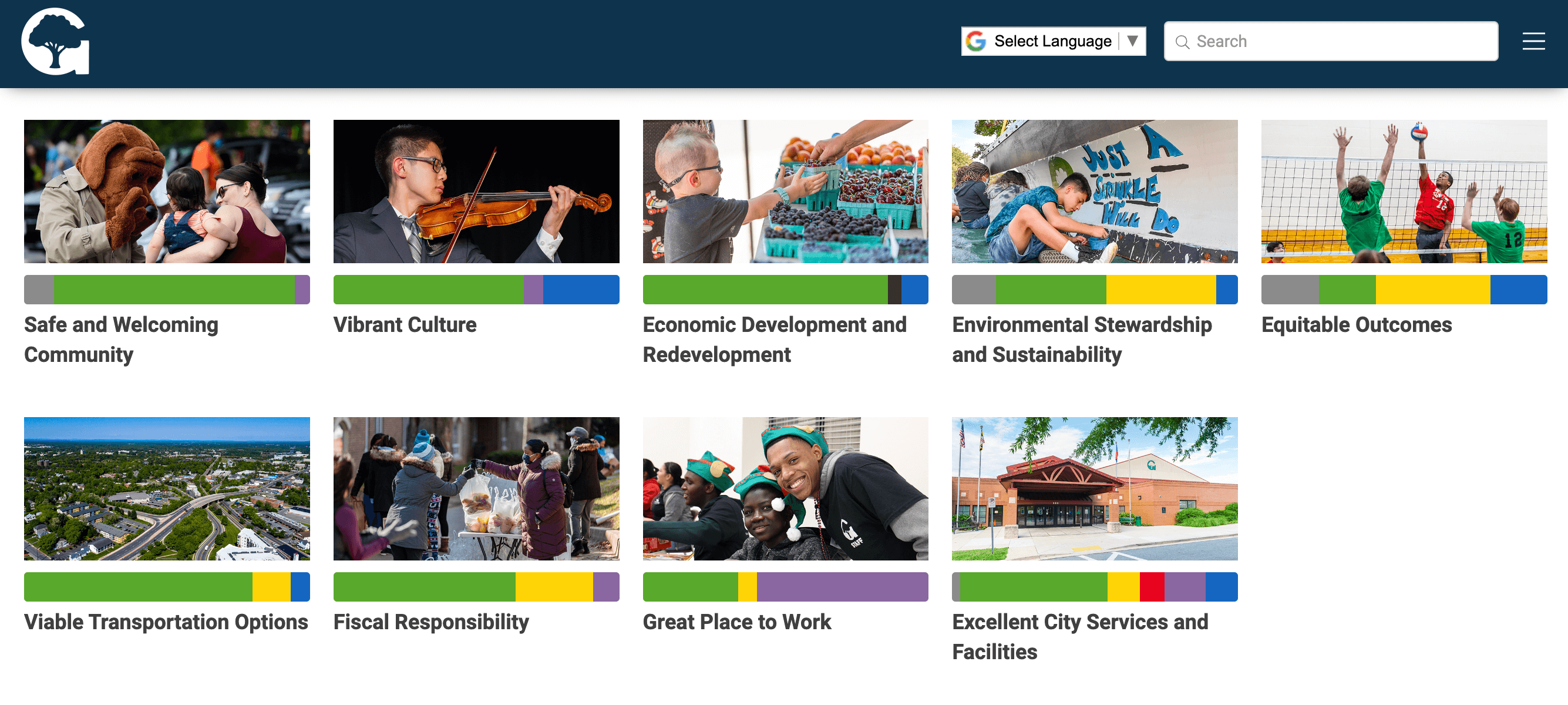 Upon taking a closer look at the plan, we can see that the objectives follow the SMART goal strategy: they are Specific, Measurable, Achievable, Relevant, and Time-Bound. For example, their Viable Transportation Options goal includes which areas are expected to collaborate with one another, and which partnerships are being brought in. Having actions broken down like this helps keep responsibility for each action clear within the departments, and also keeps employees engaged with the city strategic plan. Engagement helps everyone stay one step ahead of potential issues that arise during strategy implementation.
Takeaways: SMART goals make for good visibility
It's good for a city to be specific about their actions, and about who is in charge of what. When we clearly identify who is responsible for each action item, we are able to anticipate issues that may hinder a project before they arise.
Whether you're working from a strategic plan template or from scratch, you can take inspiration from these cities and their strategic plans. All four cities balance high-level thinking with specific action items. They define clear outputs, prioritize visibility and transparency, keep responsibilities, and ensure accountability. And, crucially, they recognize that a well-written strategic plan is only the start: what really matters is putting it into action.