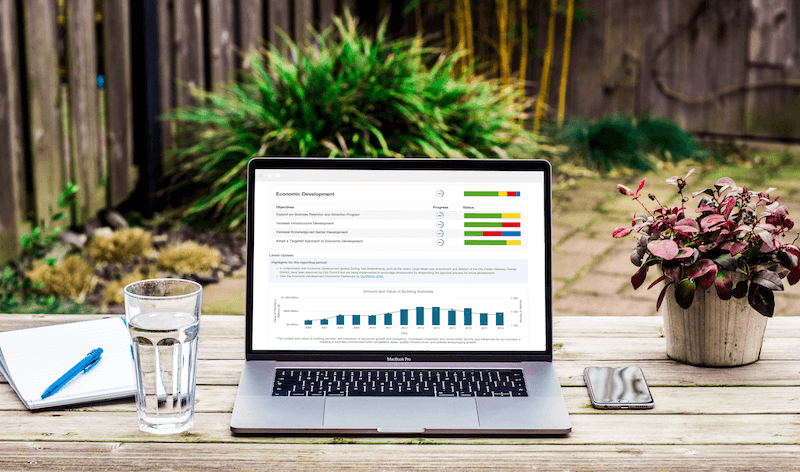 Having a publicly-available performance dashboard is one the best ways that local governments can build trust with the community and elected officials while engaging employees.
But getting started can be daunting. In this post, we'll share some of our favorite city and county government performance dashboards, and why we love them.
You'll see that the very best local government dashboards tell a story. They make it easy for residents to understand how their city or county is progressing against set strategic goals and why those goals are important to improving lives in the community. To make a performance dashboard meaningful, it should also be transparent about setbacks or missed targets and be updated consistently.
We also know that producing a great performance dashboard is not just about choosing the right chart types or providing context for the data (although those things are critically important). It's also about having the right processes in place to support the rigor and rhythm of regular performance reporting, and fostering an internal culture of transparency and engagement. With that in mind, we have included links throughout this post to learn more about how some of these local government teams set themselves up for success both culturally and technologically.
We hope these local government examples provide some inspiration as you plan out your own public dashboard or performance reporting framework.
One final note before we dive in… all Envisio-powered public dashboards shared here are interactive, and allow for the public to download data and other dashboard elements.
Let's go.
1. City of Minnetonka, MN – Strategic Profile & Community Dashboard
Community size: 53,000 residents
Dashboard maintained by: Communications and Marketing Team
The team at the City of Minnetonka is passionate about providing residents with a high level of transparency about the work they do. Their beautifully thought-out Strategic Profile & Community Dashboard is a testament to that passion, and to the level of engagement they have from staff at all levels—from directors to front-line managers.
Minnetonka's interactive performance dashboard provides quarterly progress updates for all 3 levels of the city's Strategic Profile. Website visitors can drill all the way down through the city's 6 key priorities and 21 key strategies, to 86 action steps.
The top two levels of the plan are also supported by 37 performance metrics. The top level of the plan (the strategic priorities) utilizes data from residential survey results. The second level of the plan (the key strategies) utilizes data from the city departments related to their action steps.
The City of Minnetonka's strategic profile dashboard is one of our absolute favorite local government dashboards. Not only is it helping city leaders to communicate progress against strategic city priorities, it also highlights the great work being done by city staff and helps to nurture a shared vision for the community.
If that's not enough, we also love it because:
It seamlessly integrates written progress updates, a traffic-light progress indicator bar, and associated performance measures into one, drill-down dashboard. Combining qualitative and quantitative measures—and using different types of visuals to tell the performance story—provides a complete picture of performance as well as serving different communication styles.
Every element of the dashboard has been thoughtfully built—from the layout that supports a natural information hierarchy, to the use of different families of metrics to align with different levels of the strategic plan.
The high level of staff buy-in with the strategic plan and the reporting process is reflected in the quality and completeness of the updates provided.
The dashboard has a prominent place on the City of Minnetonka website, sitting as the first menu option under the Our City menu.
The Communications and Marketing team is committed to promoting the dashboard and engaging residents. There are plans to use it on social media, to link it to news stories and use it at events, amongst other things.
2. City of Irving, TX – Strategic Plan Report Card
Community size: 240,000 residents
Dashboard maintained by: Innovation and Performance Office
The City of Irving is an exceptionally high-performing local government. In 2012, the city won the Malcolm Baldrige National Quality Award becoming only the second municipal award recipient in the program's 25-year history.
Today, the Innovation and Performance Office at Irving continues to earn a reputation for local government performance excellence with strong data management, a culture of continuous improvement and a commitment to public transparency.
When it comes to measuring progress against the city's six strategic goals and 25 objectives in the City Strategic Plan, the Irving team provides two performance dashboards: the Strategic Plan Dashboard which shares qualitative status updates, and the Strategic Plan Report Card which tracks the performance measures that align with the strategic goals and objectives set by Council.
Both performance dashboards are excellent—and together they provide a well-rounded view of the city's performance—but we particularly love the Report Card.
Here's why:
The dashboard and each set of charts is clearly organized by the strategic goals and objectives outlined in the city's strategic plan. It's easy to cross-reference these measures with the strategic plan and get a complete picture of performance.
There are clear and detailed descriptions for each set of charts. These descriptions explain what the measures are, and why improved performance against these measures contributes to a higher quality of life for residents.
Most of the charts have clear target lines to quickly and easily communicate how the city is doing against its goals.
Residents can download each chart as an image file, a PDF, or export the raw data as a spreadsheet.
Both the Strategic Plan Report Card and the Strategic Plan Dashboard are accessed from a page on the City of Irving website that includes details about the city's strategic plan and contact details for the Innovation and Performance Office team.
(It's also worth checking out the City of Irving's impressive Smart City Initiative Dashboard).
3. City of Scottsdale, AZ – Quarterly Performance Report (Scorecard)
Community size: 250,000 residents
Dashboard maintained by: City Manager's Office
No local government performance management list would be complete without the City of Scottsdale. The Scottsdale team has a sophisticated performance management program and they do a great job of communicating progress to the community.
For six years, Scottsdale has earned the ICMA Certificate of Excellence in Performance Management, and in 2018, the city's Performance Management Program was named to the What Works Cities Certification Honor Roll, followed by Silver City Certification in 2019 and 2020. The Scottsdale team pays it forward by proactively sharing what they've learned with other local governments.
As well as a beautiful strategic plan performance dashboard, they also provide the public with a quarterly performance report in a scorecard format. This report provides progress updates regarding the key performance measures included in the annual budget book.
We love it because:
It uses a scorecard format to show whether the city is on track, above, or below target for each measure. This makes it easy to quickly see how the city is performing across various departments—from Economic Development to Public Safety.
Each performance measure has a description and an explanation as to why the measure is important.
By hovering over each charted data point, you can read the context for the results in each reporting period and how the city is interpreting the data.
The city openly welcomes feedback on the scorecard and has included a point of contact for feedback or questions.
You can learn more about Scottsdale's performance management program here.
4. City of Maplewood, MN – Strategic Plan Performance Measurement

Community size: 41,000 residents
Dashboard maintained by: City Manager's Office
"One of the hallmarks of our City Council is that they want to be transparent," explains Melinda Coleman, City Manager at the City of Maplewood.
City leaders at Maplewood use their strategic plan performance dashboard to do just that. By regularly sharing progress with the community, they are building trust with their residents and demonstrating how they're being good stewards of their resources.
Dashboard visitors can drill down from the 6 top-level strategic priorities, through to 24 key outcomes, and all the way down to action-level items on the plan.
The dashboard is refreshed quarterly, with progress updates from across the organization. The Maplewood team has a strong sense of shared purpose and engagement with the plan (which extends to new employees being introduced to the strategic plan as part of their onboarding process), and this engagement has played a huge role in the team's success in executing the plan. According to the dashboard, 94% of Maplewood's City Strategic Plan has either been completed or is on track for completion.
Here are a few more reasons why we love the City of Maplewood's performance dashboard:
The team does a great job of providing context for the dashboard. There is a written description on the dashboard homepage explaining the purpose of strategic planning and how city leaders developed the plan for Maplewood. This page also includes a video with insights from Maplewood staff (including the Mayor and various departmental leaders) on the value of the city's strategic plan and performance dashboard.
Everything about the dashboard is clear, easy to navigate, and contextual.
It uses both written progress updates submitted by staff and performance measures to tell the city's performance story. Charts are used at the action level (the third level of the plan) to show progress against key outcome indicators.
The dashboard is embedded directly into a page on the city's website so visitors can stay on the main website as they explore the dashboard. Similarly to the City of Minnetonka, the link to the dashboard has a prominent location on the city's website, and sits as the first navigation item under the City Hall menu.
There is a named point of contact (two, actually) for residents that may have questions about the dashboards or data.
You can learn more about how Maplewood drives strategy to the front line here.
5. Unified Government of Wyandotte County & Kansas City, KS – SOAR Initiative
Community size: 158,000 residents
Dashboard maintained by: County Administrator's Office
This excellent SOAR (Stabilization, Occupation and Revitalization) dashboard allows residents to follow the progress being made towards the Unified Government's 5-year plan to address challenges in the appearance, communication, and safety of Wyandotte County neighborhoods.
The Unified Government's SOAR Initiative has 4 top-level goals (Property Maintenance, Improve Existing Assets, Communications, and Public Safety), 24 initiatives, and over 600 action steps. Residents can click through to see progress made at each level of the plan and explore the metrics aligned with both the initiatives and action-level items.
Here are the things we love about the Unified Government's SOAR dashboard:
The dashboard uses a combination of qualitative data (written progress updates by staff), traffic-light status indicators, and quantitative data (charted performance measures) to show progress.
The dashboard makes excellent use of drop-down navigation menus to reduce clicks and improve usability. Dashboard visitors can use the drop-down menus to quickly navigate to different strategic goals or initiatives, or they can navigate directly to a specific performance measure.
The expanded version of each chart includes a description of the chart, details of where the data comes from, and other information to help residents understand the results presented.
6. City of Woodbury, MN – Performance Measurement Dashboard
Community size: 70,000 residents
Dashboard maintained by: City Manager's Office
The City of Woodbury is another high-performing city in Minnesota. Since 2009, the City's performance measurement program has been recognized for excellence by the ICMA, including being awarded a Certificate of Excellence for Performance Management by the International City/County Management Association's Center for Performance Management (ICMA-CPM). This is the highest award level from the ICMA-CPMA, recognizing local government programs that instil a culture of performance management, comparative analysis, data-informed decision-making and transparency.
Woodbury's public performance measurement dashboard is a little different to the previous dashboards in that it is organized by department and updated annually. Each section of the dashboard provides the key performance indicators and statistics used to measure departmental success.
A departmental performance measurement dashboard is a great option for municipalities that don't have a strategic plan but want to be transparent with their communities about organizational performance.
We love Woodbury's performance measurement dashboard because:
Each section of the dashboard has a clear description of the associated department and the services it is responsible for delivering.
Each chart has a written description of what and how the data is collected. Data collection includes community surveying where appropriate.
Excellent chart design choices make it easy to see exactly how the city is performing against each measure. Many of the charts include a target line to show the performance goal, and most of the charts include an average line to indicate the data average across the charted time period.
7. Palmerston North City Council, NZ – City Dashboards
Community size: 88,000 residents
Dashboard maintained by: Strategy & Policy Team
Palmerston North City Council (known as "Palmy") is located on the North Island of New Zealand in the Manawatū-Whanganui region. With a population of almost 90,000, it is the country's eighth largest urban area.
The Palmy team tracks performance against 4 strategic goals as part of the city's overall strategic direction and in line with a 10 year plan. The city performance dashboards show how the city is tracking against these strategic goals, as well as sharing demographic information about the community and key metrics indicating how well the city is recovering from the COVID-19 pandemic.
Each dashboard uses data from a wide range of sources including community surveys, census data, and local and central government departments. Palmy's performance story is told entirely through the numbers, although context is provided from detailed explanations on each chart.
Palmy's city dashboards are on our favorites list because:
Each chart has a clear and detailed description which includes information on the source of the data, the time frame measured, how the city interprets the results, and any other relevant information. Each chart tells a story.
The use of highly contrasting and vibrant colors makes the charts engaging and easy to read.
The Palmy team has used a variety of chart types for different types of data and data storytelling. The dashboards include embedded maps for geographical data, benchmark lines where relevant, targets and, in some cases, data projections.
There is a clear point of contact for residents that have questions about the dashboards.
8. Kent County, MI – Strategic Plan Performance Dashboard
Community size: 675,000 residents
Dashboard maintained by: Strategy & Performance Management Team
Kent County has a long and rich history in performance management. A longstanding goal of the County Administrator's Office has been to promote transparency and public trust by openly sharing data that demonstrates progress towards long-term goals.
The County's Strategic Plan Performance dashboard plays an important part in achieving this goal.
MaryBeth VanTill, Strategy and Performance Management Manager, explains: "Our external performance dashboard has been a tremendous tool to communicate with our residents about the work that the county is doing to make Kent County a place where people want to live, work and play."
Kent County's performance dashboard provides quarterly progress updates on the county's strategic plan. The plan consists of 5 strategic priorities, 19 goals, and 150+ objectives—all of which are shared openly with the public alongside a combination of written progress updates and performance measures.
Here why we love it:
The dashboard homepage provides a legend so residents can easily understand the traffic light progress bars used throughout the dashboard. The homepage also includes Kent County's vision statement.
The team uses photo imagery and detailed descriptions of the county's strategic priorities to make the top level of the plan engaging and contextual.
As with many of the previous dashboard examples, the Kent County team uses a combination of qualitative and quantitative data in their dashboard. This provides a more complete and contextual story of performance for residents
You can learn more about how Kent County increases transparency by linking performance with strategy here.
Takeaways for your local government dashboard
The very best local government dashboards follow some clear best practices. As you plan out your own performance dashboard, we recommend you:
Include a point of contact for residents who may have questions or feedback on your dashboard.
Provide as much context as you can about your dashboard, why it's important, and how to use it. Consider adding a video and your community vision statement to your dashboard homepage.
Use a combination of qualitative and quantitative data to tell the most complete story of organizational performance.
When using charts, add descriptions of where the data comes from, and how to interpret the results. Use highly contrasting colors when comparing different data categories.
Update your dashboard consistently and regularly (in most cases, we recommend quarterly).
Be transparent about performance. The excellent, the good, and the disrupted.
Make it easy for your website visitors to find your dashboard in the first place. Give it a prominent place in your website navigation, and have a plan to promote it!
If you would like to learn more about launching a performance dashboard, we're here to help. We work with over 100 local governments across North America, and many of them use an Envisio-powered performance dashboard to provide greater transparency and accountability to residents. The good news is that if you are already tracking plans and performance in Envisio, setting up a public-facing dashboard to show your progress is a simple process. You can learn more about our performance dashboards here, or just give us a call.
(P.S. You may also be interested in our complete guide to local government performance management.)