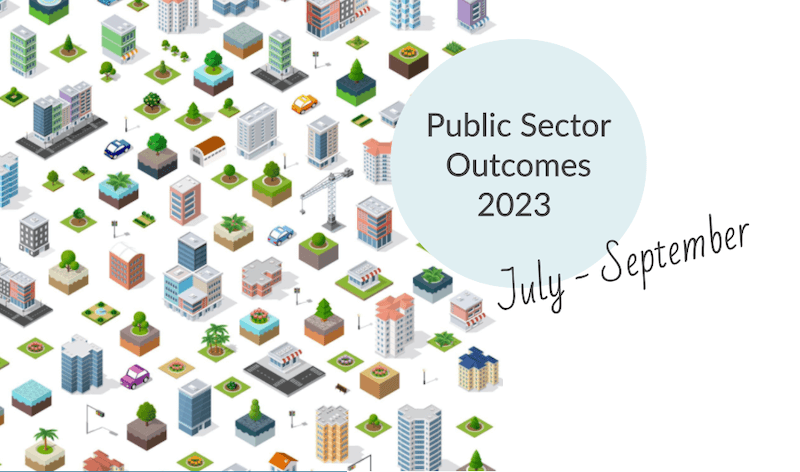 At Envisio, we're all about the buzz around strategic plans in the public sector and the rockstar leaders who make them happen. Welcome back to our Public Sector Performance Outcomes series!
Every quarter, we shine a spotlight on five stellar achievements by our customers, highlighting their victories in completing key actions, performance-based management and measurement targets, and strategies straight from their strategic plans and public dashboards.
We believe in celebrating these wins because we love seeing bonafide outcomes and smart resource allocation in the public sector.
So, let's take a moment to celebrate these five incredible outcomes! From tackling community engagement, to acing digital equity initiatives, these customers are rewriting the playbook and inspiring others to hop on the bandwagon.
1. Performance-based outcome measures on community engagement: The Town of Marana, AZ
The Town of Marana has taken a significant step towards enhancing community engagement
and public service excellence by actively seeking input from its residents. By inviting feedback through the Marana Citizens' Forum, the town demonstrates a commitment to involving the community in meaningful discussions. In the second quarter of fiscal year 2023, town staff proactively identified opportunities to improve the existing Forum procedures, aiming to enhance the effectiveness of the program.

The creation of the Marana Civic Committee in June of 2023 stands out as a remarkable strategic plan outcome. This special committee, designed to increase civic engagement, signifies the town's dedication to fostering an active and participatory community. Staff members are set to collaborate closely with the Town Council and Regional Partners to appoint members to the Marana Civic Committee, ensuring diverse representation and a wide range of perspectives.
This special committee, designed to increase civic engagement, signifies the town's dedication to fostering an active and participatory community
Marana's initiative to solicit community feedback, as well as revise existing public service procedures based on open and careful deliberations, exemplifies a commendable community outcome. Engaging constituents not only promotes transparency and inclusivity in decision-making, but also strengthens the town's relationship with its residents, ultimately leading to a more vibrant and engaged community.
2. Performance-based outcome measures on energy outreach: City of Philadelphia, PA
Philadelphia is getting two spots on this list — we know! But hear us out: it is because of their truly comprehensive habit of reporting on their progress. Philadelphia has already achieved a significant community milestone through the implementation of their Operations Transformation Fund (OTF)—a $10 million investment aimed at reimagining and transforming various city processes. To write about all of the outcomes of this initiative would need its own dedicated blog post, so, instead, we'll draw out some pieces that we feel have been exemplary. Launched in August 2021, this fund has already yielded remarkable outcomes, demonstrating the profound impact of strategic investments in urban development and community capacity.
The progress reports on the OTF projects happening in Philadelphia exemplify a commitment to transparency and accountability within the community. By openly acknowledging the challenges faced, including delays in project completion, the city administration demonstrates an honest and transparent approach. This transparency is essential in fostering trust among residents, as it provides a realistic view of the hurdles encountered in project implementation. Highlighting the specific reasons for these delays, such as issues with contracting, staffing transitions, and supply chain disruptions, showcases the complexity of managing community initiatives.
The City of Philadelphia team has also been great about celebrating their successes! 83% of their projects are on track for completion by the end of Fall 2023, and 17% of the initiatives have been completed.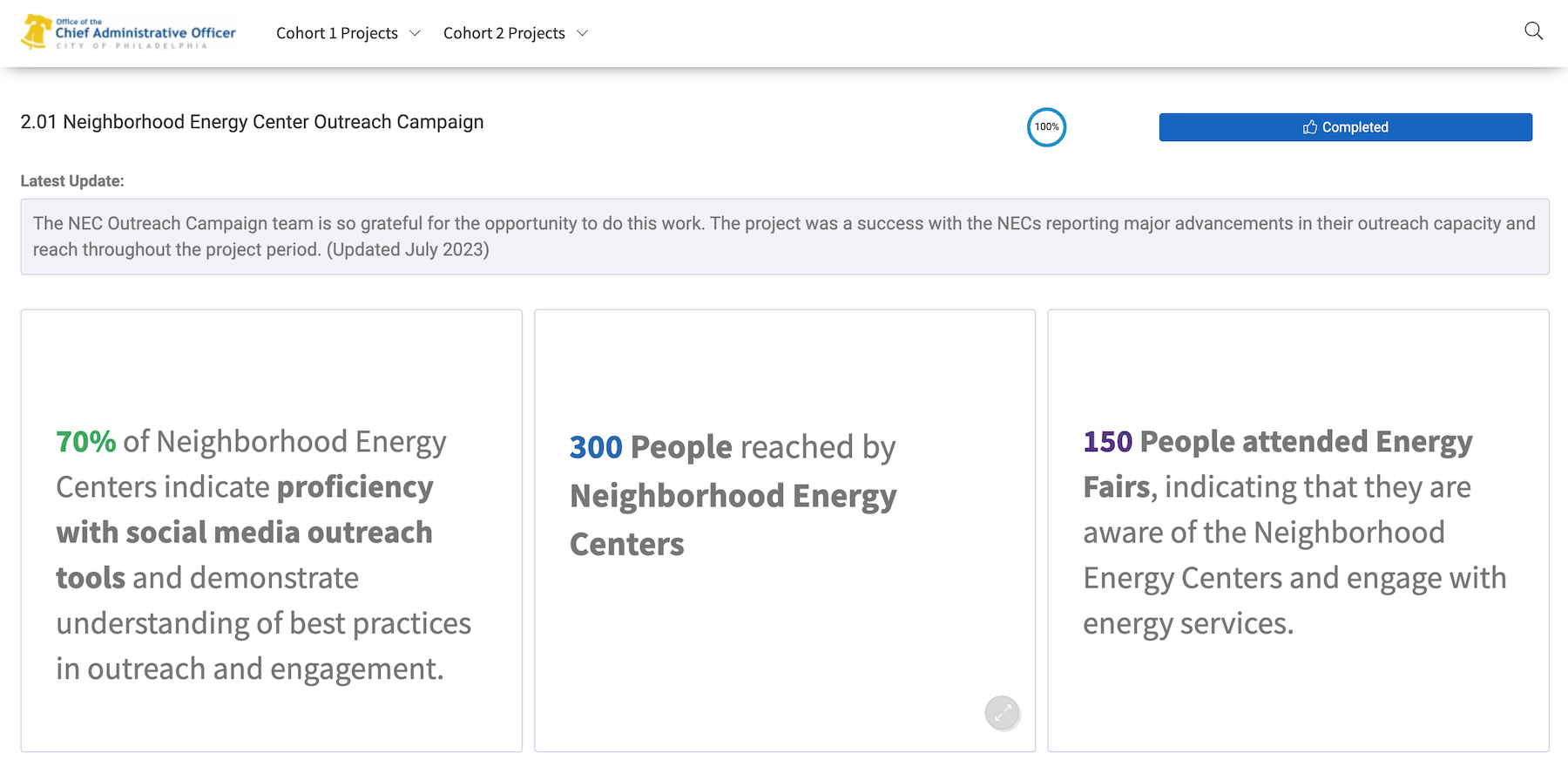 The Neighborhood Energy Center Outreach Campaign, supported by the OTF, stands out as a truly vital initiative. This project focuses on ensuring equitable access to affordable energy. This effort ensures that all Philadelphians can access and use energy affordably, by providing utility bill assistance and weatherization services. The NEC Outreach Campaign team were able to reach 300 new people through their campaign, and they worked to ensure that Neighborhood Energy Centers were proficient with affordable and readily available outreach tactics, such as outreach through social media.
By focusing on inclusivity and affordability, this project not only enhances the daily lives of residents but also serves as a beacon of equitable urban development.
What we love about this outcome is how practical and humane it is. Affordable energy access is not just a matter of convenience; it's a fundamental necessity for a high quality of life. By bolstering the outreach efforts of the Neighborhood Energy Centers (NECs), this initiative is aimed towards assisting those in vulnerable communities. By focusing on inclusivity and affordability, this project not only enhances the daily lives of residents but also serves as a beacon of equitable urban development.
3. Performance-based outcome measures on digital equity: City of Philadelphia, PA
Digital equity isn't just about everyone having access to the latest gadgets and gizmos; it's the superhero cape that ensures everyone gets a fair shot in an ever-innovating, ever-changing society. In a world where everyone has equal access to the internet, there are endless opportunities for learning, exploring, connecting, and finding employment. Lack of access to digital resources restricts vulnerable people—from seniors to unhoused people—from entire sectors of society. We take it for granted, but access to tech is like having a magical key to a treasure trove of knowledge and resources.
Digital equity isn't just a buzzword; it's the ticket to a truly level playing field, and a major step towards achieving equitable outcomes in a community.
In a world where everyone has equal access to the internet, there are endless opportunities for learning, exploring, connecting, and finding employment.
With $500,000 allocated as of June 2023, the PPR Digital Equity Bridges project in Philadelphia has chosen 20 recreation centers located in zip codes identified by the City Council as areas with high rates of violence and poverty. They are embracing data-driven assessments with an eye towards improving internet connectivity, digital infrastructure, and existing computer labs (or, where they may need new ones). As of Fall 2023, they have successfully completed the procurement process for several components of acquiring digital infrastructure!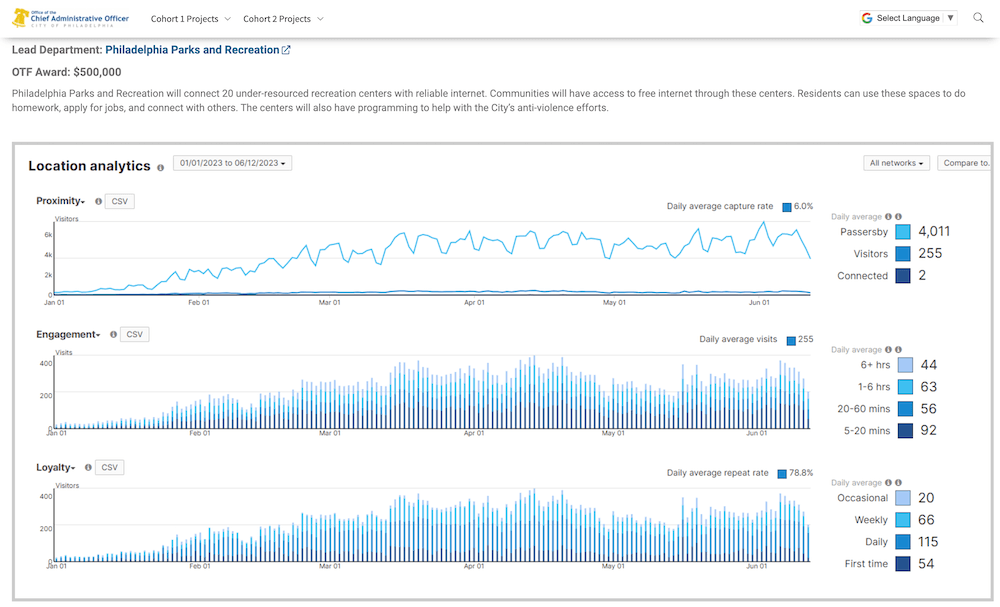 4. Performance-based outcome measures on financial aid initiatives: Green River College, WA
Objective A.3 in Green River College's 2021 – 2026 Strategic Plan is all about addressing and understanding financial barriers to "college access, retention, persistence, and completion." They have made significant strides in strengthening connections with various community stakeholders. The college's overall strategic plan, as laid out on their Envisio-powered public dashboard, highlights their efforts to enhance teaching and learning experiences, improve student access and success, promote equity and social justice, and contribute to the overall vitality of the community.
Often when higher education institutions talk about equity outcomes, income can be left out of the conversation. But poverty is a major barrier to achieving an education, and it needs to be front and center of every single conversation around equity. Money can be an uncomfortable topic; tackling poverty really means tackling huge structures. Poverty—and unequal access to education and resources—is the single most important determinant of health and overall quality of life.
Often when higher education institutions talk about equity outcomes, income can be left out of the conversation.
The success of this Financial Aid initiative actually led to the outreach position becoming a permanent role–showcasing its importance and effectiveness. Turning temporary positions into permanent ones is a surefire sign of smart, careful measuring of success. The college's financial aid initiatives are not limited to permanent internal changes; they are also integrating themselves more firmly within the community. Green River College has expanded partnerships with key nonprofits, including the College Success Foundation, Neighborhood House, International Rescue Committee, and El Centro de la Raza.
This outcome demonstrates a proactive approach to community engagement and tackling poverty-based barriers to education. By fostering collaborations that not only benefit students but also contribute significantly to the college's mission and community impact, they are investing in their student body in a genuinely meaningful way.
5. Performance-based outcome measures on housing access: Washington County, OR
In Washington County, Oregon, Envisio is being utilized by officials to ensure public transparency and to track outcomes of American Rescue Plan Act funds. The county is using these once-in-a-generation ARPA funds to enhance both community and organizational resilience through various projects, ranging from outbreak response to vaccination efforts and small business support.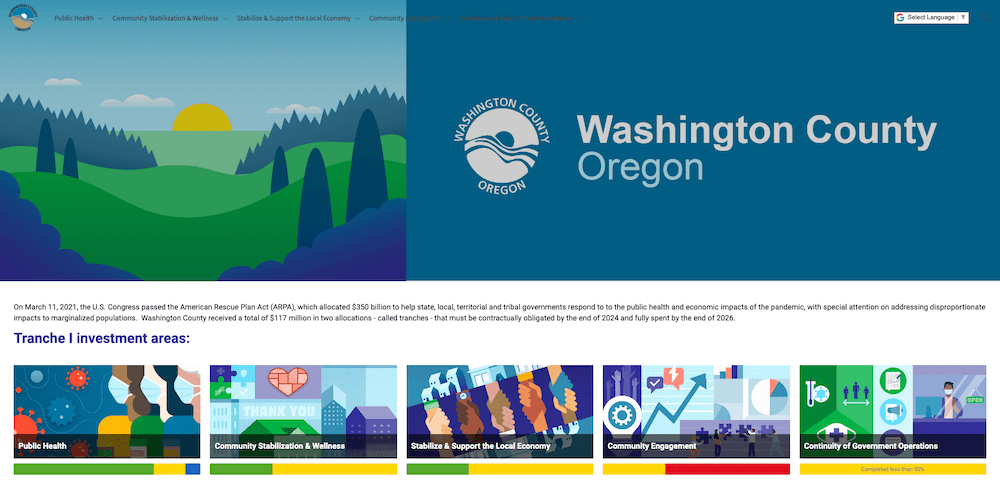 Washington County guides its ARPA commitments with an approach rooted in their core values: equity, resilience, collaboration, and good governance. In developing their ARPA framework, the county expanded its partnerships to include over 120 community-based organizations and established a COVID-19 Racial Equity Workgroup (CREW) comprising leaders from these organizations.
One outcome we would like to highlight is their response to unhoused populations and encampments. In response to a significant surge in individuals camping outdoors due to the COVID-19 pandemic, the Encampment Management Program (EMP) was established. Encampment management efforts encompass outreach activities connecting campers with supportive services and housing assistance, sanitation services like garbage collection and portable toilets, and strategic communication among participating agencies and the public.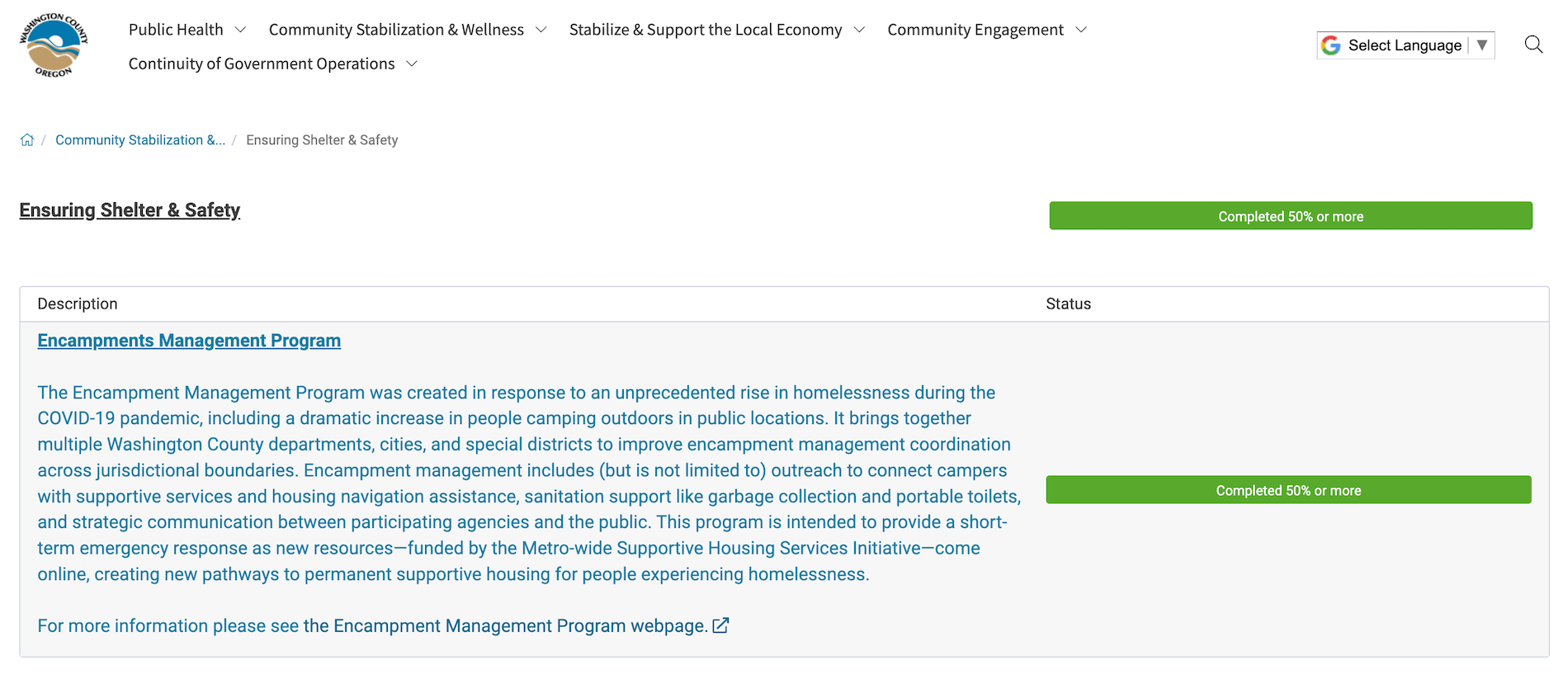 The program served as a short-term emergency response, bridging the gap until new, long term resources became available– ideally resources which would offer new avenues for permanent supportive housing for individuals experiencing homelessness. By August 2023, enhanced resources such as 426 shelter units and a well-coordinated outreach strategy involving nine providers throughout the county, alongside strong long-term housing initiatives, led to the discontinuation of the EMP—meaning, the program was replaced by a long term, permanent, and sustainable program, which was made possible through the efforts of the EMP.
—
Diving into performance outcomes isn't just about checking off boxes, it's about celebrating the wins that come with improving communities and societies as a whole.
Project outcomes aren't just a report card; they're how our public sector organizations—from local governments to higher education institutions, and beyond, get things done. This sparks a contagious vibe of learning and growth, and boy, do we love a good success story! By analyzing these outcomes, we unravel the secrets of what worked, and what could use a little more tinkering in future projects.
We hope you enjoyed this celebration of success—we'll see you in January!