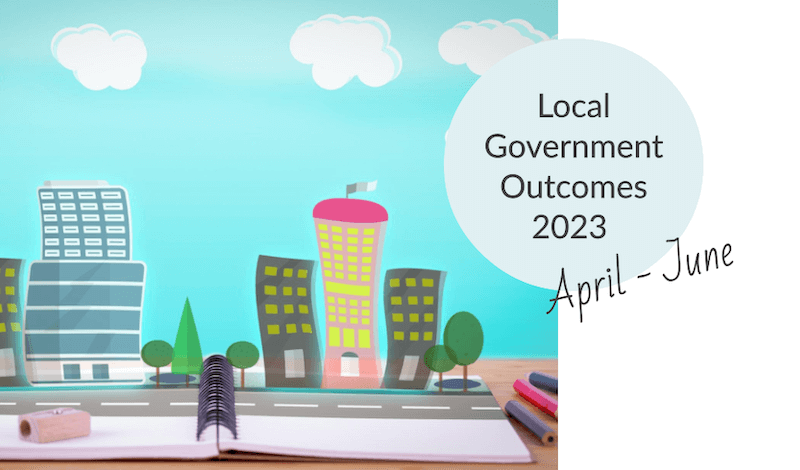 At Envisio, we talk a lot about the importance of strategic plans in the public sector, and the work of some amazing leaders we see carrying them out. Today, we want to talk about a few key success stories from across our client base–those who have actually achieved and completed key actions, performance outcomes and targets, or strategies from their strategic plans.
Welcome to our Performance Outcomes series!
Every quarter, we do a review of five outcomes achieved by our customers. It's easy in the public sector to only see how far you have to go, but we believe that celebrating outcomes is a critical component of success.
Performance outcome reviews also help in resource allocation. They can provide data-driven evidence (and therefore, data-driven decision making) on the effectiveness and impact of projects, which can assist in prioritizing future investments and allocating resources where they can have the greatest positive impact on the community.
We hope these reviews also give great ideas and inspiration from other communities looking to make positive change.
So let's take a moment to give a shout out these five cities and counties for their efforts and achievements. Here is what just some of our clients have accomplished over the last few months; from homelessness to project management, to urban planning and commission establishment, to digitization!
Data out of Sonoma County shows that, to date, there has been a decrease in the number of people without homes in 2023. Homeless youth, in particular, declined – with 294 individuals counted in 2023, compared with 530 in 2022. You can see more of the data related to a decline in homelessness in Sonoma County here, but what we find particularly encouraging is their attitude and belief that there is still work to be done. Their completed action item related to Goal 4: Reduce the County's overall homeless population by 10% each year, included a peer review of neighboring counties and their best practices.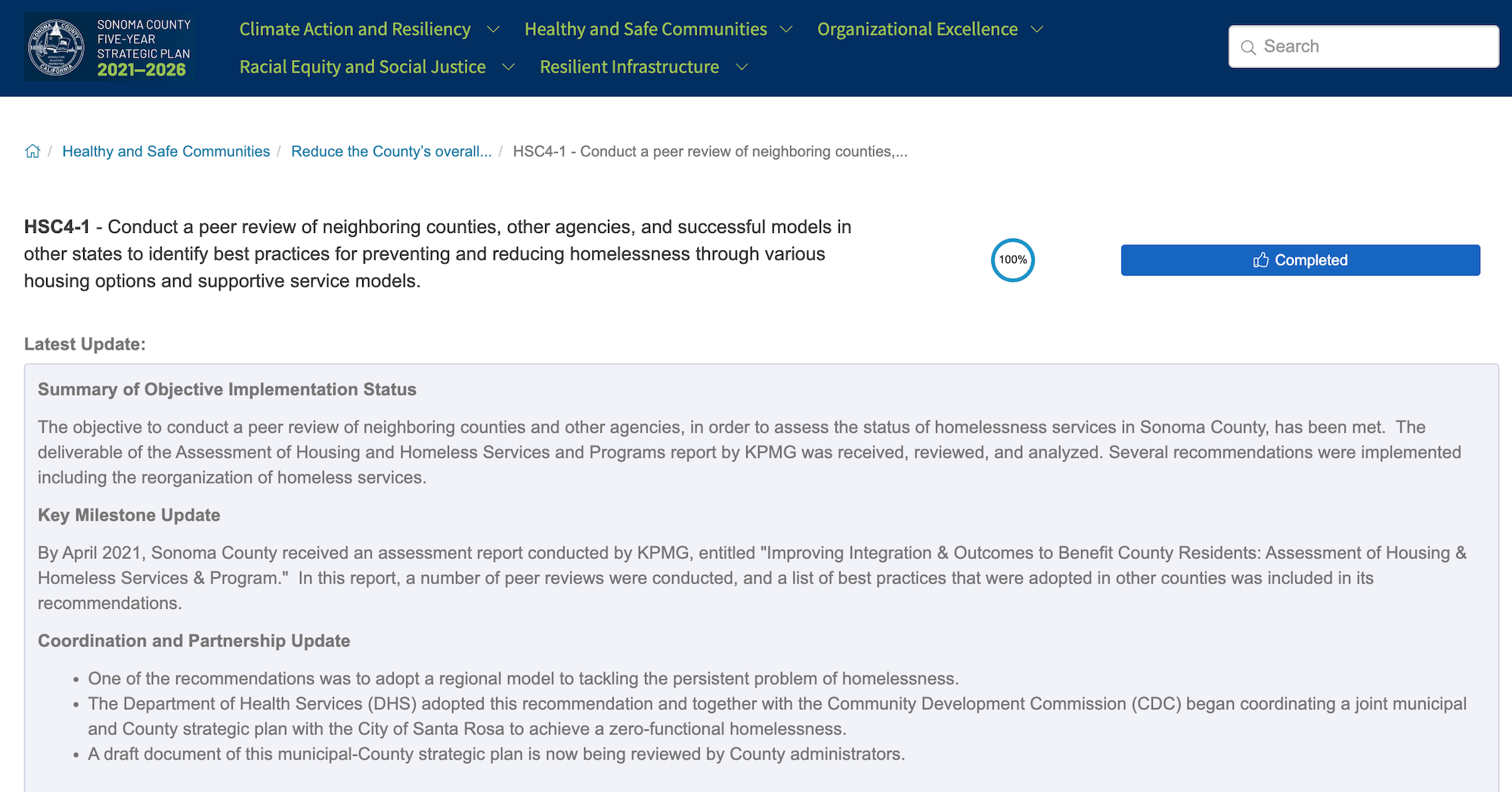 Benchmarking in this way has a number of benefits for local governments. By engaging in peer review with these neighboring counties, Sonoma County demonstrates their commitment to addressing homelessness. Benchmarking facilitates knowledge sharing and the dissemination of best practices. When we learn from one another's successes and failures, we are able to adopt innovative approaches and evidence-based strategies to address homelessness more effectively. What are successful interventions? What are cost-effective solutions, and emerging trends? This is information you can only really get through collaborating with others who are working on the same issues you are.
Sonoma County, through this process of peer review, identified a number of recommendations they could embrace, such as reorganizing the homelessness services.
One of the recommendations they found was to adopt a regional model of tackling homelessness – an approach which would allow for hyper-specific goals and action items. The Department of Health Services (DHS) adopted this recommendation, along with the Community Development Commission (CDC). They have since begun a joint municipal and county strategic plan to resolve persistent homelessness.
Ultimately, benchmarking around homelessness empowers cities to make data-driven decisions, track progress, and allocate resources more efficiently, leading to improved outcomes in tackling this complex societal issue.
2. Innovations in performance management and trust at the City of Irving, TX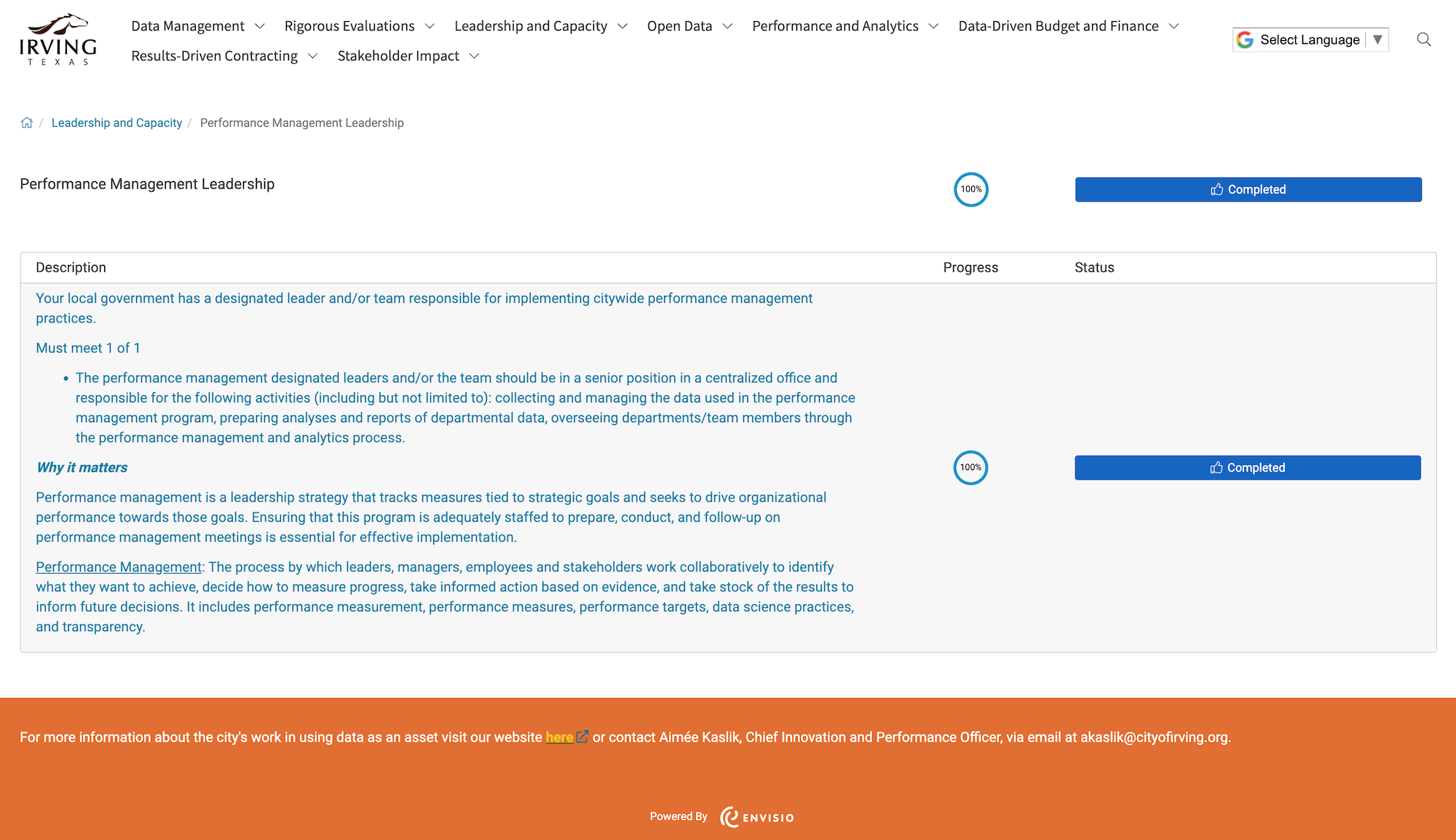 The City of Irving achieved the What Works Cities certification at the Silver level in 2021; a certification that signifies a standard of excellence in data-driven city governance.
Their current What Works Cities Certification Envisio-powered dashboard represents work done towards recertification (and leveling up) by the end of 2023. Their outcomes are aimed directly towards this goal; one major piece that they've achieved towards this end is getting clearly designated leadership around handling data. The City of Irving rightly has identified that any strong process of strategy implementation needs to be tied to consistent and holistic performance management; the process of measuring performance outcomes, tracking, and reporting is part of what makes data-driven decision making possible.
The City of Irving has also accomplished an outcome related to trust and transparency, which is another key requirement for winning the prestigious What Works Cities certification. What Works Cities requires that strategic goals, and then actions the city takes towards them, be shared annually. To this end, Irving published their dashboard, Future in Focus, which shows their progress on a variety of areas. You can see more of their strategic pillars and plans on this Future in Focus dashboard; these are related to the wider community beyond the What Works Cities certification, and includes successfully completed action items such as:
Developing a data-driven decision-making process for library collections, to better determine what kinds of materials and resources are needed for the library, and which are missing
The creation of an expanded court virtual docket, for those who are unable to appear in court in person, and to streamline the court process
3. Infill development policy and urban revitalization at the City of Ottumwa, IA
One of the City of Ottumwa's strategic pillars is focused on housing and land use; improving their existing housing offerings in terms of diversity of types of housing, and striking a balance between development and preservation by ensuring character buildings are functional. One performance outcome area that the city has been focused on is determining how to move forward with infill development.
Infill development is the process of constructing buildings on land that was previously being underused (or unused). A strong infill development program maximizes land use efficiency, which can in turn reduce urban sprawl and preserve valuable green spaces. Infill development can inject new life and economic activity into areas that have been neglected, which improves access to amenities, and quality of life for residents. Developing vacant or underused areas can also help promote social equity by providing affordable housing options within established neighborhoods.
Infill development was a specific area of success for Ottumwa. They have created a program to "acquire and award blighted or vacant residential lots," a policy change that has granted the city the ability to make the vacant lots more suitable for development.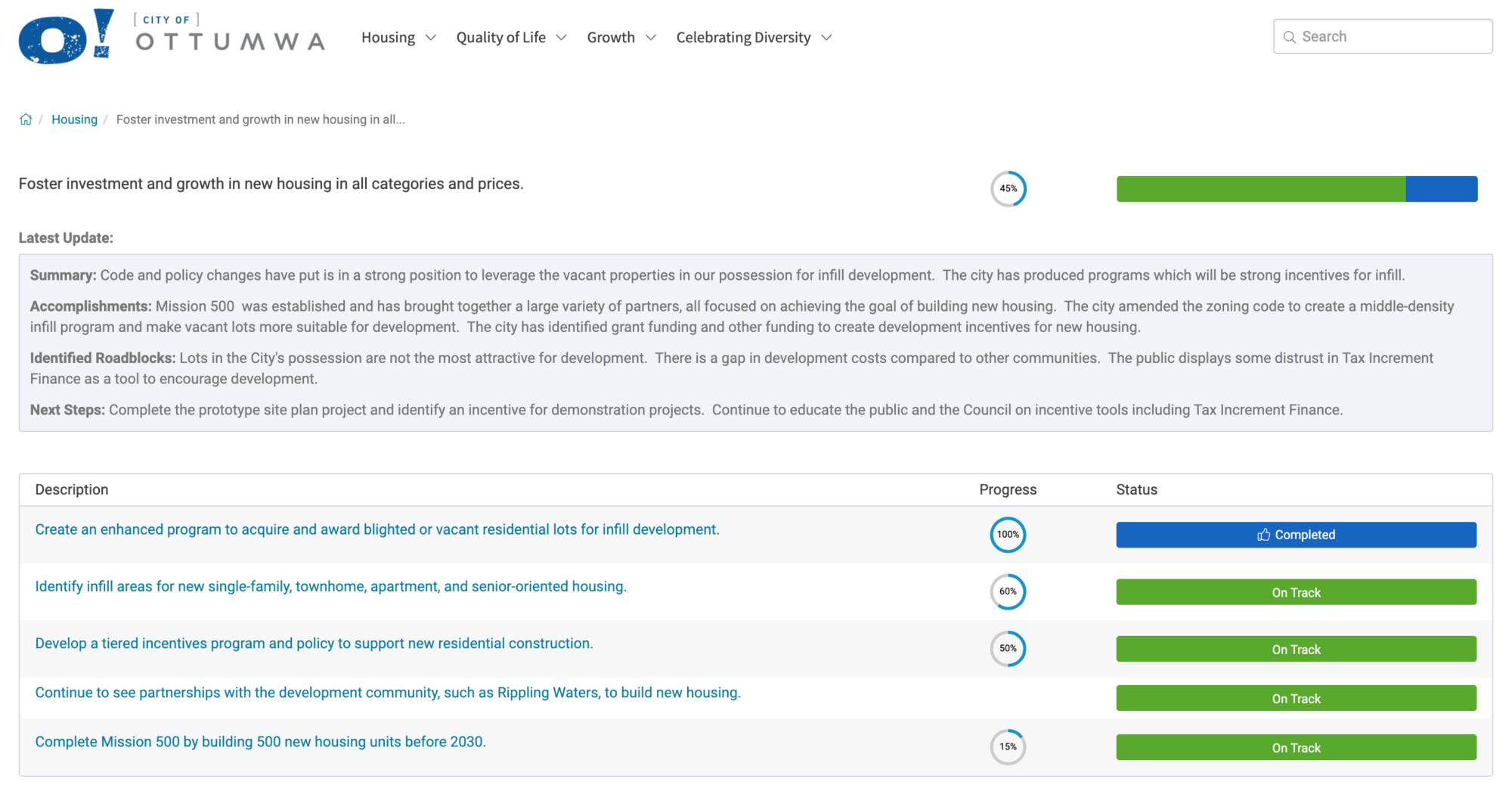 Another thing that's great about this outcome is that rather than trying to obscure the areas related to the city's notable concerns, they are honest about it; they use their concerns to inform their next steps related to their project. Now that they've successfully created a program to identify lots for infill development, they are moving towards their goal of enhancing the overall functionality, appeal, liveability, and desirability of their community.
4. The City of Edina, MN, established the Energy and Environment Commission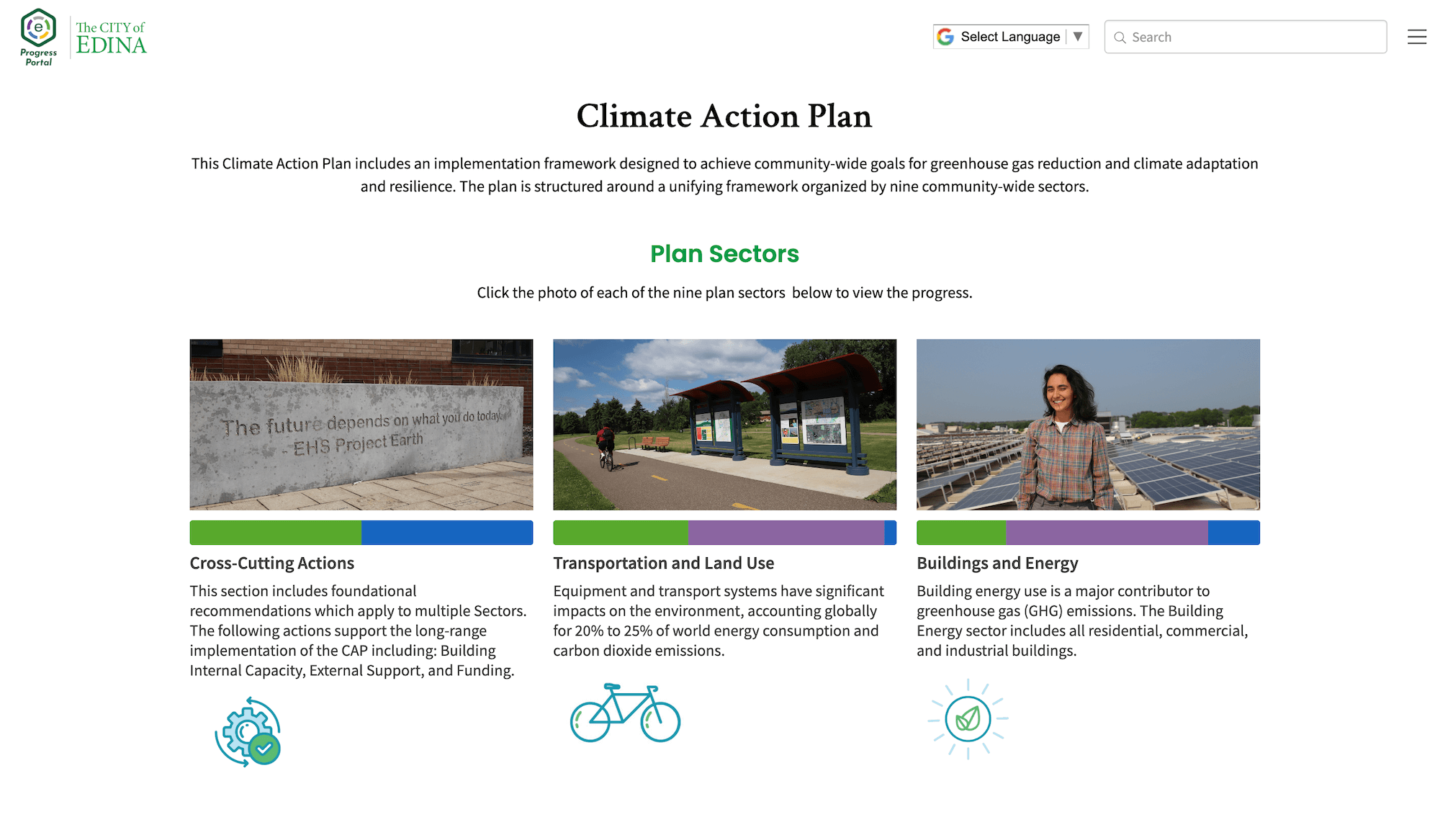 The City of Edina has been innovating in the area of climate action plans and how they are related to the city's broader strategic plan. They have collected data on 8 different areas to promote climate action, and some of their notable outcomes related to their plan have to do with creating a designated Energy and Environment Commission (EEC).
An energy and environment commission can be a very important asset for a city when it comes to implementing a climate action plan. By having a dedicated platform for addressing energy and environmental concerns, Edina is ensuring focused attention and expertise is driving the decision making around performance outcomes. The EEC, now that it has been established, can develop and recommend policies, initiatives, and programs to promote sustainability, renewable energy, and conservation efforts within the city. Having a dedicated energy and environment commission takes time to create, and we are impressed that the City of Edina has checked this goal off their list.
The City of Edina's EEC will be helping implement goals related to their climate action plan, and we know that it will also carry the additional benefit of fostering public engagement and awareness by involving residents, community organizations, and businesses in decision-making processes. Now that this commission has been established, it can also facilitate coordination among various city departments, streamlining efforts and enhancing efficiency in implementing environmental initiatives.
5. The City of Decatur, GA, embraces forward thinking digital services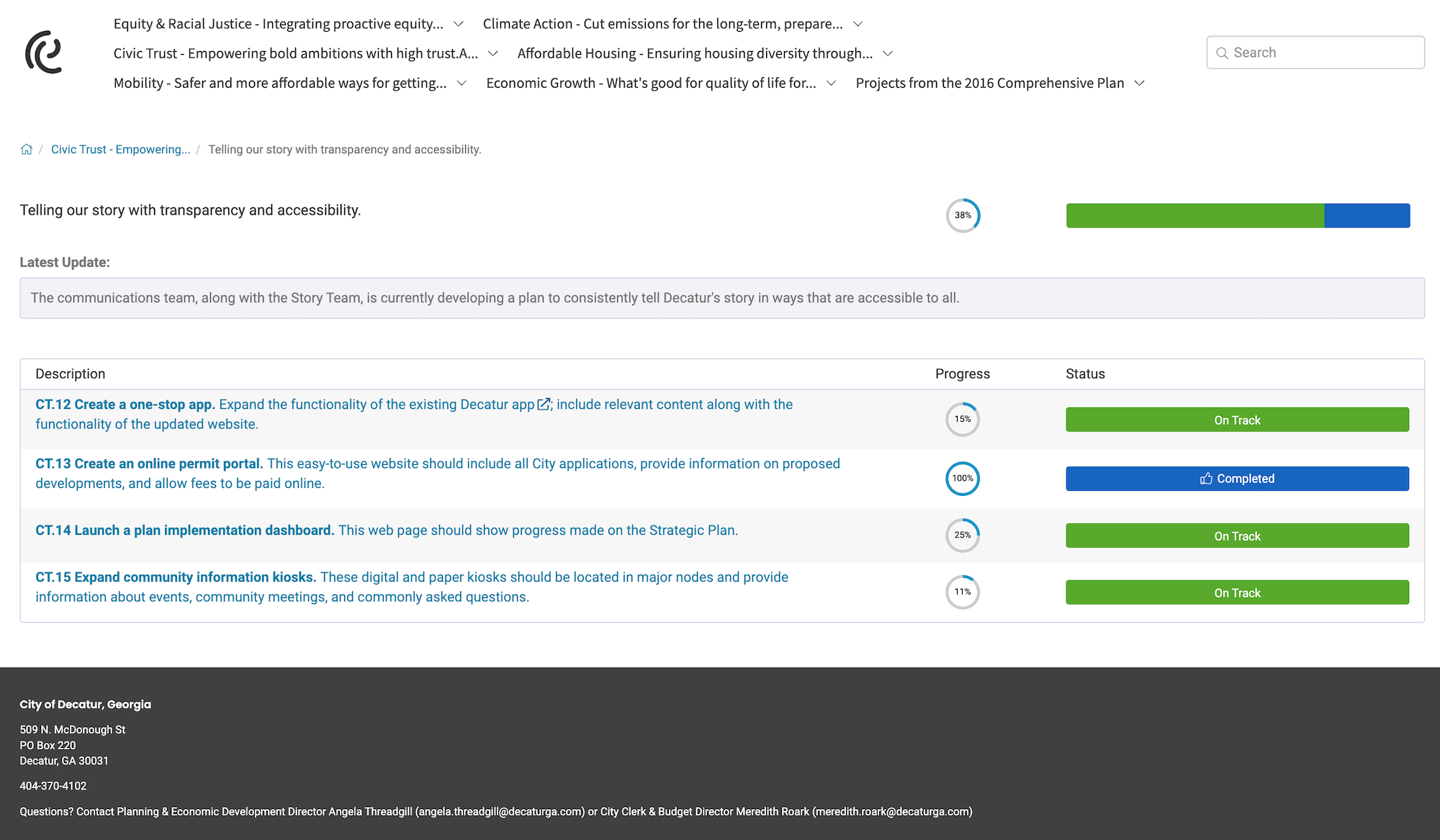 Permit application processes, fee payments, and development proposals can sometimes be extremely lengthy, needlessly complex, and time consuming processes for both residents and city employees. City bureaucracy can seem like a "black box" to residents – hard to use, and hard to understand.
The City of Decatur's new online permit portal sits under their goal of telling their story with transparency and accessibility, and indeed, an online portal does improve transparency and accessibility. When residents can easily access information about permit requirements, regulations, and fees, they have a greater understanding of information and reasons behind certain policies.
An online platform for these services–one where residents can easily submit and track permit applications–also significantly reduces paperwork, eliminating the need for in-person visits, and saving time for both applicants and city staff. It can help improve the services being delivered, because city officials can track the status of permits, monitor processing times, and generate reports for analysis and improvement.
Embracing digital services and creating a more streamlined process for day-to-day needs makes those needs easier to access, improves communication between applicants and city staff, and allows for an easier, efficient exchange of information.
–
Of course, measuring performance outcomes isn't just about measuring success. But measuring outcomes is a great way to pivot, adjust, and achieve greater success, and we think these local governments are well on track to do so!
Project outcomes also help local governments assess whether public funds were effectively utilized and if project goals were achieved. When we see outcomes on certain projects, we can see whether or not decision-makers and administrators are accomplishing their goals. This fosters a culture of learning and continuous improvement, which we love to see. When we look at the outcomes of certain plans, we can see what worked well and what can be improved in future projects.