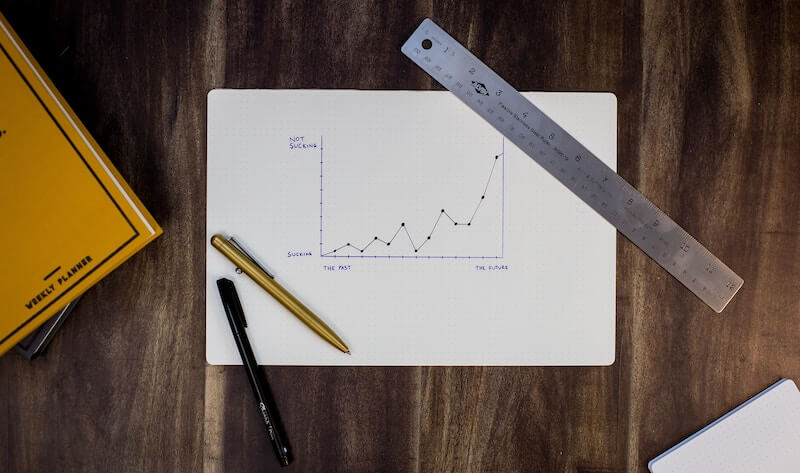 Strategic planning is a key tool for running an effective public sector organization. When done correctly, it turns today's vision into tomorrow's reality–but in order to meet the goals in the plan efficiently, these organizations need a management reporting system that helps them implement their plan. In this way, a good management reporting software is the foundation for successful strategy execution.
What is a management reporting system?
It's a platform that delivers a structured and scheduled set of reports designed for specific stakeholders that allows the organization to track performance, identify trends, analyze data, and align performance to overall goals. It takes a potentially laborious task like reporting (especially if you're using Excel…) and turns it into a point of strength as your organization looks to navigate the space between where you are and where you'd like to be.
At Envisio, we've helped more than 150 public sector organizations get to where they'd like to go with our management reporting software. Envisio's Report Builder has several key properties that can make your organization more efficient, better informed, and more effective: it is comprehensive, customizable, easy-to-use, and automates the delivery of timely and relevant reports to leadership and other key stakeholders.
By using our Report Builder, you can up your reporting game to better execute on your strategy, measure your performance, and report on your results. Report Builder lets you:
Automate: Envisio automates your reporting process, saving you valuable time and resources. By eliminating manual data entry and by-hand report generation, Envisio allows you and your team to focus on executing strategy rather than getting bogged down by administrative tasks. Automating your reporting process with a tool like Envisio can greatly increase productivity and promote transparency throughout your organization. This, in turn, helps to foster trust between teams, elected officials, and management, and reduces the number of ad-hoc status requests.
Optimize: Envisio's Report Builder helps to ensure that everyone in your organization has access to accurate and up-to-date performance data. Real-time dashboards, both internal and public facing, as well as customizable (and attractive) reports enable easier data-driven decision making for frontline workers, department heads, and elected officials. By having the right information at their fingertips, staff can make informed choices, identify areas for improvement, and take proactive actions to drive better organizational and community outcomes.
Inform: Our reporting management software helps you to build reports that provide a comprehensive and holistic view of your organization's performance. By linking objectives, action items, and key performance measures to your strategic goals, Report Builder helps users understand how different elements of the organization fit together and contribute to overall success.
"My team and I were spending, at minimum, forty hours generating quarterly reports, sometimes more. Scrubbing the data, ensuring that the tool we were using at the time was presenting what should've been in the report… It was painful. When we did the math of what it cost us to put together those reports versus the cost of Envisio, it was an easy decision. And now, the reports are generated automatically! We went from forty plus hours a quarter to it just happens."

– Aimee Kaslik, Chief Innovation Officer, City of Irving, TX
The 6 Benefits of a Good Reporting Management System
In over 10 years of working with public sector organizations, we've seen many different iterations of reporting processes–from spreadsheets to PDFs to dashboards, and everything in between. Most often, we see organizations struggling to find a tool that satisfies all their reporting requirements. Spreadsheets are static, immutable, and difficult to manage; data visualization tools like Tableau can be inflexible, lacking in context, automation and customization; and don't even get us started on trying to manage your strategy and reporting in a Word document!
Envisio's management reporting software is a purpose-built tool that is designed to provide public sector organizations with the tools to tell the story of their progress, exactly as they'd like it to be told, without the painstaking manual work.
Let's explore some of the tangible benefits of a good management reporting software:
1. Increases communication throughout your organization
When senior management and employees are sharing the same information, there is better communication between them to identify problem areas and find mutually agreeable solutions. In addition, local governments and other public sector organizations are able to share statistics and progress reports with council members and the community. This is one of the most important benefits, because having the data readily available and clearly communicating it builds trust in your organization and your efforts to drive better community outcomes.
2. Improves productivity and resource allocation
Good management reporting software not only promotes cross-functional cooperation across departments, but also helps decrease any duplicate efforts among team members. Automated reports also save employees countless hours of sifting through mounds of paperwork in search for data and results. Employees are more productive because they don't have to spend time gathering the data that management wants, allowing them to tackle other items on their to-do list.
3. Improves decision-making and efficiency within your organization
Without an effective, functional management reporting system, managers are often relying on their experience alone and employees don't have a clear sense of direction. Better availability of information reduces uncertainty and lets managers make decisions based on reliable data.
4. Identifies potential problems early, when you still have time to act on them
A good management reporting software serves as a preventative measure, designed to help management achieve maximum effectiveness before a program or project reaches crisis level. Management is also able to explore various alternatives and analyze the possible results before making decisions and commitments.
5. Drives return on investment (ROI)
This is the most tangible benefit of all as it can mean decreased costs and increased revenue. Having the data at your fingertips allows managers to be better equipped to switch gears if necessary and respond to changing business environments faster. Simply put, slashing budgets is no longer effective unless there is data behind that decision.
6. Tells the story of your performance
Residents and other stakeholders want to know what is being done and if their issues and concerns are being heard. With more data about the needs of each set of stakeholders, management is better able to design better service delivery systems. A good management reporting system should allow you to set up automated reports that make it quick and easy to generate monthly, quarterly, and annual reports for all of your various stakeholder groups, as needed.
Management reporting software is essential for any public sector organization that is serious about improving the performance of their organization. Without a good management reporting system, managers are often using a trial-and-error approach, rather than making sound decisions based on thoughtful analysis of data.
What to Look For in a Management Reporting Software
Let's be frank: not all management reporting systems are created equal.
A good reporting software like Envisio should empower rather than encumber your users. Here are some specific features you should consider when you're choosing a management reporting software partner:
Cascade Structure and Roll-up Reporting
Envisio's Report Builder provides your organization with a true reflection of progress toward your most important goals with automated, aggregated progress and status indicators that roll up from the lowest planning level up through the planning hierarchy. You get complete visibility into performance and can communicate transparently with residents, stakeholders, and staff.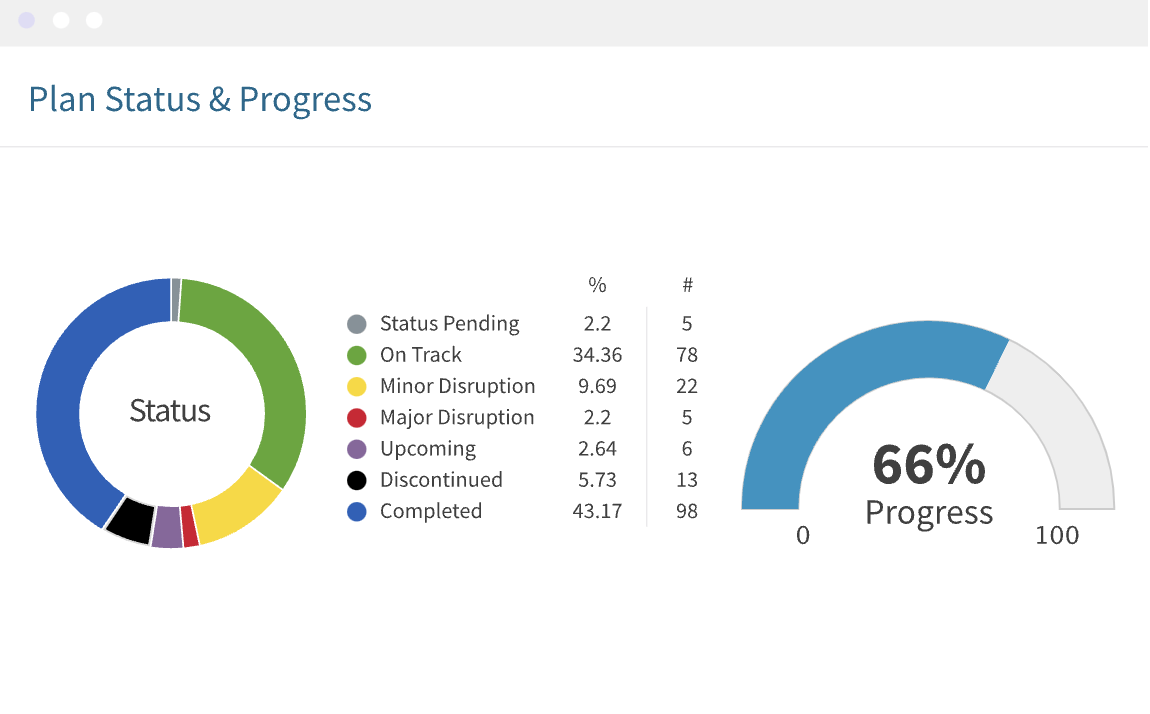 Multi-Plan Reporting
More than 60% of Envisio users manage multiple plans in our system. We have a dedicated Multi-Plan reporting function so you can gain a holistic view of cross-plan initiatives, such as sustainability and equity.
Automation & Centralization
With Report Builder's automation features, you can enjoy effortless reporting while maintaining accuracy, flexibility, and timeliness. You can set custom report schedules to align with your needs and different stakeholder groups. Envisio automatically pulls the relevant data from your updates to ensure that your audience is kept in the know—directly to their inbox. Set specific run dates, or automate a weekly, monthly, or quarterly reporting cadence.
We also believe that data visualizations and third-party integrations can enhance the impact of your reports. The best management reporting systems allow you to centralize the work and performance data living in all of your other departmental systems, without requiring duplication.
With Envisio, you can seamlessly embed visualizations from popular platforms like Questica, Tableau, GIS mapping, and more, without having to recreate them in Envisio's visualization tools (although, you can do that too, if you would like!). With these automated integrations, you can create dynamic and visually compelling reports that captivate your audience, tell the right story with the right data and charts, and drive data-informed decisions.
Check out a 2-minute overview of Envisio's report building and automation capabilities below ↓
Report Customization
Tailoring your reports to specific audiences is crucial. Our reporting features provide extensive customization options, including advanced filtering capabilities, report types, and best practice templates pre-built for the public sector. Filter by plan levels, department, employees, priority level, status, tags, dates etc to focus on the most relevant data for each stakeholder group. Choose from a progress or tabular report or run a multi-plan report, pulling in multiple reports to get a visual and update across the organization.
Includes Quantitative And Qualitative Data
Data and visualizations without written context can sometimes be confusing, and simply sharing a set of charts can open up more questions than answers. Conversely, written progress updates without data can be open-ended, subjective, and lack transparency.
Envisio gives you the best of both worlds. Your reports can include charts, written updates, scorecards, or all three. And of course, these are all aligned to the correct goals, strategies, and actions in your plans. Simply choose what to include in your reports with a simple "on/off" toggle for each element.
Ease of Use
Customers consistently highlight the ease of use and user-friendly interface of Envisio and appreciate the ability to track and measure performance easily. The intuitive navigation makes it easy to sort, create, and share reports. The Design/Preview feature allows you to customize your report and instantly see the changes with the click of a button. Save your report as a template and re-create it for the next group, or share it with a colleague to duplicate and further customize.
"Envisio is so organized and easy to use. I wanted something with detailed reports, knowing that we'd be using them for internal accountability, both in our office and with the district leaders. Being able to develop a public-facing dashboard is really exciting to me, so we can better communicate with our community on the progress we are making. And given the size and scope of our strategic plan, and in the interest of it not being a plan that just sits on a shelf, I needed something that could help organize it. Envisio made it easy and efficient, and what could have been an overwhelming strategic plan isn't overwhelming at all."

– Dr. Alison Gillespie, Assistant Superintendent for Teaching and Learning, White Bear Lakes School District, MN
Templates & Best Practices Database
We believe in the power of shared knowledge and data-driven decision making, and that is why our management reporting software comes with a full library of best-practice templates built specifically for the public sector. Leverage these one-click reports and provide meaningful insight that provides an accurate picture of progress, highlights roadblocks, and keeps your team organized and on track with updates.
Product Support and Subject Matter Expertise
We are committed to setting your team up for success.
We guide you through building your plan, developing performance measures, tailoring reports to each of your audiences and creating a public dashboard for transparency. Our goal is to empower your team with the necessary tools and knowledge to effectively execute your strategy and track and report progress.
With our customized services and team of public sector planning, reporting, and performance management coaches, we cater to various nonprofit and public sector organizations, including government, education, healthcare, and nonprofit organizations.
Public Sector & Nonprofit Community
The needs of public sector and nonprofit organizations are unique, especially when it comes to reporting on performance and progress to different audiences. Envisio works exclusively with publicly funded, publicly accountable organizations and our management reporting software is purpose-built for these industries. In addition, we have hundreds of public sector and nonprofit leaders willing to share their expertise and support in our customer community–from local governments to higher education institutions, school districts, library services, healthcare agencies, and nonprofits from across North America.
Management Reporting Software Comparison Chart
Here are some of the features and benefits of a good management reporting system and how Envisio stacks up against other management reporting systems: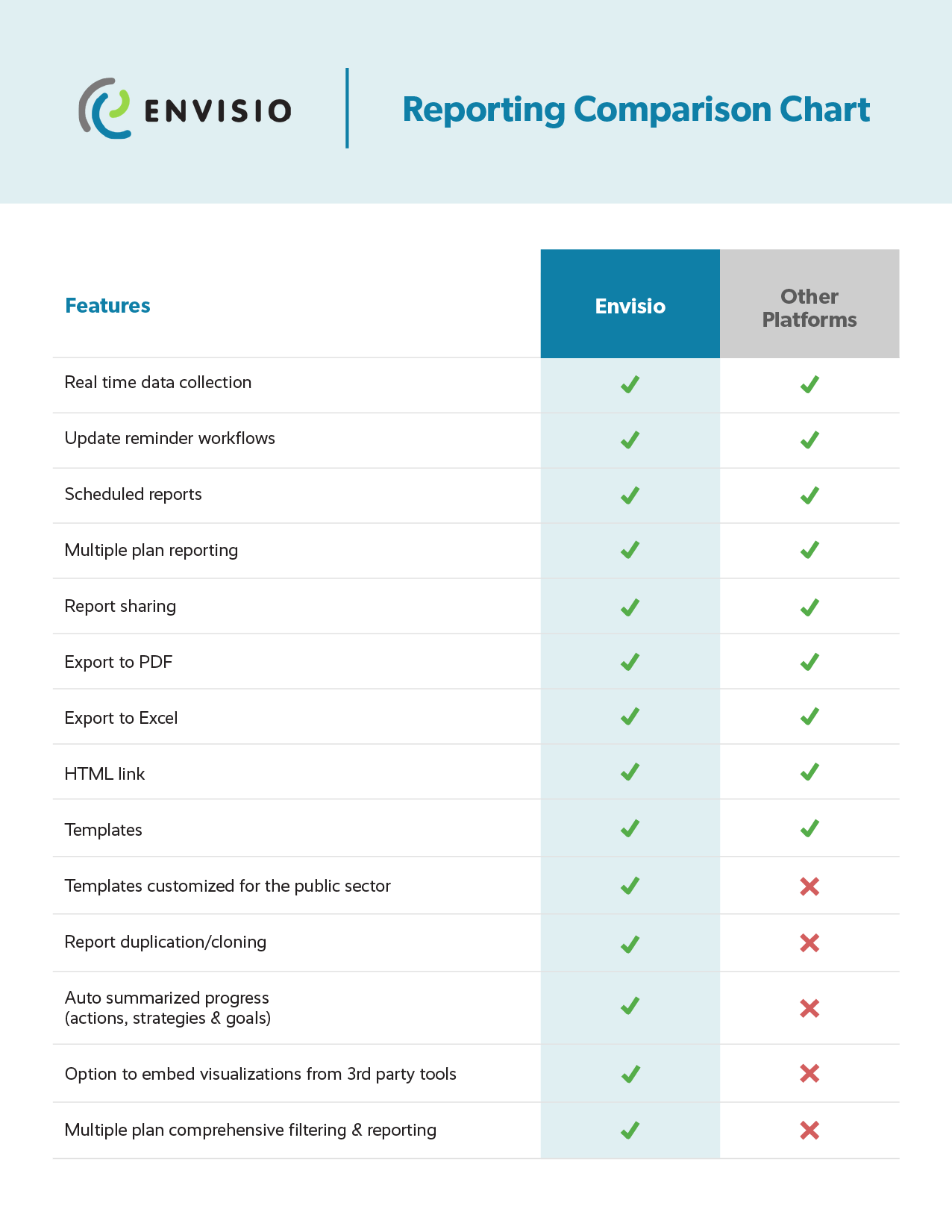 Get the Guide ↓
For more information on how to develop a local government reporting framework, check out our step-by-step reporting framework guide. Whether you use our software or not, get real examples, templates, ideas, and a repeatable framework for what to report, how, to whom, and when.