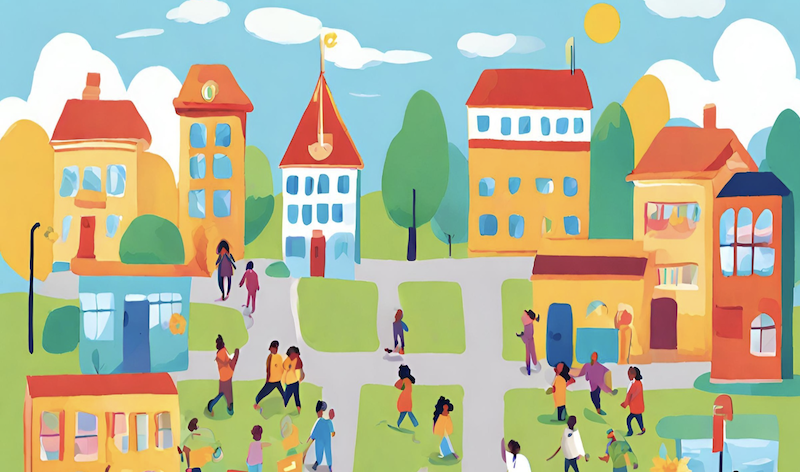 In March 2021, the American Rescue Plan Act (ARPA) was signed into law, representing a historic effort by the U.S. government to provide relief and support during the COVID-19 pandemic. $350 billion in funding for state and local governments was released—$130 billion of these numbers going to local governments specifically. These funds were released to help improve infrastructure and lend assistance to small businesses, hard-hit industries, and households following the negative economic impacts of COVID-19. The funds are also directed to give premium pay for essential workers, and promote broadband infrastructure and modernization, and water infrastructure.
A significant portion of these funds have, to date, been dedicated to bolstering public health; this includes continued support for COVID-19 testing and vaccination programs, as well as other measures aimed at mitigating the impact of the virus, support for public health and safety personnel, and the acquisition of necessary equipment to ensure the safety of public facilities. But there's so much more to infrastructure maintenance and public health upkeep!
In this post, we're going to take a close look at some of the specific action items underway—or completed—by our amazing local government customers using their ARPA funding, which all work together to improve infrastructure, public health, and general community wellness. We'll explore six transformative ARPA local government initiatives that aim for long-term impacts beyond ARPA's duration.
The following communities have all published their ARPA initiatives on their Envisio public dashboards, which both shows the public what ARPA funds can be used for, and further promotes transparency in their communities around ARPA funding.
ARPA Funds in El Paso, Texas
El Paso County, Texas, received a total of $163,012,143.00 in ARPA funds, with the first installment of $81,506,071.50 being released in May 2021. Since May 2021, The El Paso County Commissioners Court has strategically allocated these Recovery Funds to address several critical areas, from public safety to promoting clean, accessible drinking water to communities.
1. Crisis Intervention Team
Approximately $3 million of El Paso County's ARPA funds went towards reforming their justice system, particularly with regards to reducing the number of incarcerated people by providing alternative responses to individuals experiencing mental health emergencies or crises. They are also working to expand their crisis response infrastructure with a Crisis Intervention Team (CIT) expansion, as they provide mental health specific services to residents through the Sheriff's office. The goals of this program are: diversion from jail and diversion for hospital; avoiding and reducing law enforcement use of force; providing linkage to outpatient services; and decreasing recidivism. El Paso County's CIT aims to improve outcomes for individuals experiencing crises while promoting community safety and mental health awareness, and avoiding punitive measures.
2. Critical Infrastructure Investment
Another significant aspect of the County's ARPA funds allocation strategy is investing in critical infrastructure, particularly in areas of the County that have been disproportionately affected by the pandemic. They are working towards improving their existing facilities by researching best practices around park expansion, green or low impact development, working on developing a new stormwater management policy, and expanding county-wide access to broadband internet services. These policy changes will make it easier for rural residents of El Paso county to access clean drinking water, remain safe during storms, and receive urgent updates from the county with reliable, up-to-date access to the internet and information.
ARPA Funds in City of Irving, Texas
We love to talk about Irving, Texas because—well, they're data nerds! And frankly, we appreciate their love of performance analytics, data-driven decision making, and bringing compelling, large-scale ambitions into focus through their strategic plan. We've talked many times before about their Future in Focus dashboards–the city's method of gauging advancement in alignment with the city's five strategic focus areas and 18 operating strategies. Future in Focus serves as the city's blueprint for operational and strategic planning, forming the overarching structure within which all municipal services are provided.
But Irving also has a dedicated ARPA scorecard that shows how the city is allocating ARPA funds.
Here are a few fantastic initiatives ARPA funds are supporting in the city of Irving.
3. Supporting Small Businesses
This ARPA initiative offers two types of grants. The first grant is a recovery grant aimed at aiding businesses in covering various COVID-19-related expenses (like overdue rent, inventory costs, capital improvements to enhance safety measures, supplies for reopening, etc.) The second grant will focus on providing technical assistance to help businesses mitigate the adverse effects of COVID-19 and implement strategies—such as business modernization—to enhance their resilience in the face of potential future economic challenges.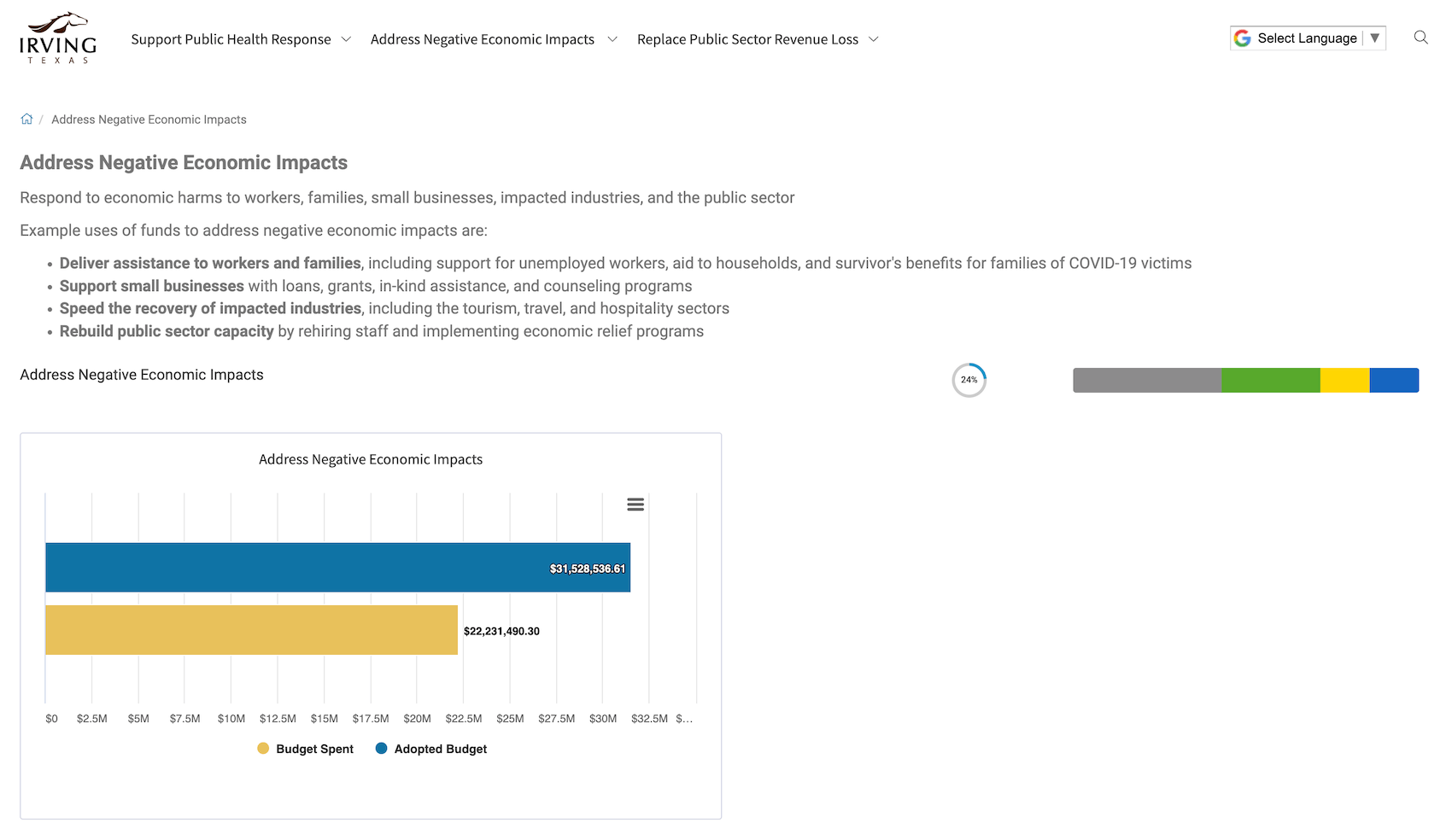 4. Addressing Arts and Culture
Another ARPA initiative that Irving is getting underway is bolstering their arts, culture, and tourism industry. Arts and tourism can significantly lift a local economy by incorporating arts and tourism into a strategic plan or as a strategic pillar on its own. Improving arts and culture offerings can not only benefit the economy, but create spaces of community, incentivize infrastructure investment, and support job creation. Irving has a holistic approach to supporting their tourism, arts, and culture industry that supports their tourism board, and works with the Irving Arts Center to strengthen the arts economy.
In situations of crisis, one critical piece to maintaining a sense of calm and direction is strategic, clear communication, and the City of Irving's dashboards demonstrating where ARPA funds are being directed helps to do exactly that.
ARPA Funds in Washington County, Oregon
Washington County, OR's ARPA commitments are driven carefully by their values: equity, resilience, collaboration, and good governance.
In formulating Washington's ARPA framework, Washington County expanded its collaboration with over 120 community-based organizations and an existing COVID-19 Racial Equity Workgroup (CREW) composed of leaders from these organizations. The initial strategy and goals identified were designed to strike an equilibrium between response and recovery endeavors, and was centered around five primary Tranche investment areas:
1. Protecting public health
2. Community stabilization and wellness
3. Stabilize and support the local economy
5. Continuity of government
Here are some specific ways in which Washington promotes these focus areas.
5. Invest in Public Health First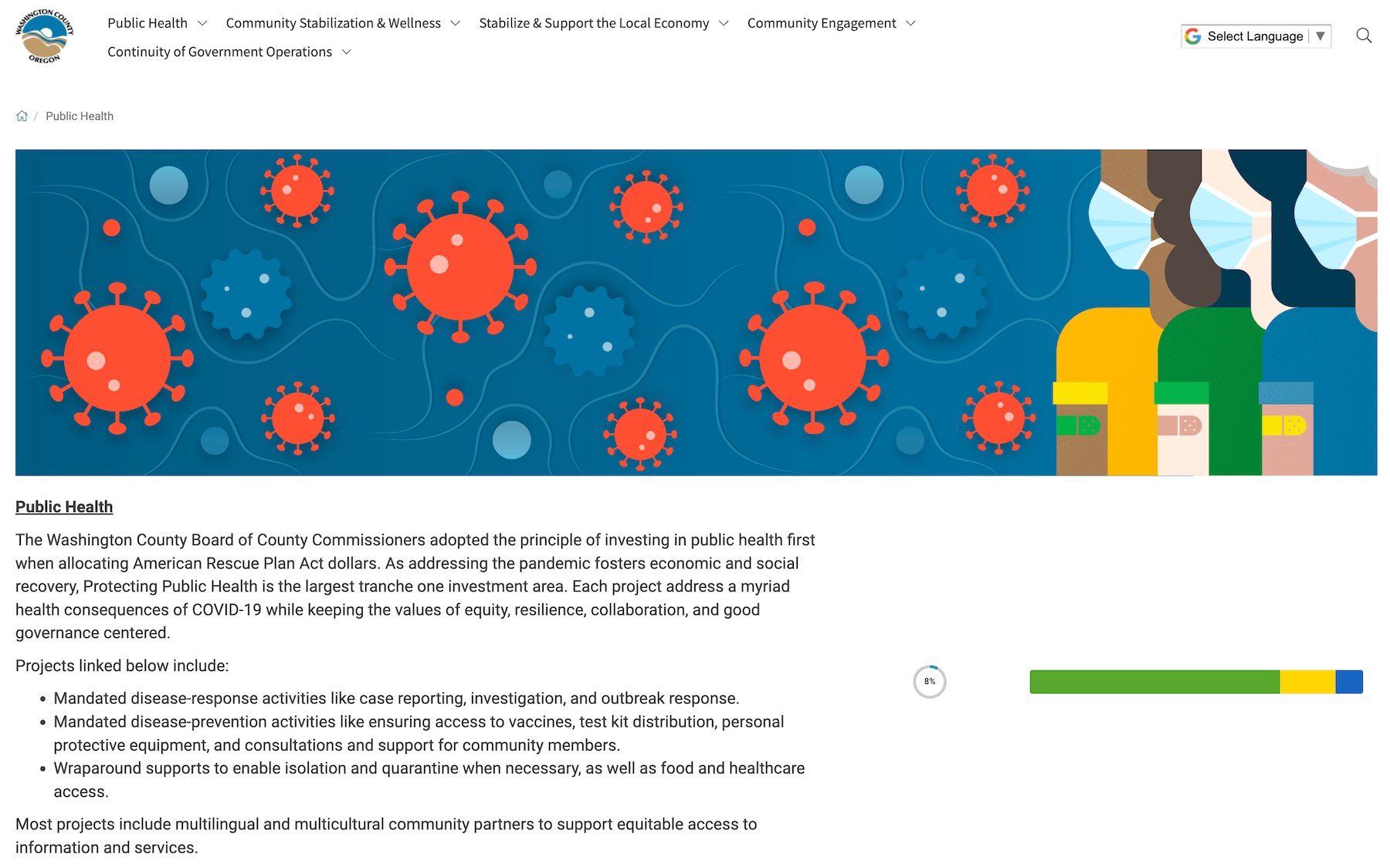 By clicking on the specific areas of focus in the public health section of the Washington County's ARPA public dashboard, community members can drill down into specific action items related to the county's overall goals. Some of the action items include providing isolation and quarantine support, and case investigation to better predict and prevent outbreaks of COVID-19 and future transmittable illnesses.
Washington County's ARPA public health plan also includes a pillar on "Meeting Basic Needs" which includes a dedicated focus on providing culturally-specific nutrition and information, to increase food access and food security for communities of color, immigrants, and refugees.
The Washington County team is also working to improve migratory and seasonal agricultural worker community support by ensuring people have baby and hygiene supplies, as well as appropriate outdoor protective gear.
6. Engaging Community and Building Collaborative Capacity
In March 2022, an intergovernmental agreement (IGA) was established to create a unique collaborative working relationship between three governments; between the Board of County Commissioners of Washington County OR, as well as the Cities of Beaverton and Hillsboro, to enhance overall community engagement efforts. This became a collaborative organizational body of over 100 community organizations—known as the COVID-19 Racial Equity Workgroup (CREW).
By March 2023, CREW had evolved further to focus specifically on offering input regarding equitable community engagement practices and capacity-building recommendations for each jurisdiction. Key project components encompass:
Engaging culturally specific organizations, providing compensation for culturally responsive involvement.
Implementing uniform policies and practices in community engagement across jurisdictions to ensure a consistent approach and holistic coordination of engagement needs.
Assessing and interpreting community requirements through various data sources to inform ARPA decision-making.
Making use of ARPA funds can be a process that allows for collaboration, benchmarking against other local governments, and bringing the community into the consulting process to better understand how to meet their needs.
—
The American Rescue Plan Act, and these six far-reaching initiatives, has already had, and will continue to have a significant impact on the United States. While ARPA local government initiatives have funding requirements, within these requirements we have seen creative and unique ways to tailor initiatives to the needs of a specific community. From improving park access, to establishing precedents around reducing incarceration, improving internet access, and providing relief to front line workers, these initiatives are helping Americans recover from the economic and health impacts of the pandemic while also addressing long standing issues. As these programs continue to unfold, they serve as a testament to the power of local government action in times of crisis and the potential for transformative change when resources are directed toward pressing societal needs.
Get the guide ↓
These plans around ARPA funds are inspiring because they are implementing very specific and measurable objectives towards big, long-term goals – and they're measuring their performance carefully. If you are curious about some tips on going from planning to action, and getting a performance measurement program in place, we invite you to check out our Strategic Plan Implementation Guide.