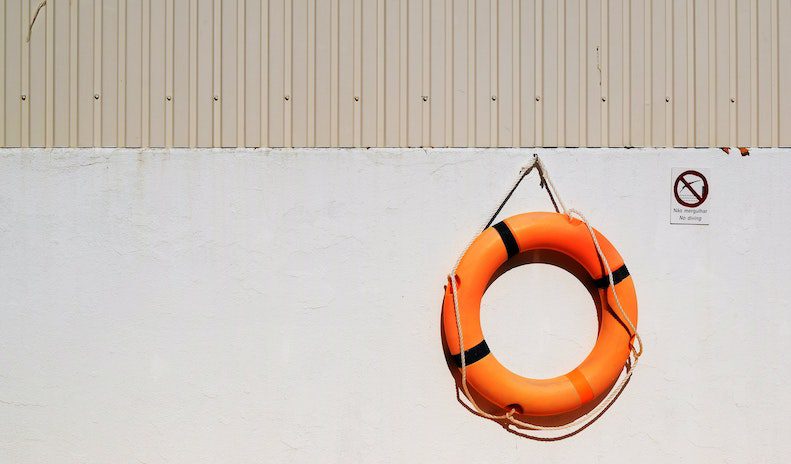 " … When I write a book, it's going to be called 'Hope is Not a Strategy'. You can be hopeful, but you still need a plan!" – Wydale Holmes, Strategic Management Analyst at the City of Tempe, Arizona
A crisis is an unexpected, disruptive, challenging event that impacts a person's, community's, or organization's ability to function effectively. Some crises are short-lived; they crash, with no warning, right through our lives and routines, and before we can even get a sense of what's happened, we're in the aftermath.
But many crises unfold slowly—meaning, the events that lead to the crisis point are often a long chain of cause and effect. They creep up on us over time, and once they hit that breaking point of catastrophe, things are usually made worse by panic, shock, and uncertainty. What's happening? Who is at fault? How do we respond? What comes next? In hindsight we often see that the foundation of the crisis itself was a series of smaller mishaps, and missed opportunities for crisis prevention, intervention, and response.
Today, we are exploring how strategic planning in public sector organizations can bolster crisis response, and how it can help local governments and other publicly accountable organizations stay one step ahead. Strategic planning can help an organization respond effectively to a crisis, mitigate the negative impact of the crisis, and with regular engagement with the strategic plan, can also support smart, effective decision-making during the crisis itself. It can ensure that the right resources and actions are in place to support the recovery of communities.
We cannot prevent every crisis, but with strategic planning in the public sector, we can adapt when needed, avoid when possible, soften the impact as best we can, and create realistic roadmaps for response and recovery.
Internal vs external crises
Before diving in, it's important to note that understanding the nature of the crisis that an organization or community is facing, or could face, is one component of both prevention and response. An internal crisis, such as a sudden change in leadership, or a loss of key employees, is one that happens within the organization or administration. External crises, such as a natural disaster, sudden economic downturn, or a pandemic, happen outside of the organization. A strategic plan can help prevent and mitigate the fallout of both.
Local government and publicly accountable organizations are impacted by both internal and external crises, and they also have to deal with the tricky reality, which is that internal crises in publicly accountable organizations tend to be particularly noticed by the public.
While the impact and responses of these crises differ from one another, the positive impact of strategic planning, and incorporating strategic emergency readiness into your organizational goals, is the same.
Improved trust through crisis communication
How crisis-related information is disseminated, by who, and having a clear chain of command made explicit and visible to everyone, can instill a sense of trustworthiness and forward momentum. When things are uncertain, trust is a vital public currency.
Both internal and external crises can be less panic-inducing if the organization has effective crisis communication. When the waters get rough, you want to know that your captain knows how to drive the boat! A strategic plan can help lay the foundation for such communication, and display gaps or areas for improvement.
For example, during the early days of COVID-19, one of our clients, Borough of State College, used survey data to identify where they needed to improve their community communications. One of their strategies was to launch an Envisio-powered community dashboard. On this dashboard, they were able to keep the public easily informed on which day-to-day municipal services were being impacted by the pandemic, and what to do about it. This transparency helped assure the public that they weren't being abandoned, that leadership had a sense of control over the situation, and it freed up the ability of leadership to collaborate with others–from healthcare to state and federal levels of government–as needed.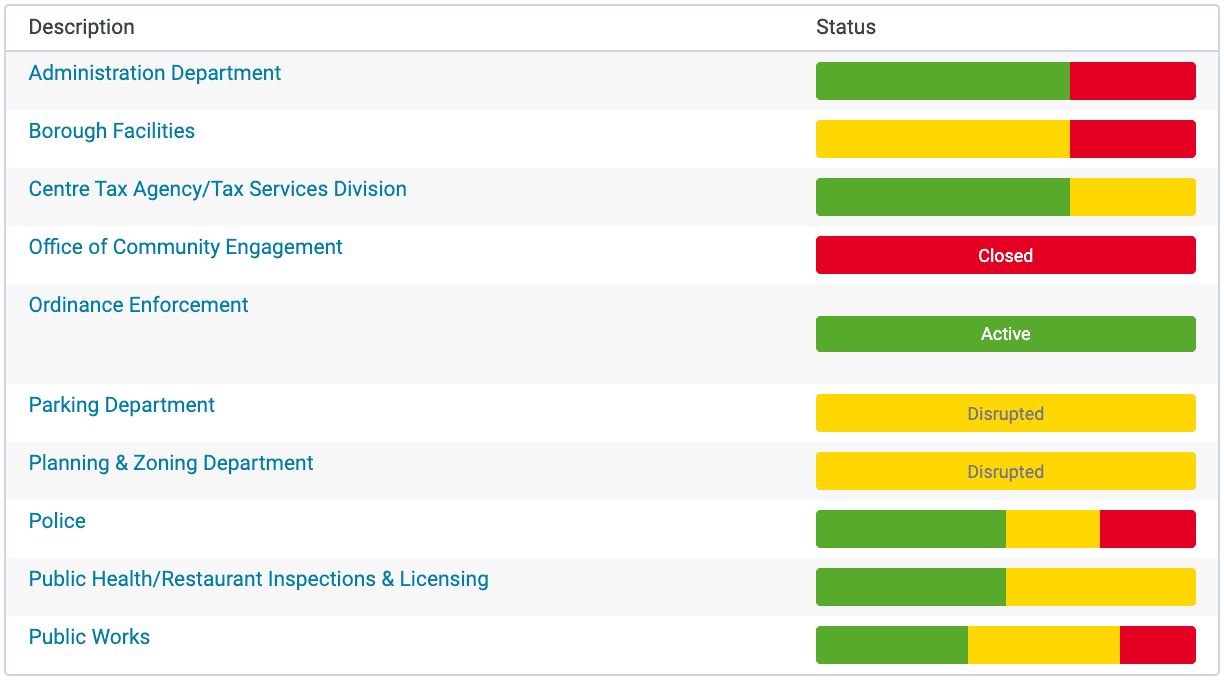 "The dashboard is one of the things I'm most proud of. It's a one-stop-shop for residents to get answers. For example, using the dashboard, yellow means okay you can get your land development reviewed, but you have to call a certain number. And then we wrote instructions directly in the dashboard item line on how to do that. It has provided a super easy place for residents to get information. It's also digital, which we love, because it helps us in hitting our sustainability goals" – Douglas Shontz, Assistant to the Manager, Borough of State College, PA
Effective and efficient responses
One big benefit of a strategic plan is that it helps determine an organization's vision and goals for the future (and engages everyone with it). When creating your strategic plan, including crisis protocols ensures that you are left with a roadmap to recovery. Recovery from a crisis requires rapid and effective responses.
A strategic plan can prevent two potentially very damaging responses to a crisis: not making any decisions, or making decisions erratically. Both are very human responses, but it is important for leaders to maintain a cool head in times of turmoil.
Local governments and the public sector organizations generally are able to respond to a crisis more quickly and effectively if there is a structure in place to do so. Eliminating at least some aspects of decision paralysis by providing plausible next steps goes a long way in a crisis, when smart use of time needs to be prioritized the most. When there is a habitual engagement with a strategic plan, and particularly when that strategic plan incorporates emergency readiness, key decision-makers know what the next steps are.
By having a strategic plan in place, local government and the public sector can avoid the cost of having to create a plan on the fly in the midst of a crisis which, in the long term, can be time-consuming and costly. Strategic planning can reduce the human and economic toll of a crisis, and support communities as they recover.
Prevents backsliding on important goals (and sometimes accelerates progress toward them)
Without a strategic plan, a significant external crisis can completely derail a community's hard-fought wins and progress towards a vision. While certain long-term plans may need to be temporarily placed on the backburner, a strategic plan keeps that focus present and immediate—and can prevent backsliding. Some long term components of a strategic plan may be even more important to double-down on during a crisis.
For instance, If your local government has an overarching goal towards improving economic equity in your community, members of a lower socio-econmic status will likely be disproportionately impacted by a crisis, due to that initial lack of access to resources. Having a strategic plan can ensure you are aware of needing to allocate the necessary resources to the communities in the most need, to prevent a loss of hard-won gains.
A real example of this is how the pandemic has disproportionately impacted women. Instances of domestic violence rose, and women accounted for 54% of global job losses at the start of the pandemic. A strategic plan can help prepare a local government for the realities of existing issues becoming exacerbated, so when disaster strikes, they don't lose significant ground.
Sometimes, a crisis can even present an opportunity to accelerate progress towards strategic goals. For example, many US local governments that received additional federal funding via the American Rescue Plan Act during the COVID-19 pandemic were able to move more quickly toward certain goals where they already had a strategic plan in place.
"We kept asking ourselves, can we actually accelerate some of these changes our community has asked for? People are going through so much right now, and we keep talking about what we can do to help them, and our students, emerge better than we were before." – Dr. Alison Gillespie, the Assistant Superintendent for Teaching and Learning with WBLAS.
White Bear Lake Area School District (WBLAS) in Ramsey County, Minnesota, is another example of an organization that used their strategic plan to stay focused on their overall goals when the pandemic hit. They had been working on their strategic plan with Envisio for five years by that point, and it remained a guide amidst the uncertainty and the changes. Because they had developed such a robust plan, they were actually able to turn some of the challenges into opportunities for growth.
Check out the White Bear Lake Area Schools case study to learn more about their strategic plan and how they leaned on it in a crisis.
Supports collaboration and coordination
A crisis generally impacts multiple entities, including departments, stakeholders, community members, and/or governing bodies. Because a strategic plan involves thoughtful engagement with these entities, and often collaborative relationships, this gives organizations that use a strategic plan an edge.
Working cross departmentally to respond to a crisis is critical. Referring to your strategic plan—before and during a crisis—helps to ensure that all parties are aligned and working towards a common goal. This can help to reduce confusion, duplication of effort, and delays. In these moments of intensity and panic, a strategic plan can create the structure you need to stay grounded, and work across teams.
Builds organizational (and community) resilience
During a crisis, the ability of an organization or local government to respond effectively can be the difference between an ongoing struggle (and subsequent compounding crises), and getting back on track smoothly. If an organization is able to face adversity and respond to a crisis, they build not only trust with their community, but also, they build organizational resilience for the future.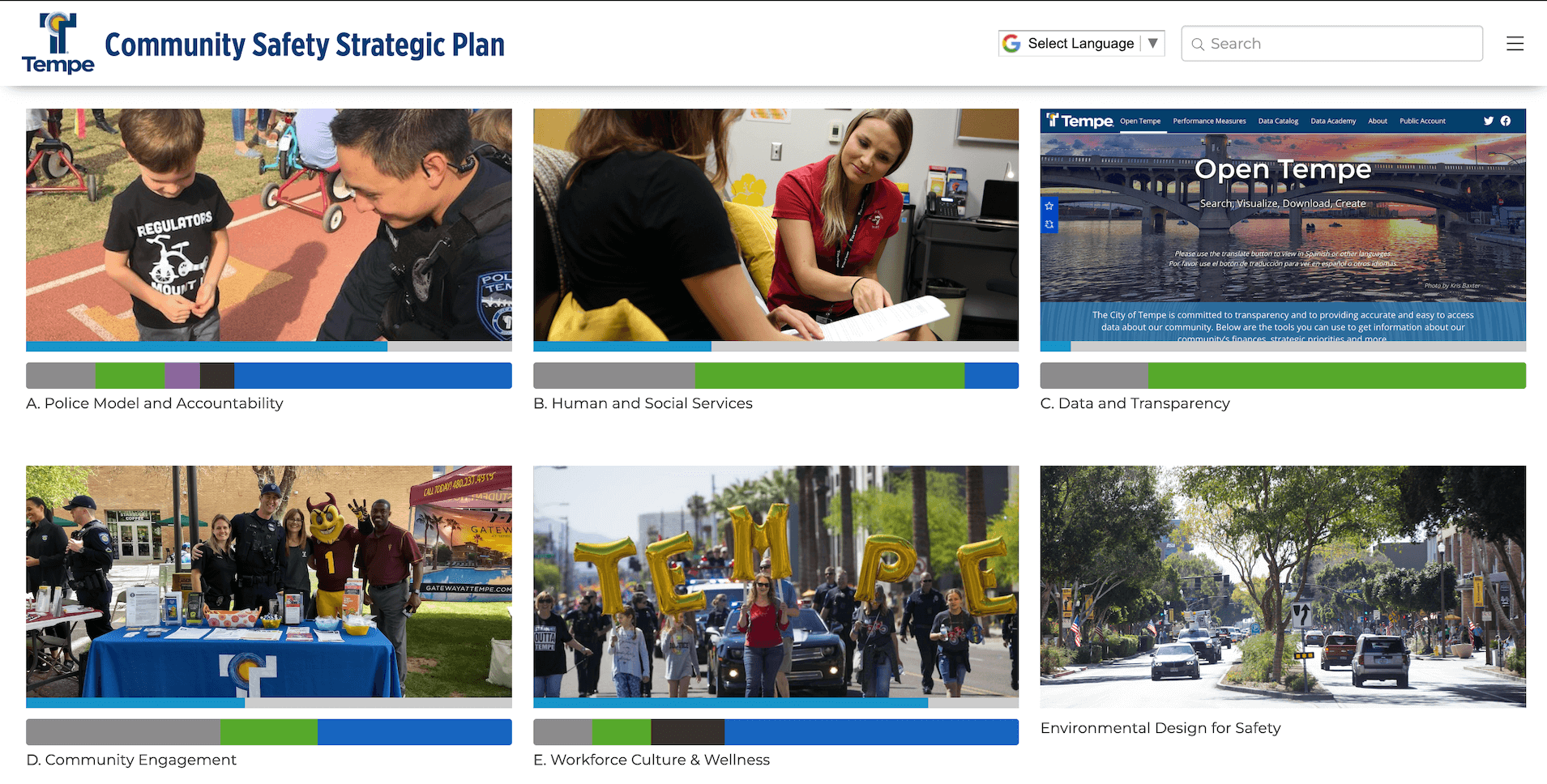 During the pandemic, and in response to a policing crisis in their community, leaders at The City of Tempe, Arizona, opened up their organization to have their viewpoints challenged by residents of diverse backgrounds and beliefs. On the back of this, they created a new and reimagined Community Safety Strategic Plan driven by community input.
The city recognized the importance of not only providing a meaningful and proportionate response to a crisis, but in having a strategic plan in place to build organizational and community resilience for the next one.
"… We tried to document and capture the entire conversation. And we were very intentional in these conversations. We tried not to make it driven by the city–here's a presentation on X, Y and Z. We wanted to ask questions, things like, 'Tell us what you think would help advance trust between the community and our city.' … You get people with different and divergent perspectives, and that was very rewarding. Even in moments where there seemed to be a lot of stress, the conversation would be akin to "I really want to understand your perspective, can you share that with me again?" – Wydale Holmes, City of Tempe, Arizona
Your strategic plan can help
Crises happen. The world is unpredictable. For local governments and public sector organizations, it is especially critical to be prepared for when things go wrong. When it comes to emergency readiness and crisis management, it's not a matter of if something happens, it's a matter of when.
A strategic plan can function as a compass through even the most challenging times. By establishing a routine method of communicating – both internally and externally, and by habitual engagement with the plan (and your vision for the future!) you are developing a proactive, efficient, and importantly, effective method for managing the unexpected.
Get the template ↓
Being ready for action is important. If you want some tips on how to move from plan to action, check out our Operational Planning Guide for Local Governments.