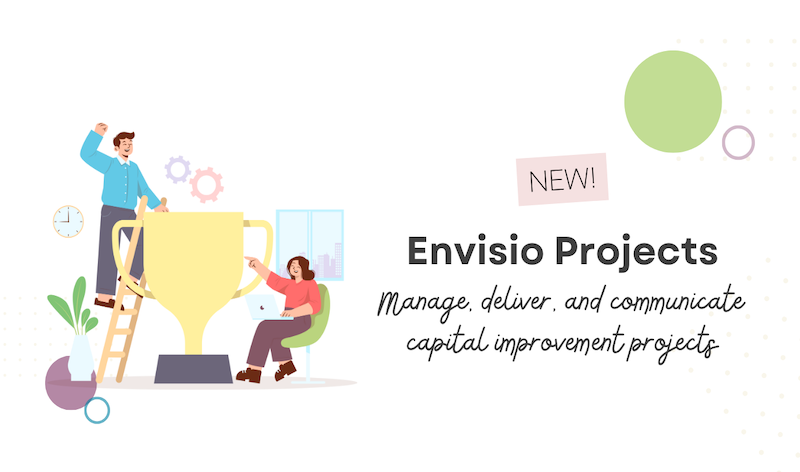 Envisio helps public sector leaders to drive better community outcomes through the delivery and transparent communication of their most important plans.
Today, we are delighted to announce the launch of Envisio Projects – a suite of project management tools to help manage, deliver, and communicate Capital Improvement Plans (CIP).
Building on Envisio's powerful analytic capabilities, beautiful public dashboards, plan management tools, and comprehensive progress reporting, Projects extends the Envisio platform functionality to help public sector leaders:
Consolidate and project manage more of their critical plans in one place
Align capital improvement plans with strategic plans
Deliver capital improvement projects on time and on budget
Improve transparency with staff, elected officials, and communities on progress made and resources spent on capital improvement projects.
Envisio Projects has been trialed by a number of cities over the past few months, and we are thrilled to be able to launch it today for general availability.
We want to thank all of the cities that have helped us shape Projects into the version you see today.
"I like the reports' simplicity for Project Managers. The tool we currently use for reporting is very tedious and defined. Envisio Projects reports are more straightforward and much less work for PMs."
– Tony Trevino, Assistant Director Public Works, City of Las Cruces (Beta user)
So, let's dive in! Come with us as we explore some of the key features and benefits of Envisio Projects, and how it will improve all around project management, and in particular, the capital project management process–from start to finish.
Your Most Important Work in One Place
Joining together your most important work in one place, rather than across multiple systems, fosters collaboration and organizational efficiency. Challenges posed by fragmented information can be solved when information is integrated and centralized. This consolidation promotes clarity and ensures everyone is on the same page.
Aligning your Strategic Plan with your Capital Improvement Plan
It's now easier than ever to align your capital improvement projects with your strategic initiatives.
Envisio Projects allows you to connect your capital improvement projects with your organization's strategic plan or any other overarching plan.
By integrating seamlessly with Envisio Plans, your projects can be linked directly to the lowest level of your strategic plan. This means that your projects become woven into your strategic objectives, fostering a unified vision for your organization, and helping you to stay on track. No more hunting for progress updates, working in disjointed kanban boards, or wrestling with data gaps—any project status or written update will now auto-update within your overarching plan, keeping everyone on the same page!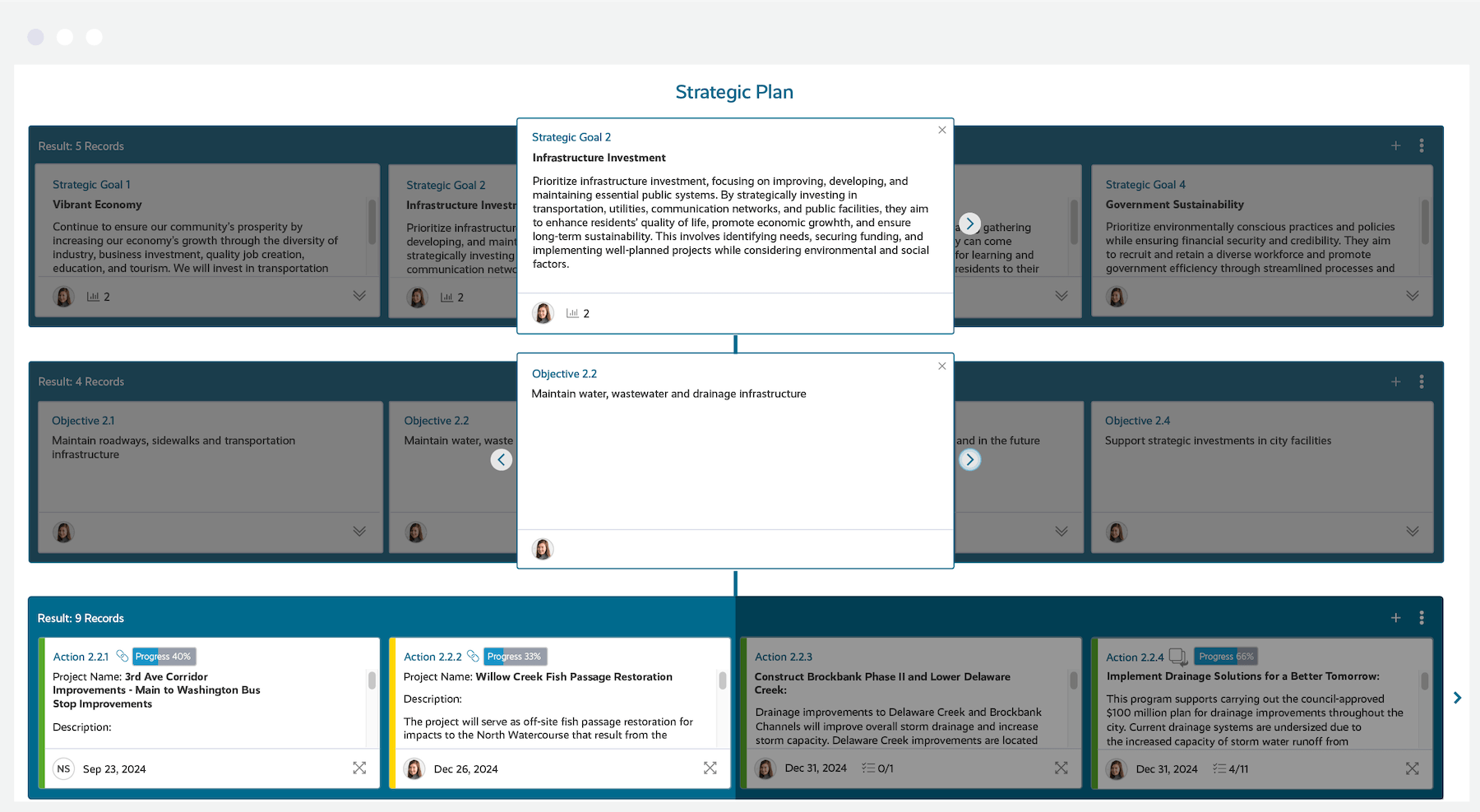 Detailed Project Insights with a Simple Click
With this feature, you'll gain access to the project details displayed as linked plan elements (seen above in the Envisio cascade). These details, including descriptions, project names, phases, budget, owner information, start/end dates, priorities, and tags, are readily available, empowering you with comprehensive insights into project progress and alignment with your strategic goals.
Plans Public Dashboards: A Window to Success
Envisio's public dashboards provide a dynamic window into your organization's progress. You can seamlessly embed your project summary and map into your overall Envisio public-facing dashboard. This provides residents, elected officials, and other stakeholders with visibility into your strategic initiatives, projects, and even geographical mapping.
Effortless Reporting: Tailored Insights
Envisio's Projects and Plans integration doesn't stop at increased visibility; it also simplifies your reporting processes. When linked, your projects seamlessly become part of your plan progress and performance reports, granting you access to the same robust management reporting functionality that Envisio is known for. Customize your reports by including or excluding linked plan elements, and filter them by department, tags, timeframes, and more. Whether it's progress reports, tabular summaries, or multi-plan analyses, you have the tools to tailor your insights precisely to your needs.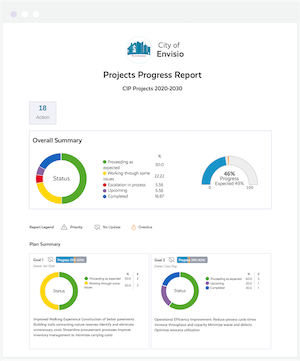 Internal Management and Your Strategic Potential
When it comes to public sector CIPs, effective monitoring of project progress is tricky—one has to juggle many, sometimes contradictory, phases of a project, all while grappling with financial tracking complexities. Budget management, in particular, looms large as an area of concern, especially for local governments, who are expected to utilize public monies in a way that is fair, efficient, and justifiable. Envisio Projects helps to smooth out these roadblocks, in part, by aligning budget with projects so leadership has visibility and can make quick decisions, and residents get a transparent view of how funding is being allocated.
Task Management: Master Details with Ease
Envisio's task management feature takes project organization to the next level.
Create an unlimited number of tasks or subtasks, assign owners and observers, set start and end dates, and establish dependencies effortlessly. Easily identify tasks that may be blocking others, and see which ones are being stalled by dependencies. Tasks are weighted into the project progress percentage, ensuring your progress is always accurate. You can easily add, edit, and delete comments, while task links make sharing and collaboration a breeze.
And, if a task template proves effective, you can easily duplicate it to simplify future task creation!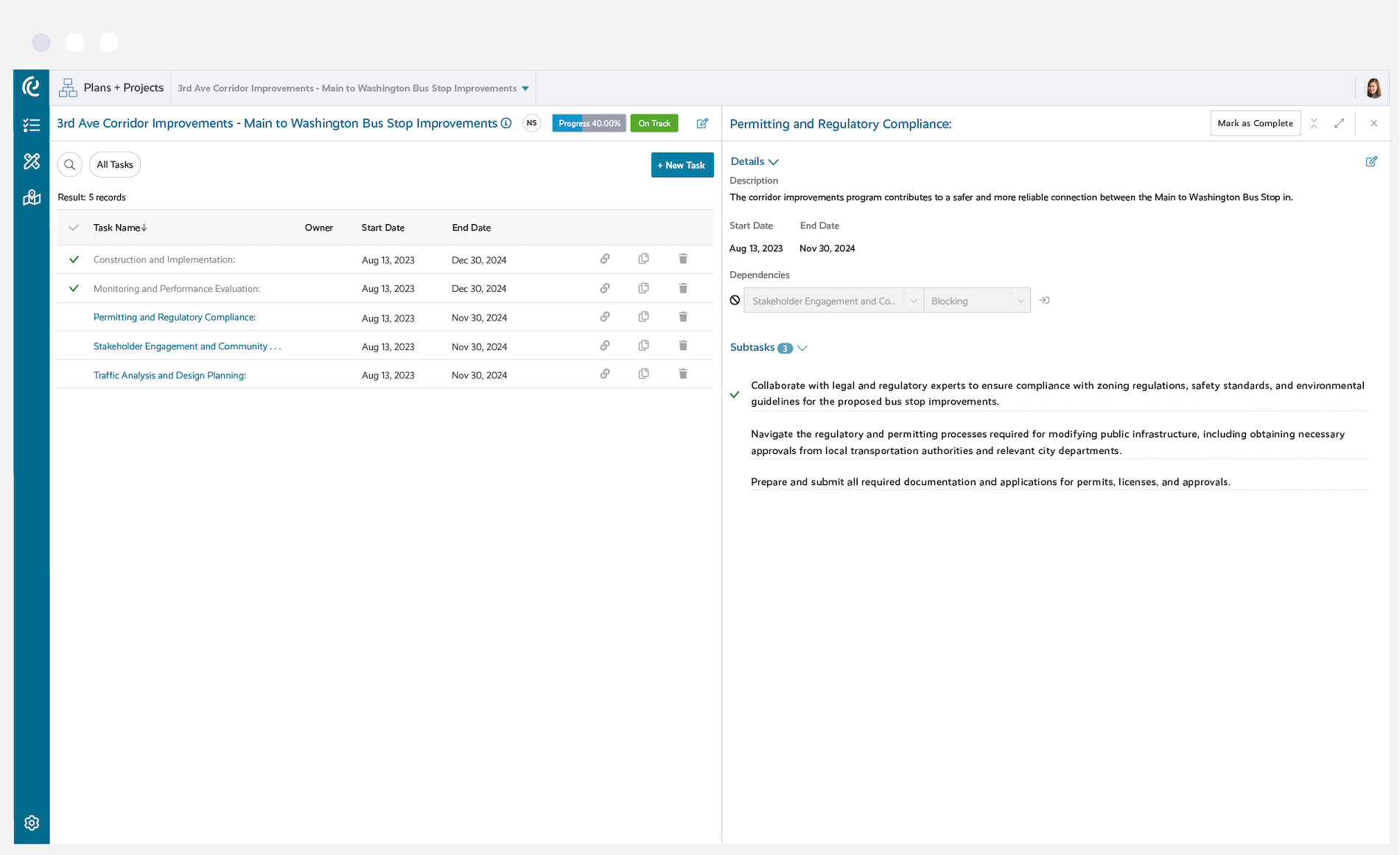 Other task management features include:
Create unlimited projects.
Create project types with customizable phases and fields to meet the variety needed across departments.
Easily filter and sort projects by phase, department, status, and more.
Track project details—including tasks, and budget breakdowns that include percentage of budget spent.
Assign risk statuses, as well as priority and project phases.
And, because we know task management in more complex organizations (such as a local government) may require many different tiers of organizational oversight, you can add contributors for easy collaboration and task assignment, and observers for those who simply need to be in the know. For everyone involved in the task, hovering over the project summary will give a quick glance into details, including the auto-calculated progress percentage.

Gantt Charts Help Visualize Progress with Precision
Review projects and tasks within a comprehensive Gantt chart, offering a visual representation of timelines of projects and tasks. Easily download Gantt charts for collaboration, and apply filters to streamline project views. The Gantt view provides an in-depth look at task timelines, dependencies, and project phases, to help you with project management and planning.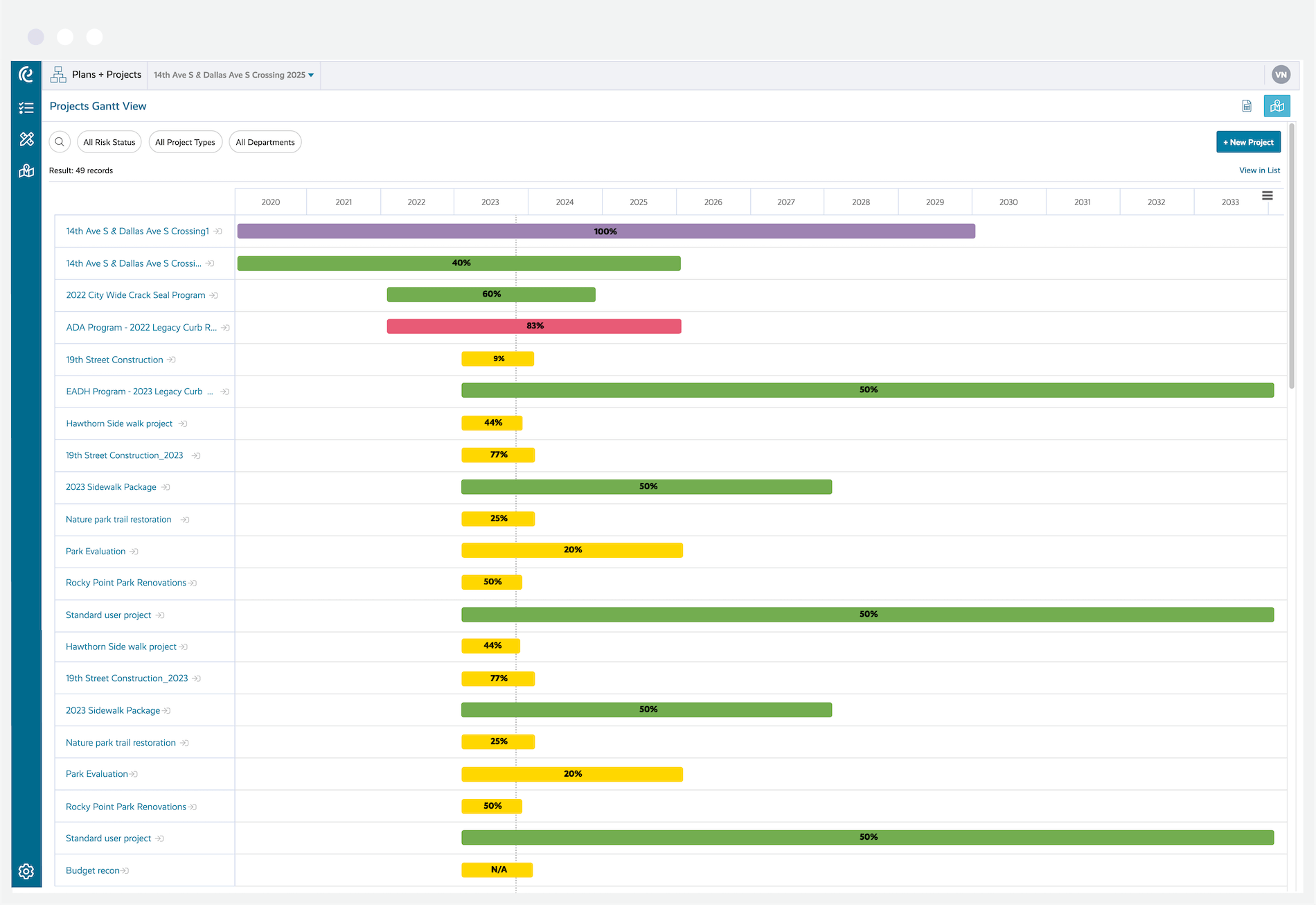 Communicate and Integrate Around Your Capital Improvement Plan
Finally, no project management feature would be complete without mentioning Envisio's integration capabilities, and the specific features that enhance communication.
Document Integration: Streamlined Access to Resources
Manage project-related documents with ease, attaching and organizing documents of various types. Assign private or public access to documents and share links to provide efficient access to essential resources.
Auto Updates and Email Notifications
Envisio's auto updates and email notifications keep project teams informed and engaged around progress. You can easily customize notifications for individual users. You can also send email notifications, as needed, to ensure critical updates, assignments, and notifications are quickly, and easily, communicated to project team members.
Communication and QR Code Integration
Envisio's QR code integration rounds out this feature set, directing stakeholders directly to project dashboards for increased engagement. This means a centralized space for communication and collaboration about the CIP, streamlined interactions, and enhanced transparency.
Transparency in Action
Ensuring transparency in CIP reporting is critical for building and maintaining trust, both among community members, and internal stakeholders. Ensuring that every stakeholder has access to critical project data, progress tracking, and detailed analytics, Envisio's new project management features facilitate informed, data-driven decision-making and communication.
Clear visibility into project timelines, budgets, and resources allocation empowers organizations to make strategic choices around aligning their CIP effectively with their organizational objectives.
Projects Public Dashboard and Your Capital Improvement Plan
We've always loved our dashboards, and their ability to connect residents to community plans, so we are bringing that same visibility to capital improvement projects. But we want to make them even more powerful and more connected to what's happening in each neighborhood.
Visibility into Budgeting
Simply put, Capital Improvement Plans are complicated, and often, costly. And that's okay! Investing in our communities is a great thing– whether that's a major road repair, a 10+ year plan that elaborates the spending around breaking ground on a transit system, or a new community center system. What matters is visibility around the budget.
Keeping residents informed and included is how we keep them engaged and how we build greater trust. This goes for stakeholders and employees carrying out action items related to the plan, too. With huge plans, it is easy to lose the forest for the trees. The budget is the piece that makes those projects come through to fruition. It's how governments articulate what they value and will make real. Keeping people informed about the scope of a major investment, how long it is going to take, what it will cost, and how it will benefit them, helps build trust and reassurance that public monies are going towards the thing that most directly impacts them: where they live.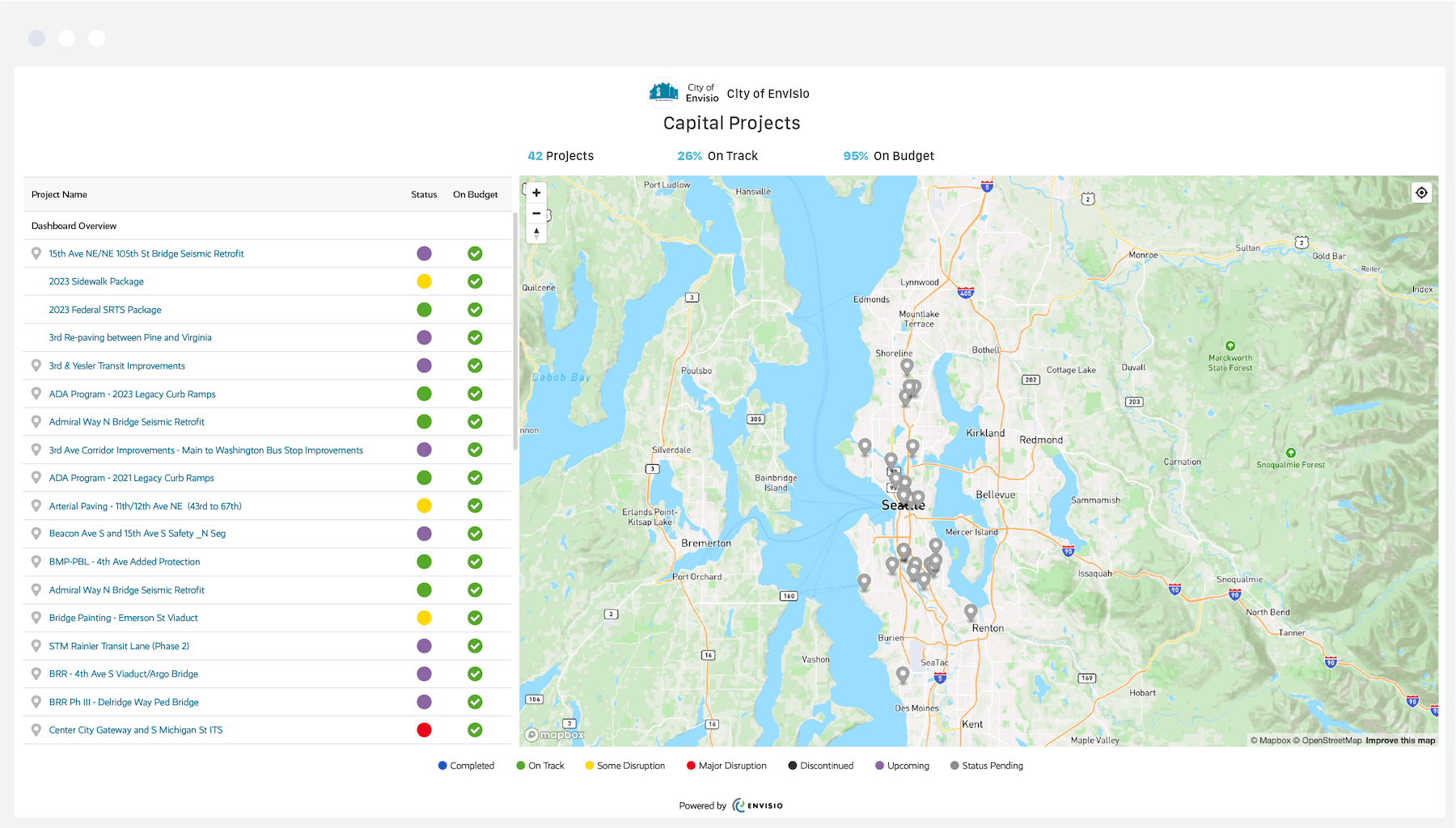 Envisio's Projects Public Dashboards makes it easier than ever to publish public-facing project dashboards that provide insight into project progress.
You can easily customize your dashboard to reflect your organization's branding and style– from the name and description, to the banner text, all the way down to the URL. Simply select and unselect projects to tailor each dashboard to your audience's needs.
Community members want to see their tax dollars at work; they want to understand the process, and be a part of it. Our Projects Public Dashboard will make the CIP progress visible, accessible, and fun to learn about. The drill-down capabilities allow you, your residents, and other stakeholders to explore project details within the dashboard, providing a comprehensive view of exactly what is happening where. Plus, you aren't limited to just one dashboard! You can create multiple dashboards, each with its unique URL, offering flexibility in how you share project information.
Interactive Map Location: Putting Projects on the Map
The Projects Public Dashboard features an interactive map that allows residents to explore projects relevant to them and drill-down into the project overview to see the budget, status and phase so they understand how their tax dollars are being allocated.
Location is context for why certain parts of a Capital Improvement Plan are being created or prioritized: context matters. Envisio's interactive map makes it possible to associate each project with a specific map location. When a project is selected, the map auto-zooms to its location, enhancing geographical context. The search functionality makes it easy to find specific project locations, offering a user-friendly and intuitive way to navigate projects.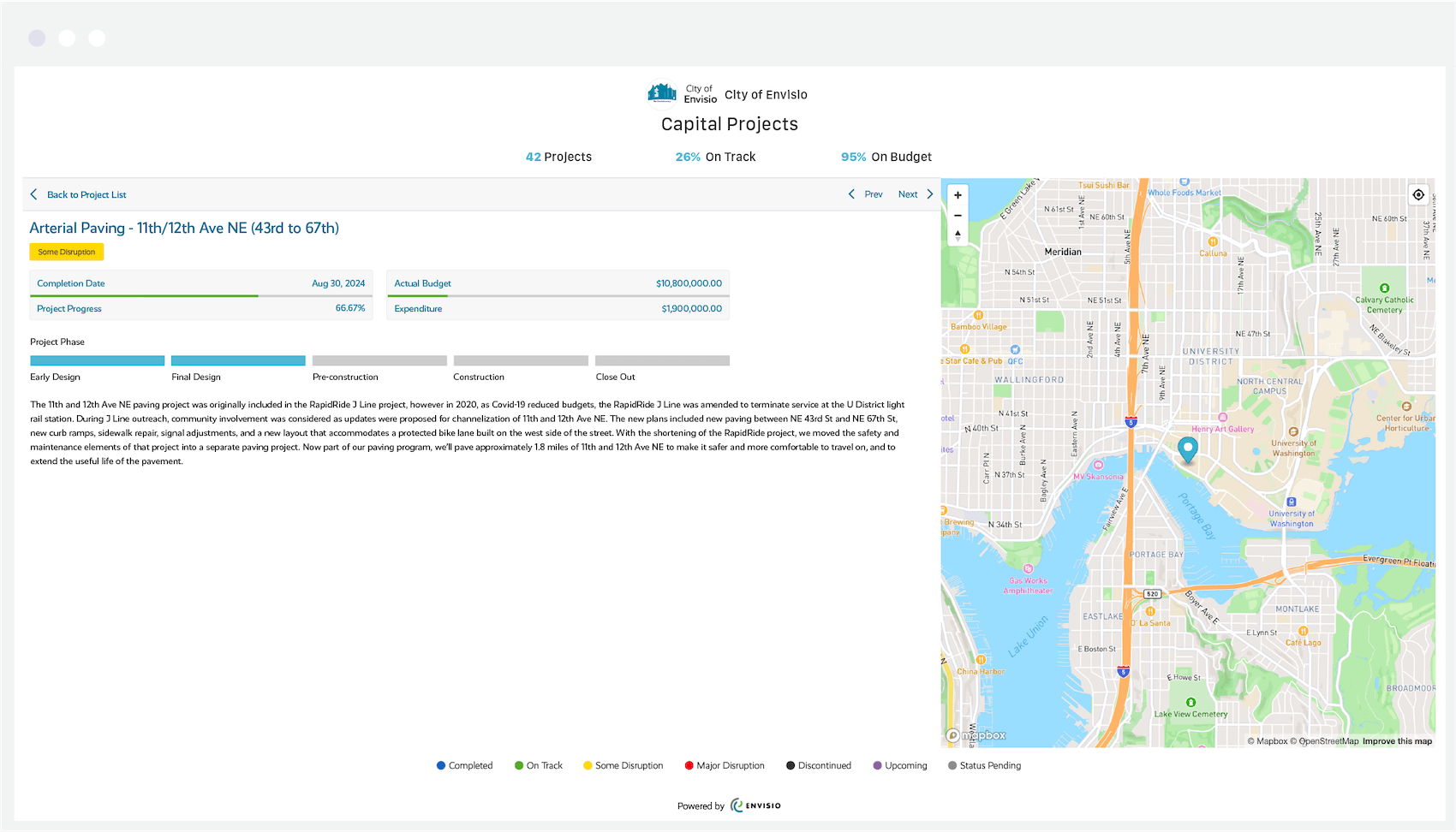 —
Envisio's project management features are a huge boost to our current offerings to public sector organizations and local governments, particularly when it comes to completing a CIP on time and on budget. This comprehensive suite of tools joins together your most important work in one place, promoting greater transparency, and better internal management. This seamless integration between strategic plans and CIPs helps everyone make better decisions on how to prioritize and allocate resources and budget.
We can't wait to see what our customers do with these features of improved communication and collaboration between internal and external stakeholders, because—simply put—we love further empowering public sector organizations to excel in project management and delivering their plans!
Join us at our webinar, November 15th @ 11 AM PT/2 PM ET to learn more!