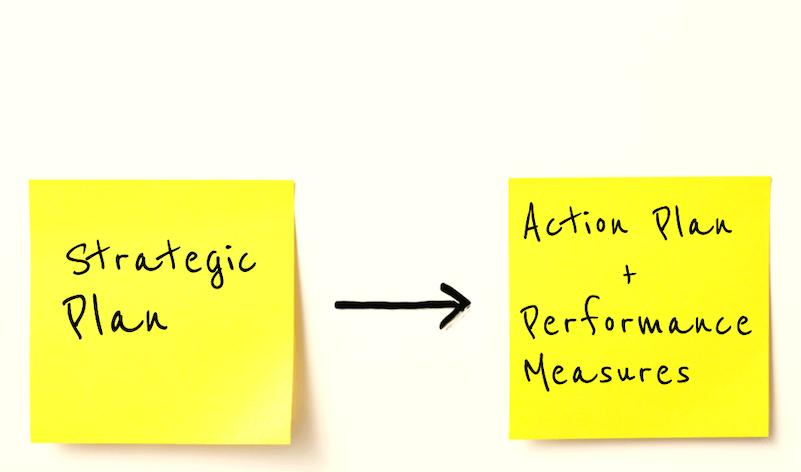 The author Joel Barker once said "Vision without action is merely a dream. Action without vision is merely passing time. But vision with action can change the world."
One of the biggest challenges we hear within the public sector is the ability to turn a strategic vision into action. This is hard to hear… we know there are great ideas out there, and plenty of passion to make them a reality. Often organizations have spent a great deal of time, money, and resources to create their vision, mission, values, and those "Big Hairy Audacious Goals," but are left without the steps to achieve them.
In fact, 80% of public sector leaders reported that their organization struggled to successfully implement strategic objectives, according to a 2019 study.
That's why we have developed a dedicated professional services team to help put your strategy into action and ensure you have performance measures that guide you to achieving your goals.
Check out the highlight reel:

Our Performance Measures Development Workshops and Action Planning Workshops are led by our team of strategic planning and performance measurement experts. Our Planning and Performance Coaches have decades of experience getting team alignment, building SMART, actionable steps toward strategic goals, and providing clear direction and a framework for evaluating progress.
We have helped hundreds of public sector organizations get from where they are to where they want to be.
With our professional services workshops, your team will be empowered to build, maintain, and revise the action items and performance measures you need today as well as in the future.
Here are some of the other benefits you can expect to gain by attending one of our workshops.
Organizational alignment
Large-scale projects are rarely completed in a silo. Taking the time to collaborate cross-functionally is important to connect departmental and individual actions to your organization's strategy.
In fact, on our yearly retreat at Envisio, we come together as a company to develop our actions as a team so we are aligned across departments, have a clear direction, and can set appropriate expectations. Team alignment creates a common framework for how we communicate performance and encourages a shared sense of purpose and direction.
Get clear direction with actionable steps in our Action Planning workshop
Breaking down the strategy or overarching objectives takes a lot of work. Understanding the scope and steps required to achieve progress takes time and thoughtfulness. That said, it's a critical component of success. Taking the time upfront to identify key milestones and the actions within them will save you time down the road.
Without a clear direction, you risk not focusing on the items that actually move the needle. Our team facilitates a process to motivate and support your teams to create SMART actions that align with your strategy so your team can be confident you will get where you need to go.
Learn more about our Action Planning Workshops
Measure progress with our Performance Measures Development workshop
When created and used correctly, performance measures act as the magnet pulling your team in the right direction. They are your guide to tracking performance and leading your team to success. They indicate whether you are on track or need to pivot. To say performance measures are important for success is an understatement—they are critical.
Regular checkpoints against your performance measures allow you to identify gaps and areas for improvement, reallocate resources and of course, make better decisions on how to move forward.
Learn more about our Performance Measures Development Workshops
Ready to get started?
Our professional services team has experience in performance management, strategy implementation, and action planning for government, education, healthcare, and nonprofit organizations.
If your team could use help creating performance measures or bringing your plan to life, let's connect!