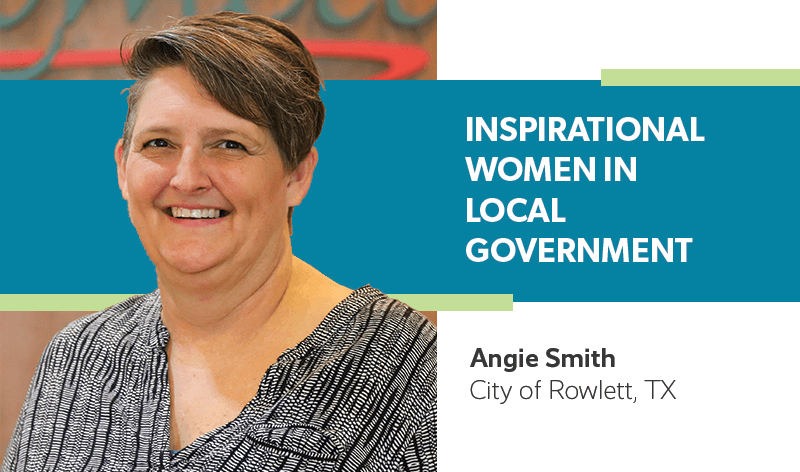 To celebrate International Women's Week, we are showcasing some of the brilliant women we work with who are driving high performance in their local government organizations and positive change in their communities. We hope to not only celebrate their accomplishments but to inspire and educate by sharing some of their wisdom.
Today, I'm thrilled to share our interview with Angie Smith, Deputy City Manager at the City of Rowlett, Texas. (You can connect with Angie here.)
Angie, what are you reading right now?
I'm almost embarrassed to admit this… I'm reading The Generalist Approach to Conflict Resolution by Toran Hansen. I am working on my PhD in Business Administration with a specialization in Organizational Leadership and the topic of the term is Conflict Resolution.
Tell me about your community, your role, and how you got here.
I came to Rowlett in 2011 to serve as the Wet Zone Waterpark Manager. At that point I had about ten years' experience in public service and ten years of owning my own business promoting and running trade shows. After that, it was all about hard work and being myself.
In 2016, I became the Parks and Recreation Director, and in August 2020, I became the Deputy City Manager. As Deputy City Manager, I work directly with the City Manager's Office and focus on our public service departments including Public Works, Parks and Recreation and the library and am the first line of defense for our customers when they have an issue. Rowlett is a metroplex of Dallas, Texas and has a population of about 60,000.
Time to boast a little… What project or initiative are you most proud of at the City of Rowlett and how is it driving positive change in your community?
The project I am most proud of includes our partnership with Envisio. We developed a new strategic plan in 2018 and it hit a few roadblocks getting off the ground. I was able to come into the City Manager's Office and work directly with Envisio to get a plan in place that our team supports and will provide true progress towards reaching our eight strategic priorities. We have been able to involve ALL of our team and are working through setting the entire organization up for success as we implement the plan.
What are your top places to go for support, education, or mentorship in your role?
I remain very involved in the National Parks and Recreation Association and Texas Recreation and Parks Association. I also lean on other City Manager's and Assistant City Manager's throughout the metroplex.
How do you personally handle imposter syndrome?
Imposter syndrome is interesting. I think all true professionals suffer from it—it is part of being humble and being successful. For me, I think it keeps me in check. I think it is critical to have a solid group of others that you surround yourself with that you trust and are there to tell you that you really do deserve the recognition. For me, it is about other women in my field who tell me honestly when I screw up but also honestly tell me when I am being awesome and deserve recognition! I am a pretty tough old cookie and I try to keep myself in check as well.
What advice would you give to other women in local government looking to grow their careers?
Be yourself (people will love you or they won't), work hard, support your team (they make you look good) and learn everything you can learn, even if it isn't in your lane or it makes you uncomfortable. The more you know… the more you know!
What can we ALL be doing to bring about greater gender equity in local government leadership?
We HAVE to support women in local government however we can. Wrap your hands around them and lead them down a path of success. I would argue that some women are afraid to be strong in fear it will be misinterpreted. I have always had a strong support system that encouraged me when I needed encouraging and a swift kick in the butt when I needed one of those. Tough love is as important as encouragement!
Are there other amazing women you know in public service that deserve a shout-out?
Celebrate them here!
I'd like to give a shout-out to Dr. Tiffany Johnson, Deputy Director of Parks, Recreation and Tourism at Prince William County, Virginia, and Sara Hensley, Interim City Manager at the City of Denton, Texas!
—