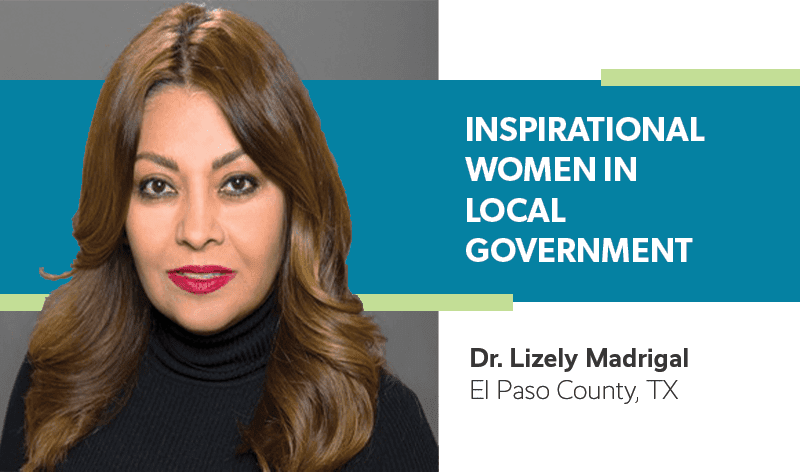 To celebrate International Women's Week, we are showcasing some of the brilliant women we work with who are driving high performance in their local government organizations and positive change in their communities. We hope to not only celebrate their accomplishments but to inspire and educate by sharing some of their wisdom.
Today, we're talking to Dr. Lizely Madrigal, Strategic Performance Manager, at El Paso County, Texas. (You can connect with Lizely here.)
Lizely, what are you reading right now?
I am currently reading Municipal Benchmarks: Assessing Local Performance and Establishing Community Standards by David N. Ammons. And for fun, I'm reading Sabrina & Corina by Kali Fajardo-Anstine.
Tell me about your community, your role and how you got here.
I started my career in government somewhat late. Most of my professional experience has been in education. In late 2019, I left my position at the University of Texas at El Paso (UTEP) and began my work as the Strategic Performance Manager for El Paso County. The position was newly created, and I had a blank canvas to set up a performance management system for the County.
The County transitioned to a Council-Manager form of government about 5 years ago and is on the fast lane to innovation. El Paso County is the westernmost county in Texas with a population of about 800,647 (Census 2010). Further, El Paso is the sixth-most populous county in Texas and the 22nd-most populous city in the United States. El Paso is a great community to experience a bicultural and bilingual community.
Time to boast a little… What project or initiative are you most proud of at El Paso County and how is it driving positive change in your community?
I'm most proud of two initiatives I spearheaded with the support of the County Administrator.
The first is the 4-Tier El Paso County Strategic Planning Framework: Measurement, Analysis & Knowledge Management, which I developed to bridge together all aspects of County planning. I researched and studied the Baldrige Excellence Framework, the City of Fort Collins strategic planning process, and other best-practices in strategic planning to develop a framework that was the right fit for the County – and not a cookie-cutter approach.
The second initiative, which I'm currently rolling out is the departmental Key Performance Indicators Logic Models and Dashboards. My goal is to facilitate data-driven decision-making by collecting and analyzing data that will facilitate and lead to data-informed decision-making.
What are your top places to go for support, education or mentorship in your role?
I'm lucky to have a strong and supportive administrative team that I can count on to listen to my crazy ideas. I would be remiss not to mention the County Administrator, Betsy Keller, who is a woman that encourages and advocates for her staff to be creative and innovative.
I also have a group of strong and confident women that I can rely on for advice and guidance. My circle of power includes Dr. Guadalupe Corral, Dr. Josefina (Josie) Carmona, Dr. Lourdes Echegoyen, and Dr. Irma Montelongo. I'm not exaggerating; these women are a powerhouse of knowledge and leadership, and have an open-door policy—I can always count on them.
So to answer your question, I have support from leading women in government and in education—a great combination, in my humble opinion.
How do you personally handle imposter syndrome?
Ha! I struggle with this daily, and imposter syndrome in my case is two-fold—I'm a woman of color. I often doubt my abilities because of my gender and my ethnicity.
Dr. Luis Echegoyen, 2020 President of the American Chemical Society, had a talk about imposter syndrome right before I left UTEP. My takeaways from his discussion were: Know what you know and know what you don't know. If you don't know, don't be afraid to ask questions, and if you don't get it right the first time, keep trying.
Moreover, I heavily rely on research to find a roadmap to my questions. Research, in my case, sparks my creativity.
What advice would you give to other women in local government looking to grow their careers?
I'm not sure I can give advice at this point; I'm still learning to navigate my career in local government! My general advice in any field is to develop an area of expertise and never stop learning.
What can we ALL be doing to bring about greater gender equity in local government leadership?
Greater gender equity will come from women working together, being courageous, and celebrating their successes loudly and proudly. We must be supportive, unified, and mentor younger women to rise to the challenge and be leaders in their communities.
Are there other amazing women you know in public service that deserve a shout-out?
Celebrate them here!
I will reference my circle of power: Betsy Keller, Dr. Guadalupe Corral, Dr. Josefina (Josie) Carmona, Dr. Lourdes Echegoyen, Dr. Irma Montelongo.
Other women leaders in local government that I know I can count on include Norma Palacios, Melissa Carrillo, Irene Valenzuela, and Erica Ortega.
I wish I had the space to list all the women that have impacted my life and empowered me to be better.
—