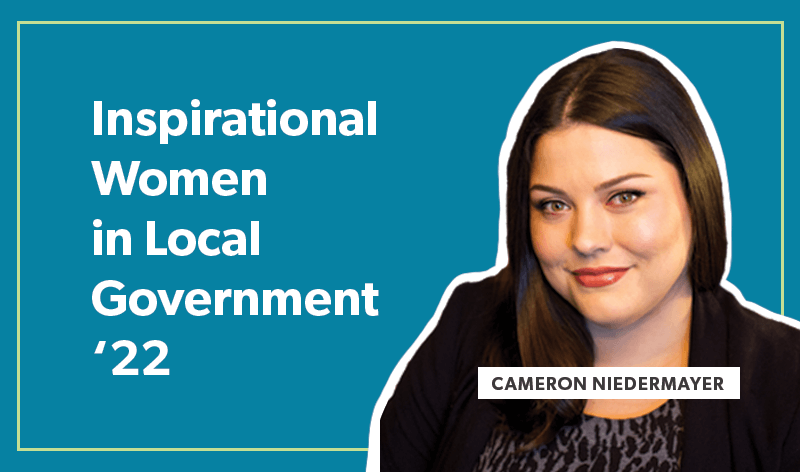 Every year, we celebrate some of the inspirational women we work with in public service who are driving high performance in their local government organizations and positive change in their communities.
This year, as we emerge (hopefully) from two difficult years for gender equality, we wanted to not only highlight the achievements of women but also to talk about some of the challenges they've had to overcome during the COVID-19 pandemic.
We'll be sharing the stories of five wonderful women throughout this International Women's Week. As always, we hope to celebrate, inspire, and educate by sharing some of their wisdom.
Today, we're talking with Cameron Niedermayer at the City of Montpelier, Vermont. (You can connect with Cameron here.)
Cameron, what are you reading right now?
I try to switch between reading a book for fun and one that is a learning opportunity. So I'm usually reading two at a time. Currently, I'm reading The City We Became by N. K. Jemisin and A Decent Home: Planning, Building, and Preserving Affordable Housing by Alan Mallach.
Tell me a little about your community, your role, and how you got here.
I work for the smallest capital city in the United States! Montpelier, Vermont is such a quintessential small town. We have fewer than 8,500 residents, but we're also the center of government, which puts us at such an interesting crossroads of community and advocacy. We also are the only capital city without a McDonald's…
I serve as the Assistant City Manager, which is a catch-all position that is in charge of the Community Services departments, city strategic planning, our equity plans, and various other projects.
I've worked for multiple nonprofits and municipalities over my career doing a plethora of jobs, including grant writing, supervised visitation management, 911 dispatching, and most recently, as a Senior Assistant to the County Manager for Mecklenburg County, North Carolina.
What are you most proud of professionally?
This is such a hard question for me! I've been lucky enough to have jobs that allow me to work with such talented people and to touch some really amazing projects. A highlight, though, was actually a failed project from when I worked at the Charlotte-Mecklenburg Police Department. I helped a Major create a program advocating for the creation of "municipal IDs". These IDs would have given to folks living undocumented in our community as a way to identify themselves without needing to have a driver's license or other federal ID- thus reducing the need for police to detain folks unnecessarily. While the program was ultimately rejected by the city, it was a labor of love and empathy, and it taught me a lot about tenacity and building connections and trust within my community (also, it's still a good idea).
There is a mountain of research that shows the disproportionate impact the pandemic has had on women. First off, how are you?
I am not okay all the time! I think it's okay to say that.
Are you able to share some of the ways your life has changed over the last two years? Some of the challenges you have had to overcome?
I moved to Vermont from North Carolina in late 2019 and had less than 5 months in the state before COVID-19 impacted us. So I'm just now getting to travel through Vermont and meet folks I've only ever spoken to via email or Zoom. I also caught COVID before the vaccines were available, and I am still suffering from long-haul symptoms. So I would say that those continue to be challenges I face. However, I'm looking forward to continuing to connect to Vermont and this community.
The theme for this year's International Women's Week is "break the bias". What can we ALL be doing to break the bias and foster greater gender equity in our workplaces?
This is a big question. I think there are a lot of things, big and small, we all have to be doing…
Lift up women's voices and ideas, and recognize where ideas are coming from.
Ensure a work culture (especially in male-dominated departments) that does not alienate anyone.
Investigate and close any wage-gaps in your organization.
Ensure your policies don't have gendered language.
Have fair parental leave policies.
I also think that mentoring programs are the best way to empower and connect women to each other. Our networks have to be just as robust and strong as those that support men.
Are there other amazing women you know in public service that deserve a shout-out? Celebrate them here!
YES! I want to shout out two friends and collaborators: Elaine Wang and Christine Edwards.
Elaine is the Assistant Town Manager for Barre Town VT, and she's been doing excellent work advocating for her community, for continued equity work, and for women in government. Thank you Elaine for your activism and mentorship.
Christine Edwards, in Charlotte NC, has started her own consulting business, Amplify Consulting, helping small business owners connect with government contracts. Christine, your bravery and business acumen is inspiring always!