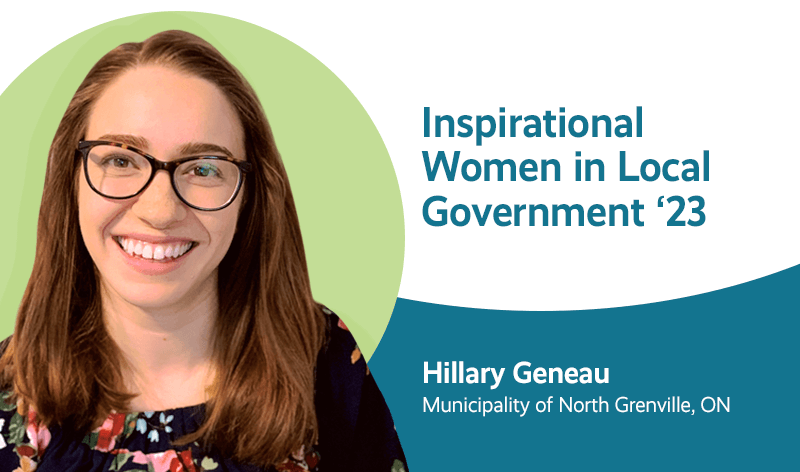 Every year, we celebrate some of the inspirational women we work with in public service who are driving positive change in their organizations by championing greater organizational trust and transparency, higher performance, and better service for their communities.
This year, as we think about the 2023 International Women's Day thematic call to "Embrace Equity", we are also reflecting on the need for continued education.
So, as we highlight and showcase these inspirational women, we've also asked them to do the difficult thing of sharing some of their own experiences of gender bias in the workplace.
We'll be sharing the stories of five wonderful women throughout this week. As always, we hope to celebrate, inspire, and educate by sharing some of their wisdom.
Today, we're talking with Hillary Geneau, Director of Corporate Services at the Municipality of North Grenville, Ontario. (You can connect with Hillary here.)
Hillary, what are you reading right now?
Currently on my night stand, I have Everything I Never Told You by Celeste Ng, and DEI Deconstructed by Lily Zheng.
Tell me a little about your community, your role, and how you got here.
North Grenville is a community of 17,964 residents, just thirty minutes outside of Canada's capital. We have a perfect mix of rural living with all the urban amenities you need in the town of Kemptville. I am the Director of Corporate Services, overseeing the Clerk, Corporate Strategy, and IT divisions. Some of my initiatives include strategic planning, equity, diversity, and inclusion, and primary care. I started at the municipality working in the Economic Development division.
What's one of the best pieces of advice you have received in your career? Why?
Don't be afraid to make bold moves. A former co-worker, another young woman, told me this and it has served me well!
What are you most proud of professionally?
One of my favorite projects was creating North Grenville's Community Strategic Plan. It was a fun project to work on because we had over 2,000 people engage with us. Once the plan was adopted by Council though, that's when the real work began. We started using Envisio to track progress on the plan. We're only one year into the plan, so we're still finalizing how we provide updates, but we love having the public dashboard and easy reporting. It helps us achieve accountability and transparency.
The theme for this year's International Women's Week is "embrace equity". We can't embrace equity without education. Are you able to share a story of a time when you have experienced gender bias or microaggressions in the workplace?
I've had many occasions where people have told me to smile more or made comments about my career trajectory being impacted when I have kids. When I relay these to my partner, he is always shocked because he has never received similar comments. When this happens, I thank the person for their concern, but I have asked if they would say a similar thing to a male in a similar role. I find most people mean well, they are just working from their own perspectives and biases.
What are your top places to go for support, education, or mentorship in your role?
I love talking to staff from other communities to understand how they handle similar situations. For the most part, we're all working in similar structures and have similar projects and problems, so let's share and learn!
Are there other amazing women you know in public service that deserve a shout-out? Celebrate them here!
So many! We have an amazing team of women working in North Grenville, including 4 out of 5 Councilors! In particular, I'd like to shout out Karen Dunlop, our Director of Public Works, who for a long time was one of only a few women working in Engineering Technology in Public Works.