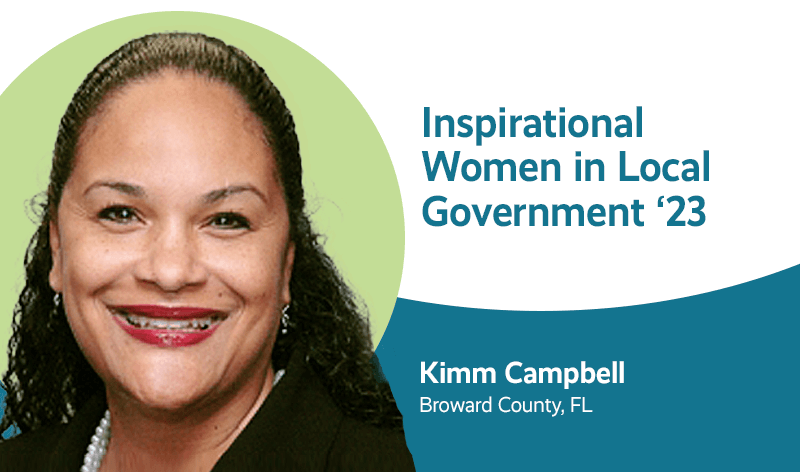 Every year, we celebrate some of the inspirational women we work with in public service who are driving positive change in their organizations by championing greater organizational trust and transparency, higher performance, and better service for their communities.
This year, as we think about the 2023 International Women's Day thematic call to "Embrace Equity", we are also reflecting on the need for continued education.
So, as we highlight and showcase these inspirational women, we've also asked them to do the difficult thing of sharing some of their own experiences of gender bias in the workplace.
We'll be sharing the stories of five wonderful women throughout this week. As always, we hope to celebrate, inspire, and educate by sharing some of their wisdom.
Today, we're talking with Kimm Campbell, Deputy County Administrator at Broward County, Florida. (You can learn more about Kimm here.)
Kimm, what are you reading right now?
I am currently reading Social Policy and Social Justice: Meeting the Challenges of a Diverse Society by Michael Reisch.
Tell me a little about your community, your role, and how you got here.
Broward County is an incredibly diverse community of 2 million residents. Our population is 1/3 White, 1/3 Black, 1/3 Hispanic, and is rich in culture and history. We are known as "Collaboration County", given that we work across multiple systems and municipalities in service to the community. Indeed, our vision is: From sawgrass to seagrass, an inclusive and resilient community with a thriving quality of life.
I am the Broward County Deputy County Administrator and oversee many of the operational and front facing service departments within the county governmental structure. Our county serves 2 million residents with a budget of over 6.5 million dollars and 7,000 employees. I have been in Broward County for over 10 years and joined originally as the Deputy Director of the Human Services Department. I took over as Director within a few years and then moved into County Administration shortly thereafter.
What's one of the best pieces of advice you have received in your career? Why?
Very early in my career I worked for a leader who gave me invaluable words of wisdom. She advised me to foster divergent viewpoints and opinions regarding issues and challenges. I have embraced this as one of my key leadership competencies, as the best solutions come forth from the tension inherent in diversity of thought. Holding safe space for divergent contributions helps solidify a team's sense of shared ownership of both the challenges and the solutions. Participating in this process deepens our relationship to each other and our commitment to the work.
What are you most proud of professionally?
I am a Licensed Clinical Social Worker who came to County Administration through the Health and Human Services route. I am fortunate to have had many successes across my career that resulted in positive outcomes for individuals, families, and communities. However, what I am most proud of is my ability to grow leaders who go on to do even more amazing things in their own careers. The ripple effects of providing strong leadership and mentorship reverberate in places and spaces that touch areas I would never be able to reach alone.
The theme for this year's International Women's Week is "embrace equity". We can't embrace equity without education. Are you able to share a story of a time when you have experienced gender bias or microaggressions in the workplace?
As a Black woman, I have often been the only one representing both intersecting identities while sitting at decision-making tables. I have experienced microaggressions regarding both my race and gender across my career, even as the diversity in the workforce expands. Once, someone told me that I only received a hard-earned promotion because I am a light skinned Black woman. I handled the comment by articulating very succinctly the accomplishments and contributions that enabled me to compete for the position, and then questioned the person as to their underlying motivation for making the statement. I am known for being extraordinarily direct and took the microaggression head on. It is unfortunate that some will seek to diminish a light just because it is shining brightly. It is unfortunate that women in general, and Black women in particular, have to justify having a seat at the table. I have been either promoted or hired into more senior positions than the one I occupied back then no less than five times. I am confident it is because of what I bring to the table and not because of my gender or the color of my skin.
What are your top places to go for support, education, or mentorship in your role?
I am an introvert, and I recharge by quiet solitude. However, I have a network of amazing women professionals and friends that I communicate with for support and mentorship. I am a member of the International City/County Managers Association, National Association of Social Workers, and Black Administrators in Child Welfare, which all offer spaces for connection and supportive relationships. I am currently a doctoral student and so I am steeped in education, professional development, and attached to a cohort from that aspect.
Are there other amazing women you know in public service that deserve a shout-out? Celebrate them here!
I'd like to give a shout out to Monica Cepero, Broward County Administrator, who has been a champion of equality.