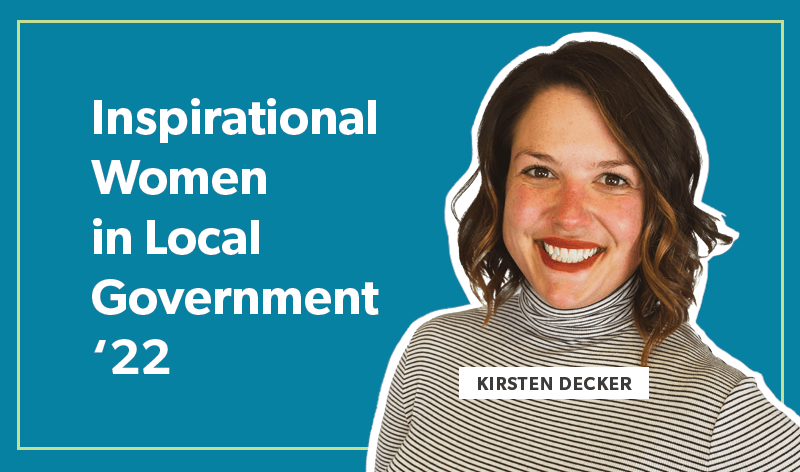 Every year, we celebrate some of the inspirational women we work with in public service who are driving high performance in their local government organizations and positive change in their communities.
This year, as we emerge (hopefully) from two difficult years for gender equality, we wanted to not only highlight the achievements of women but also to talk about some of the challenges they've had to overcome during the COVID-19 pandemic.
We'll be sharing the stories of five wonderful women throughout this International Women's Week. As always, we hope to celebrate, inspire, and educate by sharing some of their wisdom.
Today, we're talking with Kirsten Decker, Manager of Strategy & Evaluation at Denver Public Library, Colorado. (You can connect with Kirsten here.)
Kirsten, what are you reading right now?
Reading with a cup of coffee is part of my morning routine – it helps me start my day relaxed and mentally engaged. Each year I set a goal for the number of books I'd like to finish – my goal for 2022 is 60, which is 10 more than last year!
I tend to oscillate between a fiction and non-fiction book depending on my mood; right now I'm on #10 – a fiction novel called This Might Hurt by Stephanie Wrobel – and #11 – Making Numbers Count by Chip Heath & Karla Starr.
Tell me a little about your community, your role, and how you got here.
I live and work in Denver, CO – a city of 700,000+ just a few miles east of the Rocky Mountains. Denver is a rapidly growing urban center, with tons of outdoor and cultural activities.
I lead strategic planning and operational performance measurement for the Denver Public Library – a 27-branch, 550+ employee system. My team is responsible for designing, facilitating and managing implementation of the organization's strategic roadmap, conducting program evaluation and turning data into insights. Our goal is to empower library staff and leadership to address changing community needs by shifting resources, identifying efficiencies and aligning daily actions with desired outcomes.
How did I get here? Well, I've always been a local government wonk – even before I made a career out of it. During my time in the University of Kansas Master's of Public Administration program, I discovered that aligning strategy, funding and performance was my happy place. I started my career in the City of Baltimore's Bureau of the Budget & Management Research, where I got to put these concepts into practice and see the tangible impact of long-range planning, outcome budgeting and data-informed decision making.
I moved to Colorado in 2019, returning to Fort Collins – home of my alma mater – to co-create the City's internal process improvement program. After two years, I felt an itch to get back to a big city and big-picture thinking. When this role at Denver Public Library opened up, I leaped at the opportunity to lead an urban library in refining its strategy and telling the story of its impact on the community.
What are you most proud of professionally?
As I reflect on my career to-date, I have a handful of things that I am immensely proud of from each community I've worked in. While each is unique, there is a common thread: I challenged the status quo, it was really hard and I wasn't sure I'd be able to make it happen.
Denver Public Library's 2021-2023 Strategic Roadmap is one of my favorite examples of this. Like any large, long-standing organization, the library had many past strategic planning efforts – some more successful than others. I quickly found that one of the determinants of success would be my ability to to build trust and belief that this plan would represent the collective impact of all library services – and that it would have lasting power. After outlining the technical elements – outcomes, indicators, framework – and aligning organizational leaders behind a shared vision for this work, we recruited 60+ individuals from different disciplines across the system to serve on Value in Action teams to ensure a diverse representation of voices were at the table. Our goal was to unveil this staff-driven strategic plan in late 2020 – but COVID had other plans for us, shifting HOW we did our work. The library's WHY, however, remained constant – and we were able to engage more than 30% of the organization in the development of a strategic plan that demonstrates how the library is working to enrich the lives of Denver residents.
The Strategic Roadmap was adopted by the Library Commission in the Spring of 2021 and alongside the formal document, I worked with my Change Team to launch a companion engagement tool for individuals to deepen their personal connection to the library's vision – more than 75% of our organization has actively participated!
When I reflect, it was an exhausting and exhilarating experience. I led an organization to envision its future despite the uncertainty. I'm really proud of that. Everything we do serves a common purpose, to build and sustain a strong community where everyone thrives. What will set our organization apart in the aftermath of COVID is how we used this time to determine what our Values look like in action – before, during and after this pandemic.
There is a mountain of research that shows the disproportionate impact the pandemic has had on women. First off, how are you?
Honestly, I'm not sure – I think the pandemic has changed a lot about how we engage with our communities and our work. I don't know that I've processed the realities of that, or that we – as a society – are in a place to unpack that.
Are you able to share some of the ways your life has changed over the last two years? Some of the challenges you have had to overcome?
I am an extrovert, so working from home was a really challenging adjustment. The nature of my work requires relationship building and collaboration – those things are just easier and more enjoyable in person. I found exclusively virtual engagement to be really exhausting – I think it came down to exerting a lot of energy with no reciprocal energy to recharge me. Also, I struggled to set boundaries between work and home – finding myself working late hours because it's not like the work disappears at 5pm. With that being said, I am incredibly fortunate to have a job I love and a healthy family.
The theme for this year's International Women's Week is "break the bias". What can we ALL be doing to break the bias and foster greater gender equity in our workplaces?
Local government leadership is still predominantly male despite over half of MPA graduates being female and 50%+ of state/local government employees being women. I'm passionate about elevating women into positions of leadership and dedicate my volunteer time to the National League of Women in Government. My thoughts on how we can break the bias: recognize women and create space for them to lead. Next time someone asks you to work on a project, think about a woman in your circle who would rock it and suggest the requestor ask her.
Are there other amazing women you know in public service that deserve a shout-out? Celebrate them here!
There are so many women who have influenced my career and lifted me up in rough moments. Cut me off if it gets too intense…
Emma Tessier
Kelly King
Sunny Schnitzer
Laurie Kadrich
Megan Williams
Kelly Houghteling
Alisha Janes
Nina Vetter
Olivia Gallegos
Beth Warren
Ozy Aloziem