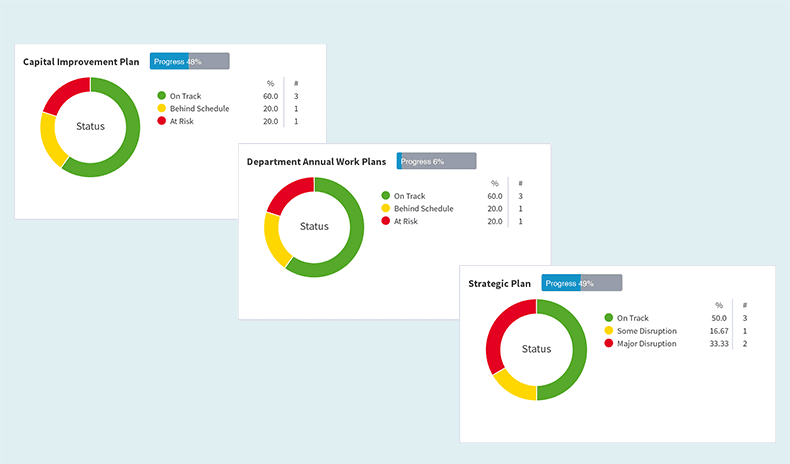 In a time of constant change and technological advancements—enter ChatGPT—remaining agile is more important than ever. 2023 is about welcoming change and harnessing the tools available to support us to do things better. Yes, this can feel overwhelming, but taking the time to evaluate where you are, and where you want to be, will provide clarity on existing gaps and where you could use support.
After all, to get different results, you need to try a different approach.
So how does all this fit into Envisio?
We know that reporting is a critical component to managing progress and executing strategy. Data provides insights into how we tell our stories—without it, it's easy to feel lost and uncertain of where we've been and what we've accomplished. Things get busy, we have constant distractions, and when it comes to looking back on what we have done, it can be muddy—unless we use tools like Envisio to help manage the work that actually moves the needle.
Our goal is to make reporting, and the insights it provides, easy, relevant, and accessible to every Envisio user. We want public servants to be clear on how they contribute to the big picture as they work to help residents in their communities. We want you to celebrate and share your success because what you do matters.
That is why we're excited to introduce Envisio's new Report Builder!
Check out our 2-minute overview:
The new Report Builder is focused on making the basics even better. We've made it easier to create, share, and collaborate on reports, while maintaining the power and flexibility of Envisio's well-loved reporting engine.
Envisio is not your typical strategic planning and performance management software. The reporting functionality provides a true reflection of where your organization is by rolling up actions and updates to show overall progress. It's a powerful tool, and we're excited to share our latest report builder updates with you.
Let's walk through the highlights.
Get visibility across multiple plans with multi-plan reporting
63% of our customers are managing more than one plan in Envisio. We love that!
We wanted to make it even easier to report across multiple plans.
So, with this release, have added a dedicated Multi-Plan reporting option.
The team at Northeast Ohio Medical University (NEOMED) has been particularly helpful in providing feedback on how to improve this feature. One of their goals within their strategic plan is to incorporate diversity, equity and inclusion across the organization. They use tags like #DEI across multiple plans, and can now filter reports to pull in this tag to create a Multi-Plan report to show progress towards this goal across the organization and its plans.
Customer feedback, actioned!

Reporting to suit different plans and departments
We know that plans differ across departments, and reporting styles differ among stakeholders. We don't expect you to fit into a box. With this release, you can choose to create Progress, Tabular, or Multi-Plan reports to best fit your needs.
Create multiple reports in less time with the new Design and Preview builder
We wanted to make it quick and easy to build reports. That is why we've created streamlined Design and Preview modes. These enhancements allow you to build and customize your report, then easily preview how the report will look within the same interface, all with the click of a button.

Configure reports for different stakeholder groups
There are a ton of different ways to configure reports. Envisio's new filtering capabilities match what's available in your plans to keep it familiar and easy to understand. You can easily filter by plan name, department, employee(s), dates, status, progress, tags, you name it. Then choose to include or exclude elements of the report with a single click. Maximum flexibility with added ease-of-use.
Build a report in less than two minutes with report templates
Our standard report templates have been built based on the reports our customers create the most. So you can get started quickly and easily with best practices already laid out.
For example, My plan assignments can be created for all Envisio users as it pulls together the status and progress of anything assigned to an individual user. Another example we recommend for managers is the Projects pending update by owner report. This report gives you a snapshot of what updates are still required so you can notify your team to get on it.
Increase visibility & accountability with report scheduling
Let's not forget scheduling! Once you have created a report, you can schedule it on a custom frequency such as daily, monthly or quarterly, or you can align it to your reporting date schedule and have it sent a week prior, so you can ensure your team updates are complete before the run date. Scheduling reports will keep you and your team organized, aligned, and on track.
Okay, we know this is all great, but the real juice is Envisio's improved report sharing capabilities. You can now duplicate/clone any report shared with you. This means that if someone on your team goes through the process of creating and configuring a report, they can now send it to you and others, who can then duplicate and tweak it to fit each person's reporting needs. It's never been easier to maintain report consistency and reduce the time it takes to build reports!
—
Well, there you have it, all the info you need to go from good to great in reporting for 2023. And remember–what gets measured gets done.
We provide extensive support as you become a Report Builder guru. From our professional services, to our customer success team, to our Envisio Academy, we are here to help.
If you are an Envisio Customer, your Customer Success Manager has already been in touch. If you are new to Envisio and would like to learn more about our strategy, performance management, and reporting tools, request a demo and we'd be happy to show you around!