Climate change is perhaps the most pressing existential issue of our modern age. The impacts of climate change are already being felt around the world, from extreme weather events like hurricanes, floods, and wildfires, to the loss of critical ecosystems such as coral reefs and rainforests. These changes are not only affecting natural systems but also social and economic systems–exacerbating poverty, food insecurity, and global inequality.
The Paris Agreement requires that we globally limit global warming to no more than 1.5°C above pre-industrial levels. Failure to do so could trigger irreversible and catastrophic changes, such as the collapse of major ice sheets, the loss of entire species, new diseases and viral threats, severely compromised air quality, and the displacement of millions of people due to sea-level rise, and other climate impacts.
Responses to the reality of our rapidly changing climate typically include being immobilized, feeling helpless, angry, and defeated. These are all reasonable feelings (I feel them myself). And because the problem seems so massive, it can be easy to justify throwing up one's hands and going, "Well, there's just nothing we can do about it except admit defeat."
Enter: doing something about it.
Local governments and climate change
Oftentimes, the rhetoric around climate change can over-emphasize one individual's impact and de-emphasize the things that can really make a difference. Local governments, however, are the perfect in-between: large enough to make systemic change, and small enough to engage individuals. Cities have an ability to respond to climate change in a way that is localized to their region, their economy, and their capacity.
Cities are also responsible for a significant proportion of global greenhouse gas emissions. According to the United Nations Environment Programme, cities and urban areas account for an estimated 75% of global energy-related emissions, with transportation and building developments being the largest contributors.
A city embracing or creating a climate action plan as either a strategic pillar in a broader plan or as an overall strategic city goal can make progress seem possible where it would otherwise be impossible.
Climate action plans matter because they are precisely the antidote to hopelessness. There are significantly impactful changes that need to be made, and that can be made, by local and municipal governments.
So what makes a strong climate action plan?
We work closely with hundreds of innovative local governments, and we take our cue from their careful actions. The trends that are most consistent and that best represent achievable, time-measured, and specific goals focus on:
Leveraging data to support climate action
Embracing green infrastructure
Financing sustainability and leadership buy-in
Adaptability and resilience
Engagement of residents and employees
From our analysis of our customers' climate action plans, we believe the above features are what make a strong climate action plan that is comprehensive, socially equitable, and achievable, and one that addresses both the causes and impacts of climate change.
Leveraging data to support climate action
Collecting accurate data on the impacts of climate change is essential for local governments to understand and effectively respond to the challenges posed by climate change. Any strong climate change plan needs to assess their current shortcomings with regards to climate action and climate vulnerability; from assessing vulnerable groups of people most at risk of harmful climate fall out, to where they have the most environmentally harmful contributions in terms of pollutants, greenhouse gas emissions, and non-biodegradable waste.
Climate Action Plan Example: The City of Edina, MN
One of our customers, The City of Edina, collected data on eight different climate areas:
Transportation and land use
Buildings and energy
Waste management
Water and wastewater
Local food and agriculture
Greenspace and trees
Climate health and safety
Climate economy
They embraced a strategy and performance analytics software partner to plan, implement, and display their progress to the public in their climate action plan.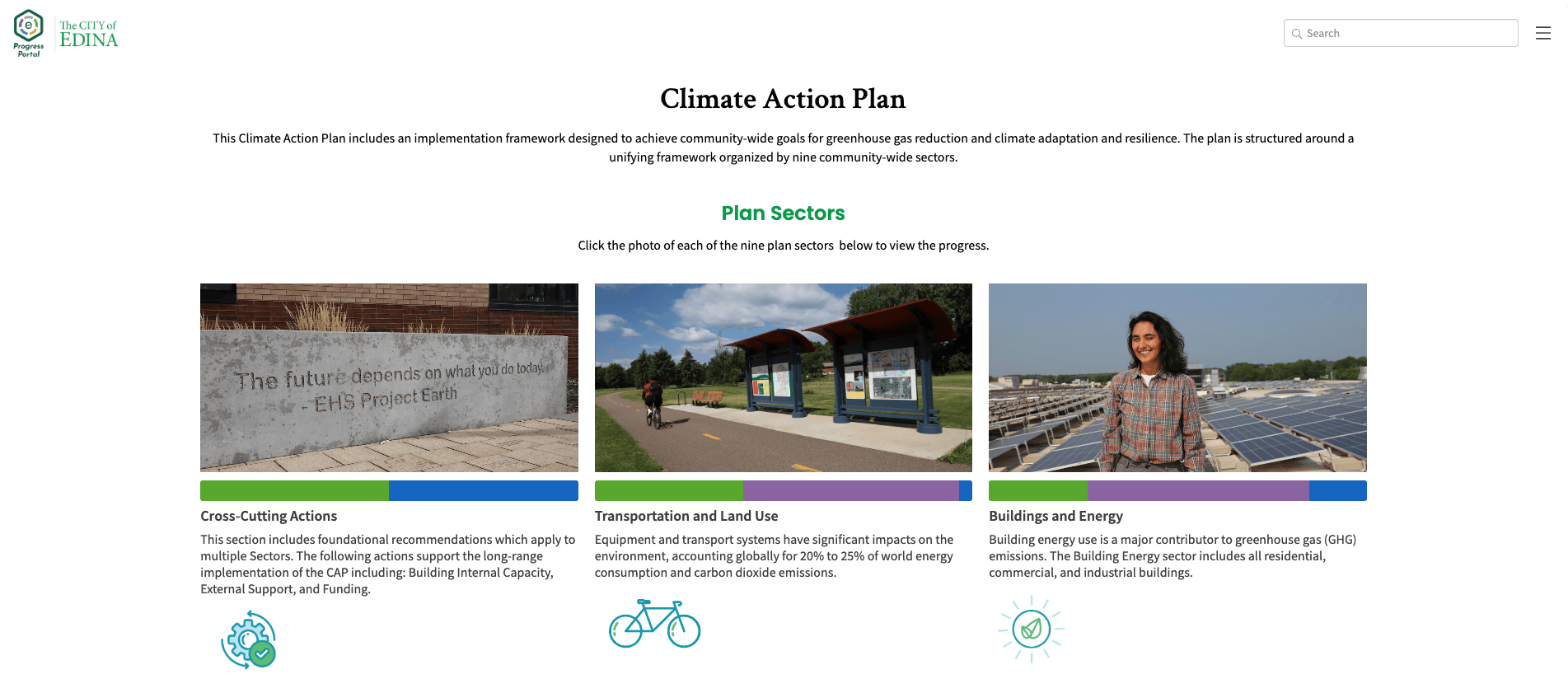 Because they were so rigorous in their data collection, they were able to identify areas of vulnerability. Having accurate data helps local governments identify areas that are most vulnerable to the impacts of climate change, such as sea-level rise, flooding, or extreme heat. For example, The City of Edina was able to identify 1,437 properties at risk of flooding, in their climate health and safety section. This information can be used to prioritize and target resources towards those areas.
Collecting accurate data also helps local governments track progress towards their climate action goals. This, in turn, helps secure funding by providing evidence of the need for investment, and can help in building community support by demonstrating the real impacts of climate change on the local community.
Climate action plans should have clear and measurable goals that outline what the community or organization aims to achieve in terms of reducing greenhouse gas emissions, increasing renewable energy use, and adapting to the impacts of climate change. When based on a comprehensive analysis of the community's current greenhouse gas emissions, energy use, and vulnerabilities, these goals will be easier to set.
Embracing green infrastructure
Municipal governments can target climate action by investing in green infrastructure. Green infrastructure is a broad term that generally refers to design elements such as green roofs, urban forests, and green spaces, but can also refer to sustainable and renewable energy sources for city infrastructure, such as mobility and transportation.
Green infrastructure is important because it can help to reduce the urban heat island effect, improve air quality, and provide carbon sequestration benefits. Additionally, green infrastructure can provide a range of other benefits, such as increased biodiversity, and reduced stormwater runoff.
Climate Action Plan Example: The City of Montpelier, VT
Our customer, the City of Montpelier, is the state capital of Vermont. With a population of just over 8000 people, Montpelier is a small-but-mighty community with their sights set on holistic and ambitious climate change goals. Their strategic climate action plans include prioritizing a non-fossil fuel based public transportation fleet, and reducing downtown vehicular traffic.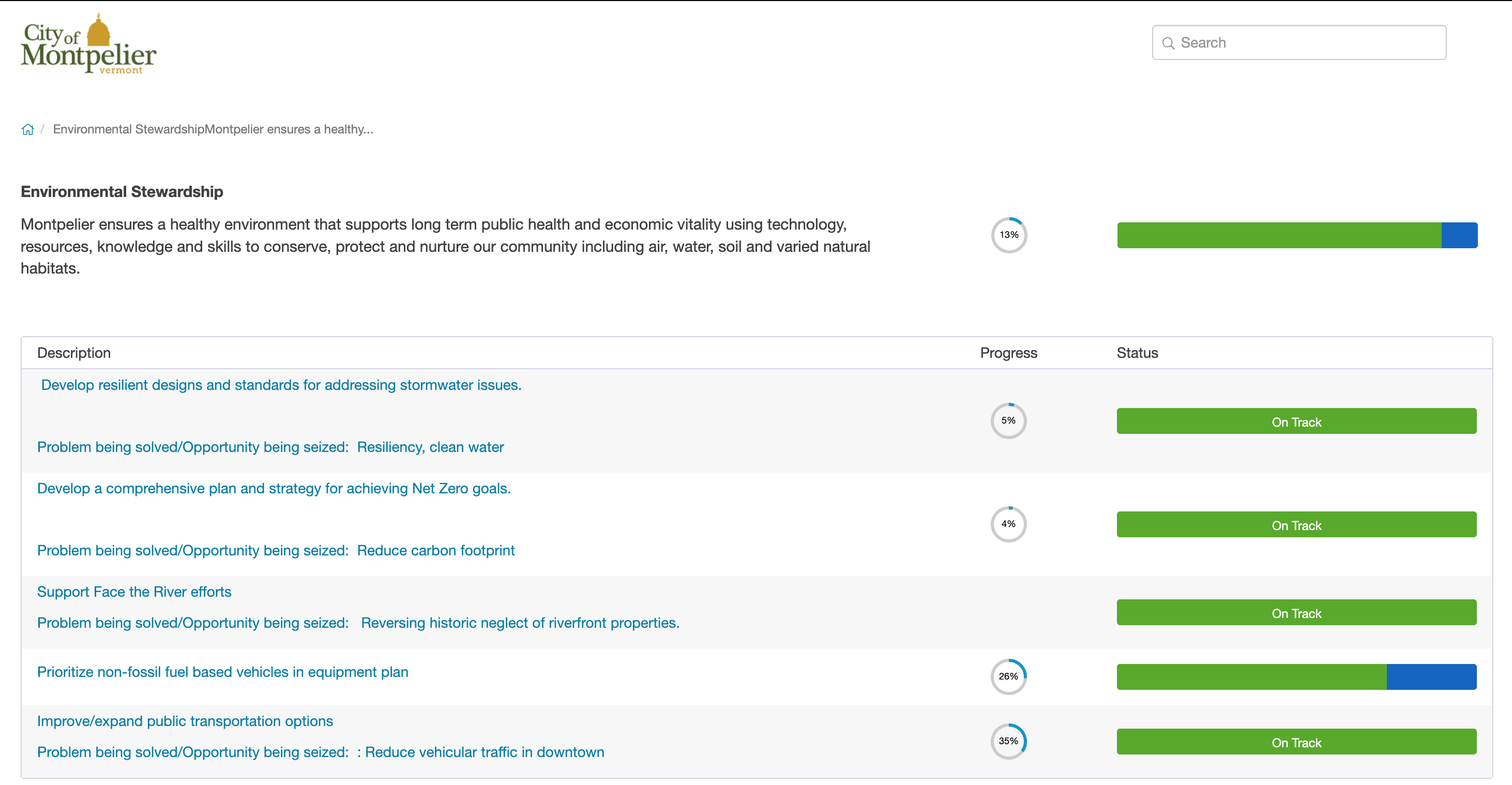 They have also set a goal to become the first state capital to be net zero by 2030. This means that the city aims to produce as much renewable energy as it consumes, resulting in a net-zero carbon footprint. The city's net-zero goal applies to both municipal operations and the wider community.
To achieve this net-zero goal, their plan is comprehensive. Not only are they improving energy efficiency in buildings and transportation, but they are increasing the use of renewable energy sources such as solar, wind, and hydropower.
Investing in green infrastructure is the kind of ambitious and systemic change we need, and it is an achievable goal when broken down into sections, and bolstered by comprehensive strategic planning and performance measurement.
Financing sustainability and city leadership
Balancing ambition and economic feasibility is another key element of a strong climate action plan. Decarbonizing the economy—transitioning to a low-carbon based energy economy—can be perceived as a high-risk economic activity. The problem is, climate change is already accounting for huge portions of economic devastation. Climate action failure is listed by the World Economic Forum as the most impactful long-term risk facing the world. Based on this assessment, the pros of making the changes vastly outweigh the cons. And sometimes, you just need a leader to take the plunge, in order to demonstrate the benefits.
Climate Action Plan Example: The City of West Hollywood, CA
The City of West Hollywood has a Climate Action and Adaption Plan that tackles all the areas we have already mentioned, such as resilience and a focus on green infrastructure. They have also placed a careful focus on ensuring the changes they make improve equity and the quality of life of their residents. What we want to draw attention to here is how they incorporate action items at the leadership level. Leading by example, they have institutionalized carbon reduction, and embraced regional partnerships.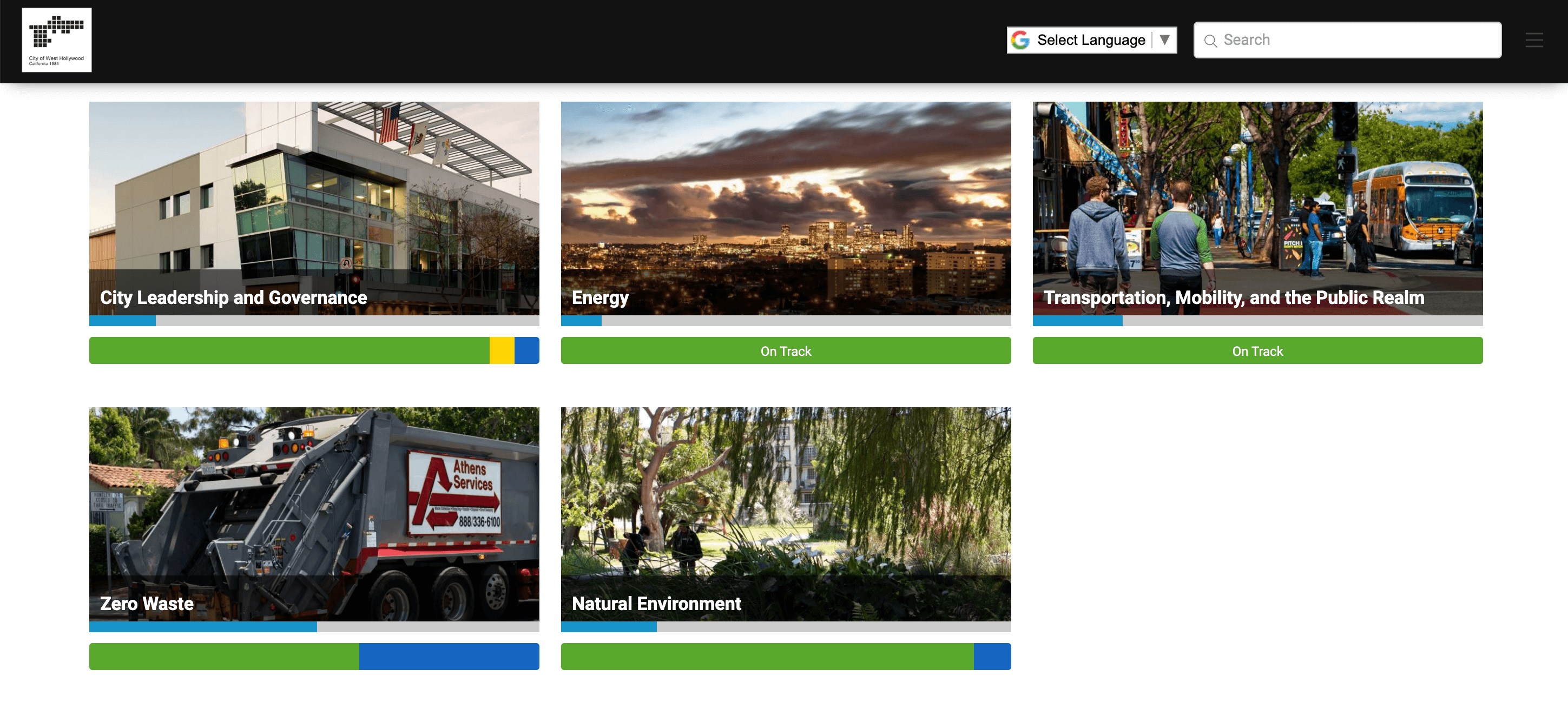 The city recognizes that incentives are good, but they are not enough on their own to reach their goals. The cross-sector WeHo Green Business Program promotes energy and water efficiency, waste reduction, and sustainable and/or local purchasing with the city's business community.
Climate Action Plan Example: The City of Richfield, MN
Another incredible example of measuring financial sustainability (as well as developing a robust infrastructure that is a perfect example of data transparency…) is the City of Richfield. Their public dashboard very clearly shows their efforts in sustainable infrastructure financing: they display exactly what changes they are making and how much those changes cost. They have high priority climate action plan items that they are working hard to achieve by 2025.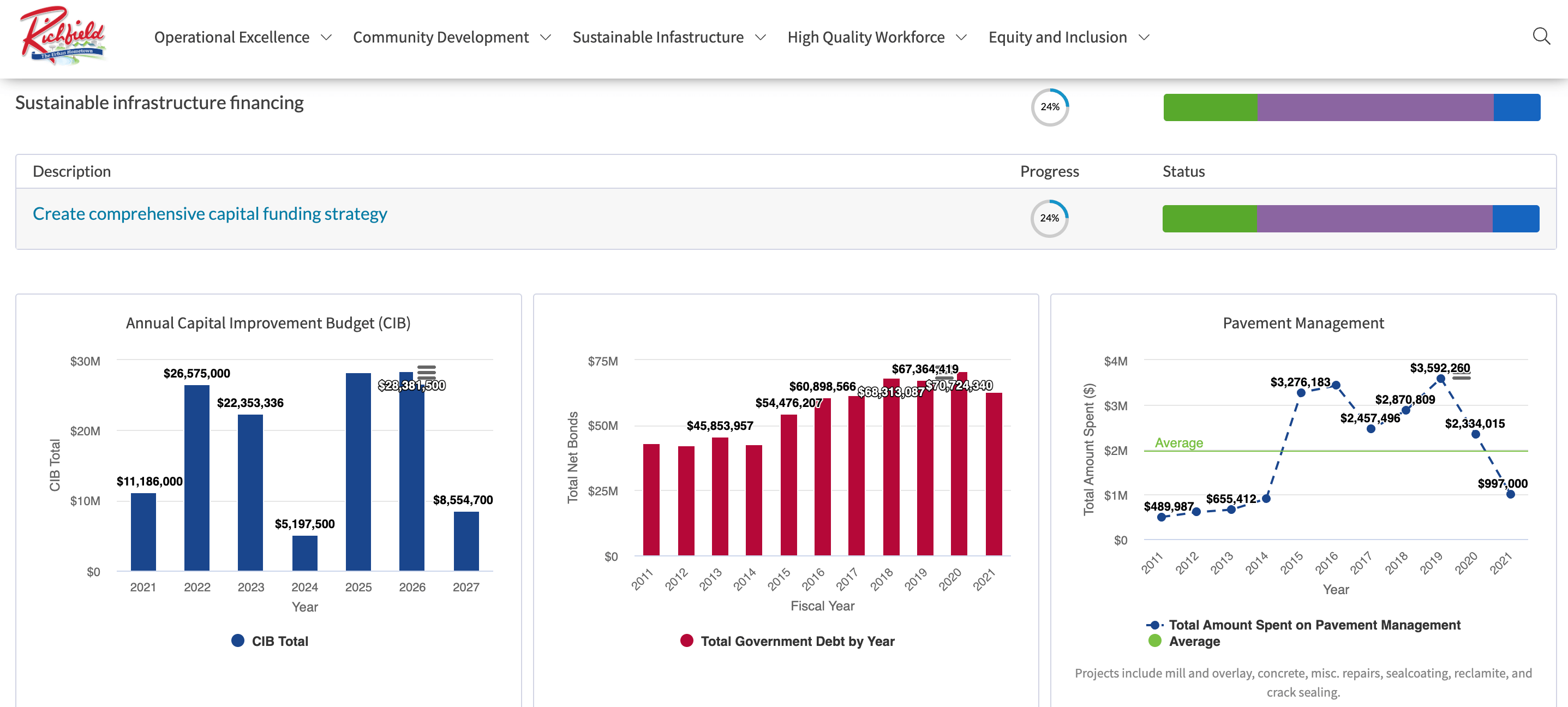 Showing your financial steps towards sustainable infrastructure, decarbonizing the economy, and engaging in sustainable development practices are ways in which municipal governments can make significant impacts. City leaders and policy makers have a unique opportunity to advance such incentives, and make climate action plans an economically viable option.
Engaging stakeholders, business owners, and seeking federal funding are all ways a municipal government can promote the uptake of renewable energy and energy efficiency. Having buy-in at the leadership level promotes the financial feasibility of climate action, and this is the type of action that translates into a sustainable climate action financing strategy.
Adaptability and resilience
Being able to adapt to the impacts of climate change is another important indicator of a strong climate action plan. Even if global emissions are drastically reduced, the Earth's climate will continue to change: some degree of adaptation will always be necessary. A strong climate action plan should include measures to build resilience to climate change impacts, such as sea level rise, droughts, floods, forest fires, air pollution, water contamination, and heatwaves.
Climate Action Plan Example: Sonoma County, CA
Sonoma County, CA, is tracking and sharing their 2021-2026 Five Year Strategic Plan in Envisio, and we are thrilled to see the foresight and care with regards to their focus on adaptability.
Climate Action and Resiliency is a dedicated pillar of their strategic plan. It includes 5 main goals which further break down into action items dedicated to prevention and responsiveness. They've included elements such as land use policies to promote species resiliency and prevent the loss of natural carbon sinks such as old-growth forests. All of these actions work together to prevent disasters and promote positive climate action.

The ability of a local government to remain agile during times of crisis and change makes a huge difference to a community. As we see the impact of our changing climate, it will remain critically important to embrace preventative measures, and build resiliency.
Engages residents and employees
Local government employee engagement with a climate change plan is critical to achieving the plan's goals and objectives. Engaged employees can contribute innovative ideas, take ownership of the plan, identify cost-saving measures, and help promote sustainable practices within the workplace, resulting in greater success and public support for the organization's efforts.
Climate Action Plan Example: The City of Port Moody, BC
The City of Port Moody in British Columbia has a truly extensive climate action plan, focusing on everything from climate justice to sustainable development practices, resiliency, and environmental preservation. However, their meticulous action items would not be achievable without their great success with respect to human engagement on their strategic plan, and for this, they should be seen as a shining example.
Their comprehensive Climate Action Plan (CAP) was developed with input from a broad range of stakeholders, including community members, businesses, and non-governmental organizations. Heading into Phase Two, this collaborative and engaging spirit carries through in the people putting these plans into action, and they are using Envisio to track progress and measure performance. In 2020, Port Moody achieved an incredible 100% rate of employee engagement on their strategic plan.
"We have 38 staff participating, with 29 general managers and supervisors who own at least one project. What was important here is that it was the employees who operationalized the strategic plan."

– Ian Smedley, City of Port Moody's Corporate Planning Advisor
By soliciting community feedback and engaging employees, Port Moody's ambitious plans become a truly collaborative and cooperative effort: and to address climate change, that is absolutely necessary.
Putting hope into action
We know that addressing climate change requires coordinated action at all levels, from individuals to governments, to industry bodies and international organizations. But cities and counties are in a unique position to get buy-in, make big moves, and reduce their impact. Tangible actions like gathering data on potentially vulnerable populations or areas in a community, or installing green infrastructure, are all actions we hope local governments feel empowered to do. We are proud of the Envisio cities and counties who are leading the charge by putting hope into action.
Request a demo of Envisio ↓