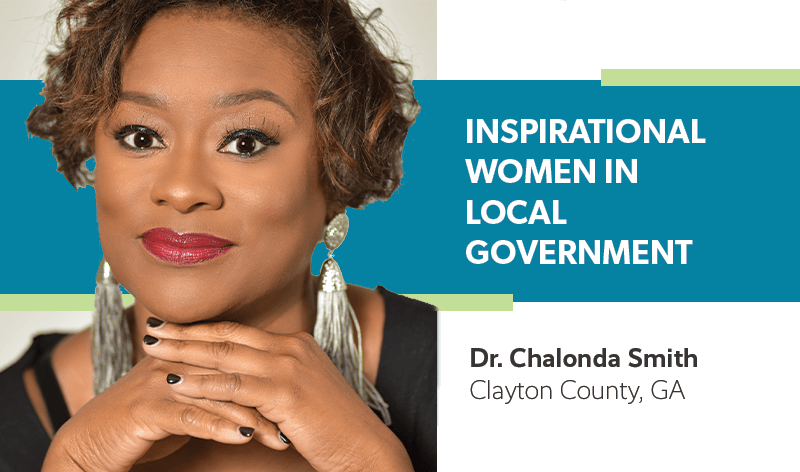 To celebrate International Women's Week, we are showcasing some of the brilliant women we work with who are driving high performance in their local government organizations and positive change in their communities. We hope to not only celebrate their accomplishments but to inspire and educate by sharing some of their wisdom.
Today, I'm excited to be sharing insights from Dr. Chalonda Smith, Operations Analyst, at Clayton County Board of Commissioners. (You can connect with Chalonda here.)
Chalonda, what are you reading right now?
My goal is to read one book every other month to stay engaged and empower myself. The last book I read was Leaders Eat Last by Simon Sinek. I'm currently reading Mindset: The New Psychology of Success by Carol Dweck.
Tell us about your community, your role and how you got here.
Clayton County, established in 1858, is located in the north-central portion of Georgia. It is a part of the Metro-Atlanta Statistical Area and is the third smallest county, by area, in the State of Georgia (with a total area of 144 square miles). Currently, the population in Clayton County is 299,777, and the seven municipalities which the county serves are composed of a diverse multicultural group.
Clayton County is the home of Hartsfield-Jackson Atlanta International Airport. It is a progressive county that has many opportunities for economic growth. I was drawn to its core values and mission:
"Clayton County is a community-focused government committed to maintaining a positive and effective atmosphere while providing access to resources that are beneficial to the economic growth and prosperity of our citizens, businesses, and employees."
How did I get here? Hmm… I currently serve as the Operations Analyst for the Clayton County Board of Commissioners. My role is to guide departments to strategically progress county priorities through the county's strategic pillars while promoting continuous improvement in all operations to create public trust and value. Over the last year, I was asked to create the Office of Performance Management (OPM). This office will direct and promote the county's strategic pillars by focusing on aligning strategy, facilitating performance management, and fostering improvement by developing and implementing tools and resources as necessary. With board approval, OPM determines governance structures in support of process improvement, systems and technology, and workforce development projects.
Before my current role with the county, I was an independent consultant for public, private, and governmental organizations. I traveled domestically and internationally to provide business development and management consulting services to enhance organizational systems which ultimately lead to results-driven and sustainable structures.
Hard work and dedication to my passion has guided my career. Of course, it's not been without challenges. I've learned to remain steadfast and pursue what talents I have been blessed with to ensure that I advocate for people on a broader scope by changing policies and processes, and assisting organizations in changing communities.
Time to boast a little… What project or initiative are you most proud of at Clayton County and how is it driving positive change in your community?
The mission of OPM is to foster and preserve a culture of strategic leadership and continuous improvement in Clayton County.
One of our goals is to develop, administer, and collaborate with departments to ensure the county's strategic pillars are promoted throughout the organization. With over 30 departments it has been a challenge; however, Envisio has allowed my office to track and improve performance by communicating results. We have developed departmental operational plans in Envisio that will be linked to the county's strategic plan to ensure that departmental goals are a driving force of the overall plan.
We also use Envisio's performance analytics to analyze and visualize our performance data. Our goal is to align performance measures with strategic priorities, generate progress reports, and use data to make informed decisions which allows our Board of Commissioners to set policy agendas.
To ensure that our citizens are aware of the progress within the county, we have a public dashboard.
What are your top places to go for support, education or mentorship in your role?
I'm grateful for my support system professionally at work and privately with my friends. My sister circle (as I call it) is small and they are all either entrepreneurs or have C-level positions in their respective organizations. We check in weekly to encourage each other and offer support.
Currently, I'm attending a leadership program with the National Associations of Counties (NACo) and it has been an amazing experience to receive leadership education from General Colin Powell and other leading professionals. His 13 Rules of Leadership has been empowering.
How do you personally handle imposter syndrome?
I must admit that sometimes I have had this, especially early in my career. I have also found that when you are confident in your craft, others can project an energy that will cause you to have imposter syndrome.
So… I self-talk! I remind myself that I worked hard for my degrees, I have built business credibility, and I deserve all that has been afforded to me in my career. I read a lot and listen to Audible which helps me sustain my confidence. My sister circle reminds me that I deserve a seat at the table for my hard work and professional, ethical practice. I also celebrate small wins even if no one else celebrates with me.
What advice would you give to other women in local government looking to grow their careers?
BE PRESENT!!!!! Respectfully command your seat at the table. Read books, engage in continuous education, and enhance your skills. Listen in order to seek understanding and to be understood.
What can we ALL be doing to bring about greater gender equity in local government leadership?
In my NACo leadership class we are discussing leading effective change. Dr. Rahschulte stated that there has to be a need for change and that we must have a strategy that aligns with our culture and organization. Communication is vital! If we want gender equity, it must be acknowledged, and open, honest dialogue must take place for change to happen. We have to assess our READIness (Resources, Education/Training, Awareness/Communication, Dynamics of the Organization, and then Implement a plan for the change.)
Are there other amazing women you know in public service that deserve a shout-out?
Celebrate them here!
WOW, there are so many! I want to shout out all of the hardworking, amazing women that I work with in Clayton County! I celebrate you because we MAKE THINGS HAPPEN!!!
—