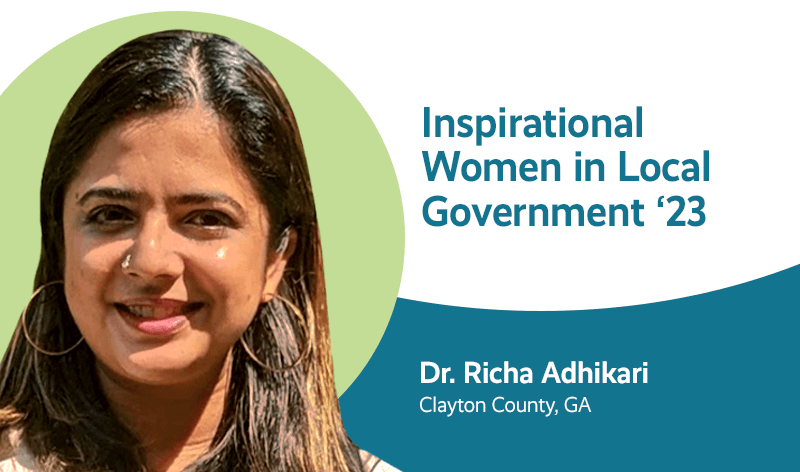 Every year, we celebrate some of the inspirational women we work with in public service who are driving positive change in their organizations by championing greater organizational trust and transparency, higher performance, and better service for their communities.
This year, as we think about the 2023 International Women's Day thematic call to "Embrace Equity", we are also reflecting on the need for continued education.
So, as we highlight and showcase these inspirational women, we've also asked them to do the difficult thing of sharing some of their own experiences of gender bias in the workplace.
We'll be sharing the stories of five wonderful women throughout this week. As always, we hope to celebrate, inspire, and educate by sharing some of their wisdom.
Today, we're talking with Dr. Richa Adhikari, Strategy and Performance Management Analyst at the Office of Resilience and Sustainability in Clayton County, Georgia. (You can connect with Richa here.)
Richa, what are you reading right now?
Oh, I love that question! As a reader, I either indulge in juicy mystery novels, think Desperate Housewives style (shoutout to Seraphina Nova Glass), or opt for thought-provoking pieces that challenge my perspectives, particularly about how we make public policy decisions. I recently finished Daniel Kahneman's Thinking, Fast and Slow, which falls under the latter category. As a young professional, I have recently begun to invest in books that help me navigate the "adult" world. Set Boundaries, Find Peace by Nedra Glover Tawwab, and Atomic Habits by James Clear are two pieces I always return to in this genre.
Tell me a little about your community, your role, and how you got here.
Clayton County, nestled in the Atlanta Metropolitan area, is a bustling county and the sixth most populous in Georgia. We've got it all – from the world's busiest airport (Hartsfield-Jackson Atlanta International Airport) to the fifth-largest school system in the state. We're all about progress and diversity, with endless opportunities for economic growth. Plus, we're passionate about making data accessible and important to everyone – that's where I come in!
How did I get here…? My passion for making data accessible to diverse stakeholders! I currently serve as the Strategy and Performance Management Analyst at the Office of Resilience and Sustainability in Clayton County. My job is to help departments set priorities, streamline goals, keep everyone accountable with performance assessments, and ensure that elected officials and departments are always on the same page. Our mission at the Office of Resilience and Sustainability is to create and cultivate resilient communities empowered by data-driven decision-making, continuous performance management, and sustainable, equitable, and inclusive crisis resolutions. Our team believes passionately in harnessing technology to improve people's lives in all of our efforts.
Before joining Clayton County, I was a PhD student in Public Management and Policy at Georgia State University. Several factors informed my decision: as much as I enjoyed research and teaching, I found that I am most fulfilled when I directly serve my community. Becoming a pracademic seemed like the perfect way to make significant, tangible contributions to my community – and I was right! The analytical and research skills and incredible attention to detail I learned as a PhD student have honed my work as Strategy and Performance Management Analyst in my current role.
What's one of the best pieces of advice you have received in your career? Why?
Being transparent is one of the best pieces of advice I've ever gotten in my career. This has two levels: first, transparency and consistency in communication with team members and supervisors is critical to creating the greatest possible employee experience in any organization. We are all human, and we are all dealing with a variety of issues outside of work– being transparent in this context involves communicating personal vulnerabilities that affect how we show up to work and creating space for our team to bring their authentic selves to the table. Second, because local government exists to serve the community, it is critical to be honest with internal and external stakeholders regarding decision-making processes, budgets, and other accountability indicators. This helps foster community trust and builds collaborative relationships.
What are you most proud of professionally?
I am most proud of my team's efforts to make data-driven performance management a non-negotiable component of Clayton County's strategic plan. We have worked tirelessly to cultivate a culture of continuous improvement and accountability for performance measures, and it's paying off. This includes monitoring timely performance data updates, ad hoc training on strategic concepts and performance management tools/norms, and ongoing support to improve strategy at the departmental level. We require departmental submission of operating plans that clearly operationalize the most critical strategic goals and targets. We have guaranteed a seamless parallel between said operating plans and Envisio tracking. We perform quarterly reviews of each department's progress toward its strategic targets, followed by a comprehensive accountability assessment.
These initiatives are just the beginning of what Clayton County hopes to achieve in the domain of data-driven performance management, and Envisio has had a significant impact in making that happen.
The theme for this year's International Women's Week is "embrace equity". We can't embrace equity without education. Are you able to share a story of a time when you have experienced gender bias or microaggressions in the workplace?
As a minority woman of color, I've encountered numerous instances where my worth was questioned, and my abilities were contested because of my appearance. Navigating the intersectionality of being a minority and a woman has been difficult, but I wouldn't trade the lessons I've learned for anything. One of the most essential lessons I've learned is that my uniqueness is my greatest asset; the breadth of expertise and representation I bring to the table is invaluable to my community in many critical decision-making processes.
Being undervalued in many professional settings has also taught me to advocate for myself and, more importantly, to support women like me and help them demonstrate their skills to the best of their abilities. As a public servant, I consider this an imperative responsibility.
What are your top places to go for support, education, or mentorship in your role?
There are so many places! I am fortunate to have a strong group of female friends who encourage me in ways they may not even be aware of. My sister is another person who greatly inspires me; she constantly supports my personal and professional endeavors by being a living example of hard work, professionalism, and self-advocacy.
Professionally, I make an effort to attend leadership webinars and seminars whenever possible. The National Association of Counties' (NACO) most recent leadership training was the High-Performance Leadership Academy. This program introduced me to a multitude of leadership resources, such as General Powell's 13 rules of leadership, that have proven to be an excellent addition to my arsenal. Apart from that, I've read many leadership books, including Dare to Lead by Brene Brown and The Likability Trap by Alicia Menendez, both of which have benefited me in my career.
Are there other amazing women you know in public service that deserve a shout-out? Celebrate them here!
Janelle A. Kerlin, Associate Professor in Public Management and Policy at Georgia State University. She was my committee chair at Georgia State University and embodies patience, intelligence, and scholarship. Thank you for always inspiring me to challenge myself!
In Clayton County – Chief Laura Richardson – I am continuously impressed by her passion for public service and professionalism, and Valerie Fuller – she leads with drive and determination.