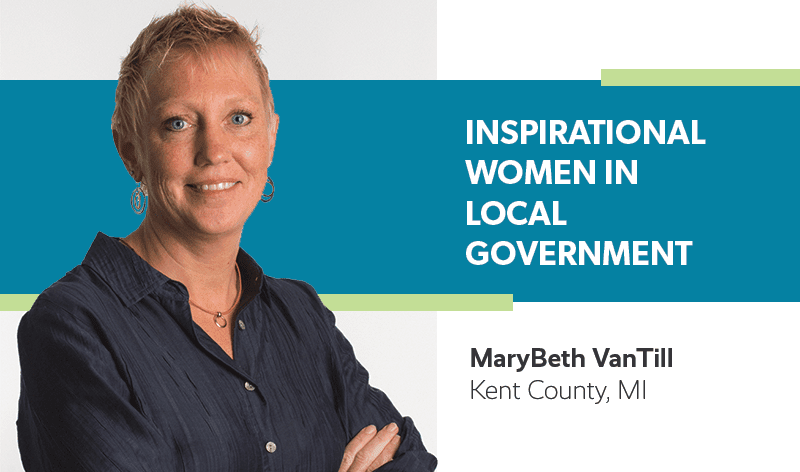 To celebrate International Women's Week, we are showcasing some of the brilliant women we work with who are driving high performance in their local government organizations and positive change in their communities. We hope to not only celebrate their accomplishments but to inspire and educate by sharing some of their wisdom.
Today, I'm excited to share our interview with MaryBeth VanTill, Strategy and Performance Management Manager at Kent County, Michigan. (You can connect with MaryBeth here.)
MaryBeth, what are you reading right now?
For fun, I'm reading Unsheltered by Barbara Kingsolver. For work, I'm reading Execution: The Discipline of Getting Things Done by Lawrence Bossidy and Ram Charan.
Tell us about your community, your role and how you got here.
Kent County is a vibrant community in West Michigan that is home to the second largest metro area in the state. If you don't mind a little winter weather, it is a great place to live and enjoy a thriving downtown community, lakeshore and beaches less than an hour away, parks and rivers that weave throughout the county, and an increasingly diverse population.
I started working for the county six years ago, after a 20-year career in higher education. My career has always been a dance between Information Technology and Human Resources. In a nutshell, I enjoy systems, logic, and people! I am at my best when I am able to find solutions that help people do their job. I also have experience as a Baldrige examiner and enjoyed seeing at a large scale how organizations strategically work to achieve excellence in their operations.
Two years ago I was able to transition to the position of Strategy and Performance Management Manager. This position allowed me to incorporate my passion for people and systems in a meaningful way to help Kent County pursue its strategic plan goals and priorities and work with individuals throughout the county.
Time to boast a little… What project or initiative are you most proud of at Kent County and how is it driving positive change in your community?
I am fortunate to work in an organization that has been practicing performance management for the last 20 years. There is a rich history here of understanding inputs, outputs, efficiencies and the importance of metrics. When I started in this position, we had been using a home grown database application for tracking our measures. We were at an impasse where we needed to either rewrite our current program or consider a new product for performance management.
I am very proud of the work that my team has accomplished through our partnership with Envisio. We have been able to take our performance management process to the next level of excellence. Our external performance dashboard has been a tremendous tool to communicate with our residents about the work that the county is doing to make Kent County a place where people want to live, work and play.
What are your top places to go for support, education or mentorship in your role?
Read, meet, study. I am a voracious consumer of books on performance excellence. The most succinct book that I've encountered is Measure What Matters by John Doerr.
How do you personally handle imposter syndrome?
I practice daily mindfulness.
Many times we will advocate for those we care about far more than we would advocate for ourselves. Why is this? I believe that many people deep down think that they "can bear the criticism" or "take the heat" and then the moment will pass. In fact, we tolerate people speaking down to us in a way that we would never put up with if the same words or tone was used toward someone we love.
I think pausing and being mindful of the context, the words used, and the motivation behind the words is a necessary step to untangling yourself from feeling like a fraud. Likewise, doing an internal check is also necessary. Did you give that project your all? Did you act with integrity? Did you deliver what you said you would? Did you communicate any obstacles along the way? If you can answer "yes" to each of these questions, then stand tall! Listen to the message that you are receiving and ask what might be motivating the person to speak or say the things they are saying.
What advice would you give to other women in local government looking to grow their careers?
Get involved. Be involved in community organizations, serve on school boards, whatever you can do to learn about the multiple systems at play. Health, education, private/nonprofit, government, housing, etc… Understand how all of these systems are interconnected and how they relate to the health and wealth outcomes of your residents.
What can we ALL be doing to bring about greater gender equity in local government leadership?
Three things:
Make sure your leadership team represents the diversity of the communities that you serve.
Bring in student interns from local colleges and universities.
Learn about unconscious bias.
Are there other amazing women you know in public service that deserve a shout-out?
Celebrate them here!
So many great women to name… Here's a few spectacular women at Kent County that I look up to: Jenny James, Teresa Branson, Michelle LaJoye-Young, and Hilary Arthur.