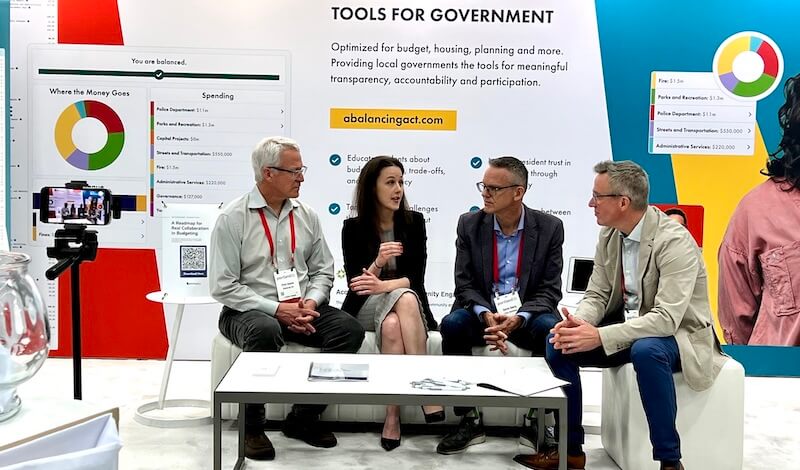 The overall focus at this year's GFOA Annual Conference in Portland was on adopting innovation and growth mindsets. From the opening session with keynote speaker Eduardo Briceño, who spoke about the kinds of habits and systems that fostered growth – to presentations on the "Rethinking" initiatives that the GFOA is advancing in partnership with the ICMA, we learned a lot about what it means to pioneer new methodologies in budgeting, financial reporting, revenue, planning, and public engagement.
With the release of the joint white paper between govtech industry leaders Envisio, Questica, and Balancing Act by Polco, "Rethinking Budgeting: A Roadmap for Real Collaboration in Budgeting", we wanted to dive specifically into some of our key Rethinking Budgeting takeaways from the conference, talk about what's next, and highlight who you should follow if you want to learn more about creating a modern budget process.
Rethinking Budgeting White Paper & Press Conference
We held a live press briefing on the white paper and roadmap, where government technology leaders Elizabeth Steward (Envisio), Jonathan Wiersma (Polco), Stefan Baerg (Questica/Euna Solutions), and Chris Adams (Balancing Act by Polco) discussed the vision for a modern, outcomes-based budgeting practice that's aligned with strategic planning, incorporates community engagement, and is fully transparent.
"The challenge with budgeting for outcomes, historically, has been trying to actually determine which outcomes to focus on … what we've done by coming together as organizations is be able to offer a collective solution that starts with engaging residents on the front end, which can then inform the strategic plan, which in turn then informs the budget." – Stefan Baerg
This co-authored white paper builds on the recommendations of the GFOA's Rethinking Budgeting initiative with a roadmap outlining next steps for local government organizations. It combines the best practices from traditionally siloed but overlapping disciplines: public engagement, budgeting, strategic planning, and performance management. The creation of the white paper was also informed by leading local government practitioners at the ICMA 2022 Annual Conference and in collaboration with the GFOA.
"We appreciate and support the efforts of Balancing Act, Envisio, and Questica as they partner to develop the tools and technology that will allow local governments to translate best practice recommendations into results for their residents. We invite and encourage others in the government finance sector to do the same. GFOA is proud to serve as a resource and catalyst for innovation. It is our hope that we can continue to bring together leaders from both the public and private sectors in pursuit of building caring and resilient communities." – Chris Morrill, GFOA Executive Director
The modernized approach outlined in the white paper describes a process of public engagement and community collaboration that sees greater alignment between the needs of the community and the budget.
Key takeaways from the press conference include:
Now is the perfect time for rethinking budgeting. There is a heightened need for responsiveness and transparency in budgeting today. At the same time, technology solutions have reached a maturity level to support this level of integrated, organizational change.
These three technology companies have come together to support the Rethinking Budgeting initiative through their individual areas of local government expertise, the expertise and innovative leaders within their respective customer bases, and through the integration of their technologies to better support this vision for a modern budget process.
While this white paper and roadmap was created by technology thought leaders, Rethinking Budgeting is not just about re-tooling an organization. Making this new approach to budgeting vision a reality requires fundamental changes in organizational culture, process, and, yes, technology.
This is transformational, leading-edge work. It won't happen overnight and can perhaps be most easily approached in "phases" rather than on a strict, structured timeline.
There is no perfect place to start. Change agents can come from anywhere in the Rethinking Budgeting ecosystem: the budget office, city management teams, strategy, innovation or performance management leaders, or community engagement. The important thing is to just start.
There are already a few cities and counties leading the way. More on who to follow below.
You can watch highlights from the press conference here:
Rethinking Budgeting: Who to Follow
We want to also highlight some people and teams who are already initiating change and progressing towards some, or all, of the modern practices outlined in Rethinking Budgeting.
Aligning Budget, Strategy, and Community Engagement
Aimee Kaslik – Chief Strategic Officer at the City of Denton, Texas, is a leader in her field in terms of performance management and strategy execution. She is a designated Chief Innovator by Bloomberg Philanthropies and is championing work to bring together the budgeting and strategic planning process at the City of Denton. You can read more about how she is aligning strategic long term planning and implementation with budgeting here, in Route Fifty. Aimee's next focus is to incorporate greater community engagement into the budgeting process.
Be sure to also check out Amethyst Sloane, Strategy and Performance Manager at the City of Fort Worth, Texas, for her work (along with Mark McDaniel, below) on FWLabs, an effort by the city to transform its planning, data, and analytics department into a new department focused on budgeting and finance. With the goal of integrating data into the city's long-term planning process, they are aiming to make more data-informed budgeting decisions with more public input.
Transparency in Budgeting and Outcomes
Another essential theme that emerged from the 117th Annual GFOA Conference, and a key component to successfully rethinking budgeting, was the role of thinking frameworks and using appropriate metaphors to educate and empower communities to participate meaningfully in the budgeting process. Numerous workshops and panel discussions addressed the need to simplify financial information, to foster a culture and practice of transparency, and to provide residents with the knowledge and tools to engage thoughtfully during budget deliberations.
Jesse Muniz – Associate Director, Budget & Finance at the City of Albuquerque, New Mexico, spoke at the Marketing your Financials session at the GFOA this year on the importance of a public, community-facing dashboard in how the City of Albuquerque views, understands, and communicates its budgets and expenditures and how that aligns with the city's strategic priorities. You can check out the City of Albuquerque's Goals and Budgetary Objectives public dashboard here. The city's dashboard tracks progress towards the objectives included in the city's annual budget.
Outcomes-Based Budgeting
In their session What Does it Take to Rethink Budgeting?, Chris Adams spoke with leading researchers and practitioners, David Goldman (City of Oak Harbor, WA), Emily Zwetzig (Clark County, WA), and Mark McDaniel (City of Fort Worth, TX) on how they chase after stronger outcomes by challenging the status quo.
Further Education and Next Steps
For all things Rethinking Budgeting, we recommend following Shayne Kavanagh Senior Manager for Research at the GFOA and a key architect of the Rethinking Budgeting research and initiative.
We also recommend following Mark Funkhouser, President of Funkhouser & Associates, LLC, and former mayor of Kansas City, Missouri. Mark is an advocate and thought leader for local government budgeting reform. He spoke with Jonathan Wiersma at the GFOA Conference about the challenges of traditional budgeting, why we need change today, and where local governments should focus first.
For more information on each of the three companies from the press conference (Envisio, Balancing Act by Polco, and Questica) and how they are working together to help local government organizations successfully implement the Rethinking Budgeting recommendations, please visit rblearning.net.
From the rblearning.net site, you can also:
Take the GFOA Local Government Budget Survey and download a report of the first set of survey results from the GFOA's distinguished budget award winners
Access the Roadmap for Real Collaboration in Budgeting White Paper
Learn more about the Rethinking Budgeting Readiness Assessment (coming soon).
Get the White Paper ↓
You can also download the white paper right here. By downloading the white paper, you will be among the first to receive a copy of the Rethinking Budgeting Readiness Assessment, created in collaboration with the GFOA and coming soon.