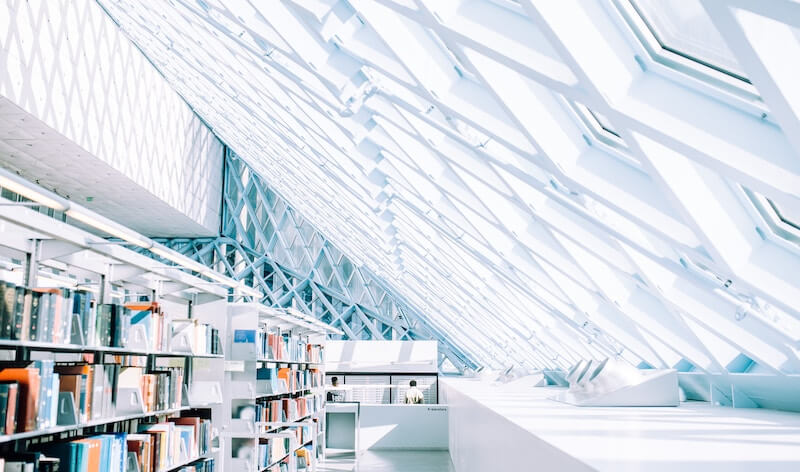 We love libraries and the people that make them work. Beyond simply being a place where the free books are (which, don't get me wrong, is GREAT), libraries provide a number of critical services. From literacy programs to childcare programs, to employment training hubs, to community workshops, libraries are one of the few remaining spaces where public life is highly visible, diverse, and where people can simply … exist.
Because libraries have such diverse possibilities for what they can do, and what they are expected to do, they often have competing priorities and responsibilities. And libraries are, unfortunately, often critically under-resourced, with such difficult-to-quantify aims and goals, they frequently need to justify their value to stakeholders and governing bodies.
Of course, the issue of public sector organizations receiving adequate funding remains a complex topic. Libraries generally need to strive for very well defined KPIs (key performance indicators) and a habit of developing library performance measures, aligned to their public library strategic plan, in order to instill confidence in those external bodies.
A strategy implementation software partner can help in communicating the value of these plans, as well as assist in the actualization towards the kinds of complex goals libraries have. From ensuring they are aligned with the community needs, to making efficient use of scant resources, to preparing for the future and responding to change, libraries have a lot to teach us about how we consider strategic planning.
Here are three Envisio clients who have taken their public library strategic plans to the next level–promoting diversity, ease of use, and inspiring residents to treat their library as a vital hub for the communities they serve.
Saskatoon Public Library, SK
Saskatoon Public Library is opening their new central library in 2026 and they are laying careful foundations –both literally and figuratively–to get there. Their strategic plan is based around 5 main goals:
Inspire community learning
Improve the quality of life for all residents
Celebrate community history
Enhance library service by opening the new central library
Maximize the community's investment
Through each of these five goals, the library is aiming to improve literacy for children and adults, promote intellectual freedom, create strong inroads with Indigenous and First Nations communities through diversification of language, and provide STEAM (Science, Technology, Engineering, Arts, Math) education and lifelong learning to any community member who wants or needs it to enter the workforce.
Let's take a closer look at why and how Saskatoon's library strategic plan is going to help take them from high level strategy to concrete implementation by looking at Goal 2: Improve the Quality of Life for All Residents.
Something like "improve quality of life" is, on its own, a pretty difficult concept to measure. What type of quality is being improved? When we improve quality of life, is any measure enough? Or is there a certain metric by which we can say "Aha, we have improved it." At what point do we step back and say it's been improved? When it comes time to justify the Library's actions to a governing body or board, what kinds of KPIs are shown in the act of "improving quality of life"?
Saskatoon Public Library has this goal broken further into strategies. To "improve quality of life," they are:
Going to reduce barriers of access to service, such as ensuring accessibility features are met, and ensuring the library is open during times the community needs it most, based on what the community says it needs.
They are developing plans to ensure the library has some mobile capacity, so that services can be delivered to underserved neighborhoods.
They are implementing software that will make access library services, and reserving and checking out materials much easier to do.
They are improving their digital presence so that pertinent information is readily available and easy to understand.
These individual goals should be seen as the brick and mortar of the greater aim of improving quality of life for the library users of Saskatoon. The Public Library of Saskatoon has embraced a simple but powerful concept: that "quality of life" is made up of a series of smaller moments and points throughout a person's day where things have ease rather than friction, access rather than barriers, simplicity over needless complexity.
Instead of going to the Library to access a service and being met with frustration, exhaustion, disappointment, confusion, and discouragement, Saskatoon Public Library's strategic plan will help create a smooth, accessible experience.
They've thoughtfully plotted their action items out from 2022-2027, and most of their planning has taken place before the opening of the central branch itself. This type of breaking down of large scale goals into smaller pieces makes Saskatoon's Library's strategic plan one to watch.
The Denver Public Library, CO
The Denver Public Library (DPL) is an incredible example of leaning on a strategic plan to really define and deliver on KPIs to better inform the city and greater community on what they're doing.
Like Saskatoon (and like most libraries), Denver has certain goals that are difficult to quantify. And when goals are hard to quantify, it becomes challenging to both justify plans to external stakeholders and decision makers, and it becomes hard to keep employees engaged.
At over 130 years old, the DPL has 27 locations across the City of Denver, with nearly 700 employees, including part-time and on-call staff. They've been working at providing a more welcoming, equitable, and accessible space for community members, and they've also ensured that their efforts include being able to properly communicate the story of the library's strategic plan and its work.
Kirsten Decker is the Manager of Strategy and Evaluation at the DPL, and we've been lucky to share in her insights and wisdom as a customer:
"Libraries are really, really good at helping other people tell their story, whether it's through our reference services or through our writers' workshops or all the different things that we do for the community. But we're not great at telling our own story. Libraries often fall into the under-resourced, but highly utilized part of our city budgets. We've grown our operational capacity, we've been asking questions like: how can you capitalize on what you have, how can you demonstrate your value, and how can you continue to grow in the ways that your community needs you to?"
The DPL is a leader in telling their story through strategy. They have utilized Envisio to keep track of progress and explain their goals. They have broken down their higher level mission, which is to "create welcoming spaces where all are free to explore and connect," and cascaded it into objectives, and then actionable steps.
Some of these steps include acquiring a strategy software partner (hello! Spoiler: it's us) to measure and track plans, as well as improve their own internal capacity through increased staffing, and promote digital equity measures by eliminating fees and increasing circulation of technology assets, like chromebooks.
Here's a look at the DPL's cascaded plan in Envisio: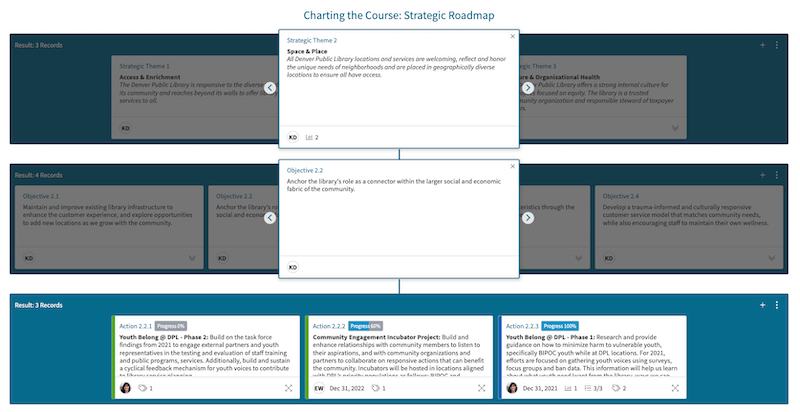 In her most recent webinar with us, Kirsten showed us how the Denver Public Library has been engaging their employees through gamification techniques, in order to reach high-level goals, such as achieving (and measuring) how "welcoming" their space is. Denver's public library strategic planning process ultimately includes ensuring employee engagement, because the people are the ones who carry out the plan!
The value of what Kirsten shared with us extends beyond the reach of the public library; failure to execute a strategic plan impacts a staggering 80% of public sector leaders and their organizations.
By keeping goals high, objectives achievable, and employees engaged, the DPL is able to measure and track performance, execute on plans, and deliver real, tangible results that better service the people of the City of Denver.
New Orleans Public Library, LA
The final Envisio customer we are looking at today is the New Orleans Public Library (NOPL). Their strategic plan covers ten years, from 2022-2032, and is a truly inspiring example and reimagining of the public library strategic planning process, which demonstrates how a library can engage with their community.
NOPL has a bold vision for creating the library as a lifestyle. Yep, you read that right: the library is the cool new lifestyle for New Orleanians. You can see their new public dashboard for yourself here: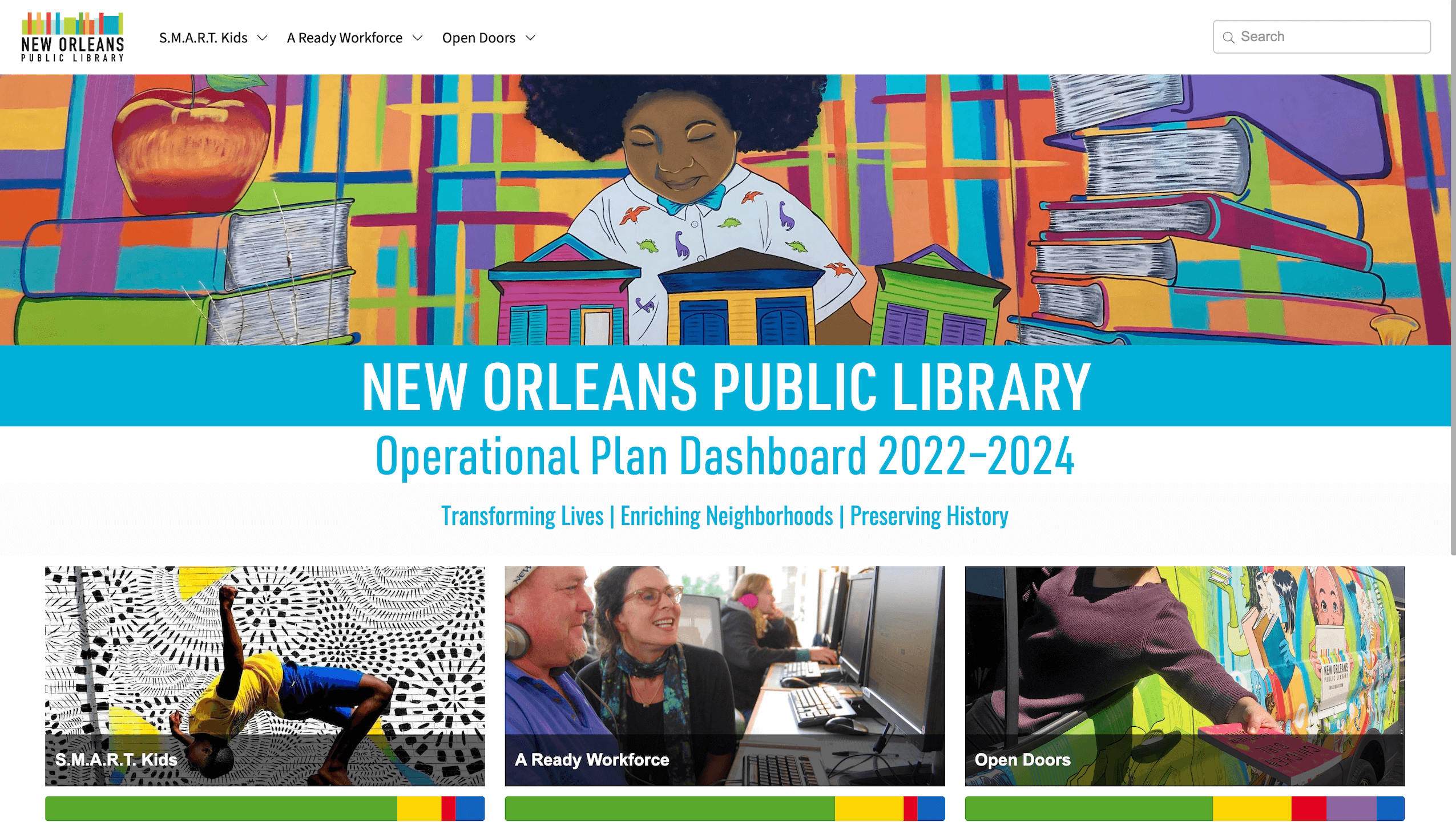 "In order for NOPL to become a part of the New Orleans way of life, we must find inventive ways to connect and add value to residents across the city. This will require expanding our resources and access to them by creating platforms to celebrate the history and culture of our city while exposing our residents to resources that will expand their imaginations."
– 10 Year Strategic Plan: Creating a Library Lifestyle, New Orleans Public Library
With a community as historical, fresh, and vibrant as New Orleans, it's important to have a community center to match, and goals that push everyone forward!
They have three main goals:
S.M.A.R.T Kids, focusing on providing literacy and skill development for youths
A Ready Workforce, focusing on business development, digital literacy and upskilling, and improving adult literacy
Open Doors, focusing on reimagining the physical spaces of the library to promote better accessibility all around, and improving digital and mobile resources/services
Through these three pillars, NOPL is executing a grounded (and ground-breaking) public library strategic plan in service of their community.
With specific action items that include expanding a mobile service, creating The African American Resource Collection Equity and Inclusion Center, and training staff to help promote literacy, NOPL is not just tackling immediate KPIs– the team is also tackling high level problems like systemic poverty and inequality. We've discussed how inequities are challenging for every public sector organization to address; from not having a clear sense of the problem to not having a firm enough handle on the solutions, addressing inequity is another example of a high-level concept made actionable through thoughtful strategic planning. NOPL is committed to creating a world-class library experience that integrates seamlessly with history, culture, and we look forward to seeing what they do next.
Library strategic plans can be the blueprint
Public libraries provide the physical space in which the public actually gathers. This means libraries have particular, complex needs and requirements in order to meet the diverse needs of diverse groups. It also means they are in a unique position to address such needs; rarely does a public institution interface so frequently with so many groups with so many different needs.
Every public sector organization can learn from how libraries are doing things; they are making a lot happen with a little, and they're making every step count.
—
Want to learn more about strategies and techniques to drive employee engagement and implement your strategic plans from a master of the craft? We've got you all set.
Check out our webinar with Kirsten Decker of the Denver Public Library here!