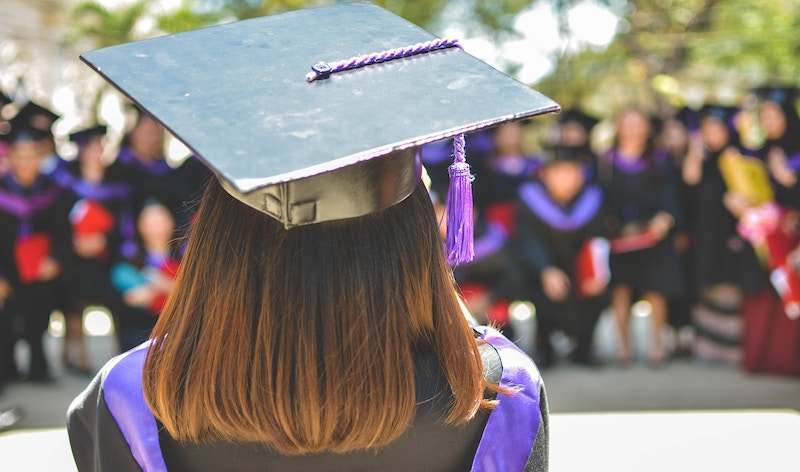 The landscape of higher education is one of rapid change and innovation. Institutions are constantly challenged to adapt and plan strategically to ensure that they stay relevant, on-mission, and competitive. While current and prospective students are critical stakeholders for higher-education institutions, there is also a board of governors, a complex internal employee system of both educators and administrators, and the broader local community. All of these entities interact and form an ecosystem of needs, hopes, ambitions, and goals: balancing so many differing entities and groups (sometimes with competing interests) is where strategic planning in higher education comes in.
An educational institution's strategic plan plays a pivotal role in guiding positive, sustainable, inclusive, and student-focused growth. From embracing strategic planning software for education and nuanced data to support ground-up change, to improving overall accessibility and work opportunities, let's explore three examples of strategic planning in higher education that have set benchmarks and best practices for other higher education institutions—whether they are universities or colleges—to follow.
Strategic Plan Example 1: Data-Driven Strategy for Equity with Green River College, WA
In the spring of 2020, Green River College initiated an Equity-Centered Strategic Visioning and Planning process. The primary objective was to create a comprehensive equity-centered strategic plan that would serve as a guiding light for the college's future endeavors. This plan aimed to articulate a vision, mission, and core values that would shape the college's path, emphasizing the importance of building a more equitable community. To ensure the inclusivity of all stakeholders invested in the college's success, a meticulous 10-month community engagement process was conducted. They collected data as part of an Environmental Scan initiative, which offered a thorough overview of both external and internal trends, and provided valuable insights, suggestions, and points of interest from both Green River College and community stakeholders. All of this input played a crucial role in shaping the college's Equity-Centered Strategic Plan.
The resulting strategic plan stands as a blueprint guiding the entire college forward over the next five years. It delineates clear goals for this period, shows areas for improvement, and details the ways the strategic plan can remain agile and evolve in tandem with the college's growth and aspirations.
The six strategic pillars of focus (and their success metrics) are:
1. Success for All Students: Green River College has specific KPIs and deadlines to measure the progress made towards this strategic pillar. By 2026, Green River College will have established an extensive student onboarding procedure, ensuring that all students develop educational, financial, and career transition plans within their first two quarters of enrollment. Green River also aims to diminish or eradicate opportunity gaps in students' retention, progression, and completion by 2026. Finally, they're aiming to raise the student completion rate from 38% to 43% in that same time period.
2. Excellence in Teaching and Learning: By 2026, every faculty and staff member will have undergone training in anti-racist, equity-focused, and Diversity, Equity, and Inclusion principles. The objective is to reduce or eradicate instructional opportunity gaps associated with race, gender, economic status, and other demographic factors.
3. Responsive Educational Programs and Support Services: There is a targeted goal to increase the percentage of students who experience a "sense of belonging" at Green River by five percentage points annually. The college is measuring this through student surveys, to help them determine whether or not this objective is being met.
4. Integrated and Effective Organizational Structure, Systems, and Processes: By 2026, Green River College is aiming to have established an equity-focused approach for employee recruitment, hiring, and onboarding. They're also working towards implementing a comprehensive organizational framework, which employs equity-centered principles in shared governance, planning, resource allocation, assessment, and policy development. Included under this strategic pillar is also an effort to increase the representation of faculty and staff of color, aiming to match or surpass the levels in neighboring colleges by 2026.
5. Accessible and Responsive Facilities and Technology​​: One of the success metrics for this pillar is the goal that by 2026, they will have implemented a Facilities Master Plan and a Technology Plan designed to promote accessibility and equity-centered teaching and learning.
6. Impactful Community Connections: By 2026, Green River will be the foremost institution of higher education in the region; one of the ways they are doing this is by building strategic community connections. They are making inroads with the local food bank, strengthening connections with veteran services, visiting and volunteering at local high schools (in fact, all educational institutions—from K-12), establishing artist and speaker series', and uplifting partnerships with the City of Kent, and South King County, Washington.
Strategic Plan Example 2: Strategic Innovations in Accessibility with Gallaudet University, DC
Located in Washington, D.C., Gallaudet is the world's only university that specifically caters to Deaf, Hard-of-Hearing, Deaf-Disabled, and Deaf Blind people, of all backgrounds and identities.
Gallaudet's strategic plan spans an impressive 10 year vision that will situate them as a "beacon" for the community's values and vision for their student community. This vision will offer improved opportunities for work, career advancement, and an accessible student experience that affirms the value of their diverse student body. In their "Gallaudet Promise," they aim to uplift the "lives and experiences of all Deaf people of different intersectional identities, wherever they are."
The "Gallaudet Promise" is the university's strategic focus built around five action areas:
1. Transformational Accelerators
5. Creativity Way, Including the Memorial Project
Watch an explanation of Gallaudet's new Envisio-powered public dashboard in ASL! Click "CC" on the video player for closed captioning.
Gallaudet's strategic plan has made a particular effort to embrace innovation as a tool across all of their pillars. This makes sense: accessibility and innovation go hand in hand. Assistive technology, as well as improved online access and tools, are a component of the first action item, but relates to the other areas as well.
In general, when it comes to higher education strategy and accessibility, higher education institutions are a great place to implement changes around accessibility. They are (typically) moving to be more welcoming to assistive technology, and may even be involved in the development of innovative approaches to education, accessibility justice, and the role technology can play. All students with all sorts of access needs attend universities or colleges—ensuring accessibility to higher education is critical for those with disabilities to be prepared for the workforce and (ideally) achieve a better degree of upward economic mobility and access.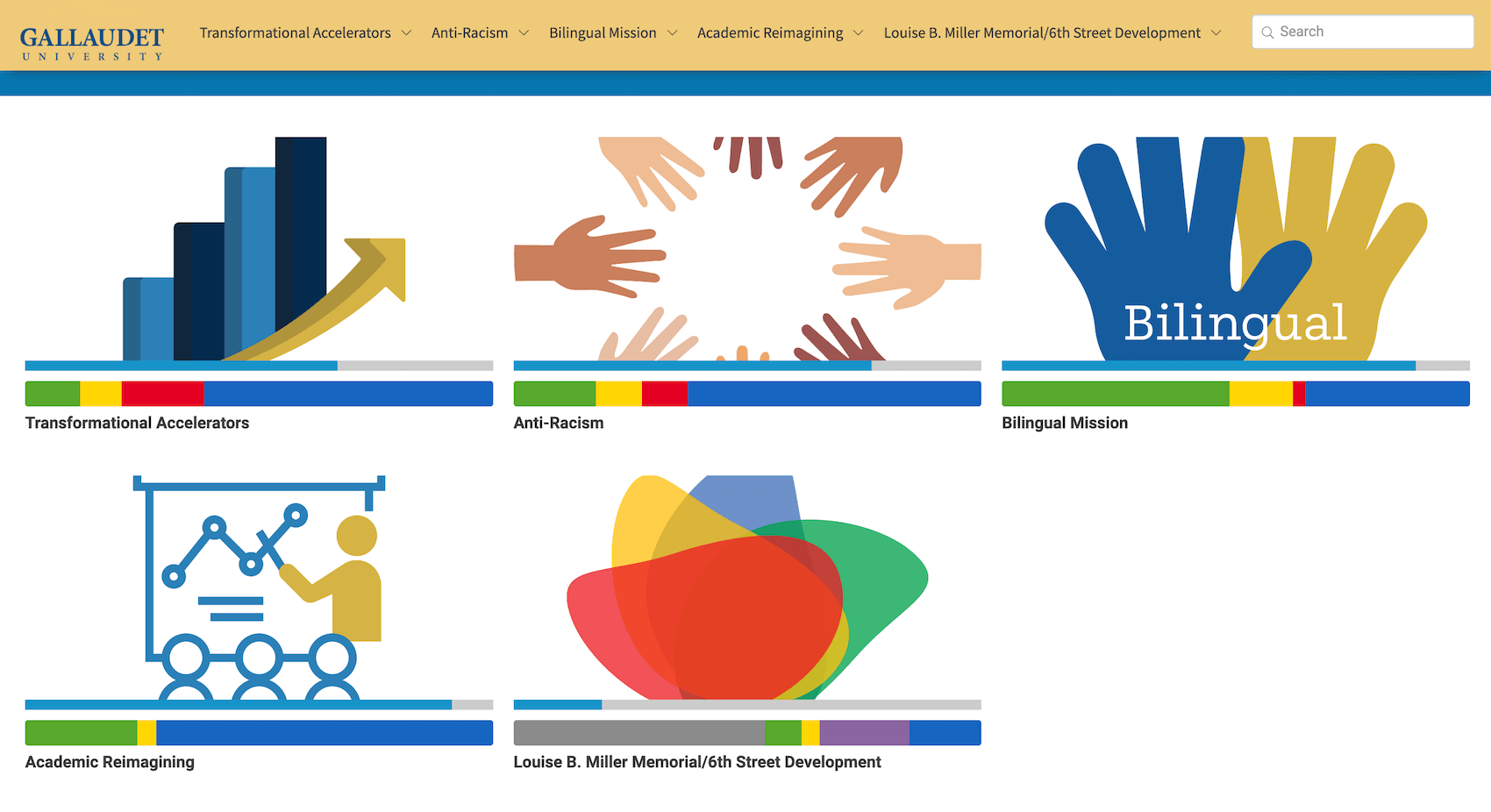 A strategic plan in higher education related to accessibility should include a comprehensive needs assessment. It should also work carefully to ensure a budget that allocates adequate resources to the students, while providing training and raising awareness among faculty and staff, ensuring physical and digital accessibility, offering tailored academic support services, collaborating with disability support organizations, and implementing a feedback mechanism, so they can evaluate and improve their services on an on-going basis.
Gallaudet University is working on all of these areas. They are measuring progress by establishing new customer service operating models, establishing an online platform to disseminate research, lectures, films, and other content produced by The Center for Black Deaf Studies, and restructuring entire sections of the university learning management systems that are able to accommodate a truly bilingual (ASL and English) experience, to better create opportunities for their students and help other sign language economies grow.
Strategic Plan Example 3: Best Practices Measuring Performance with NEOMED University, OH
Best practices for strategic planning in higher education include getting very clear on what objectives are being measured, and why. Understanding the definition of success and identifying priority areas for action are crucial. Without a clear understanding of the problems to be addressed, it's challenging to initiate a strategic action plan in higher education. As we see across the public sector, higher education strategic objectives can often involve a mix of the more abstract, impact-oriented metrics (measuring a "sense of belonging"), and tangible, output-focused goals ("Increase number of mobile clinics in low-income areas by 15%"). As a best practice, it's good to be granular and specific about what kind of performance measurement program you're using, sharing how success is measured, and making sure your goals are all SMART: Specific, Measurable, Achievable, Relevant, and Time-Bound.
At Northeast Ohio Medical University (NEOMED) in Portage County, Ohio, they do exactly that!
At NEOMED, success is measured across six pillars through forty-two strategic initiatives. Their strategic plan emphasizes promoting diversity, equity, and inclusion among students, staff, and employees. Given NEOMED's role as a leading medical research institution training future medical professionals, these values are also very practical metrics. For instance, the university tracks performance measures such as gender demographics and specific actions aimed at reducing disability stigma as outlined in their Strategic Plan: Creating Transformational Leaders Dashboard. Whether it's a broad, impact-focused goal like fostering a more inclusive environment or a specific, output-oriented objective like establishing a low-cost tutoring center in the library, a well-structured strategic plan provides the necessary steps to initiate and maintain progress toward these goals.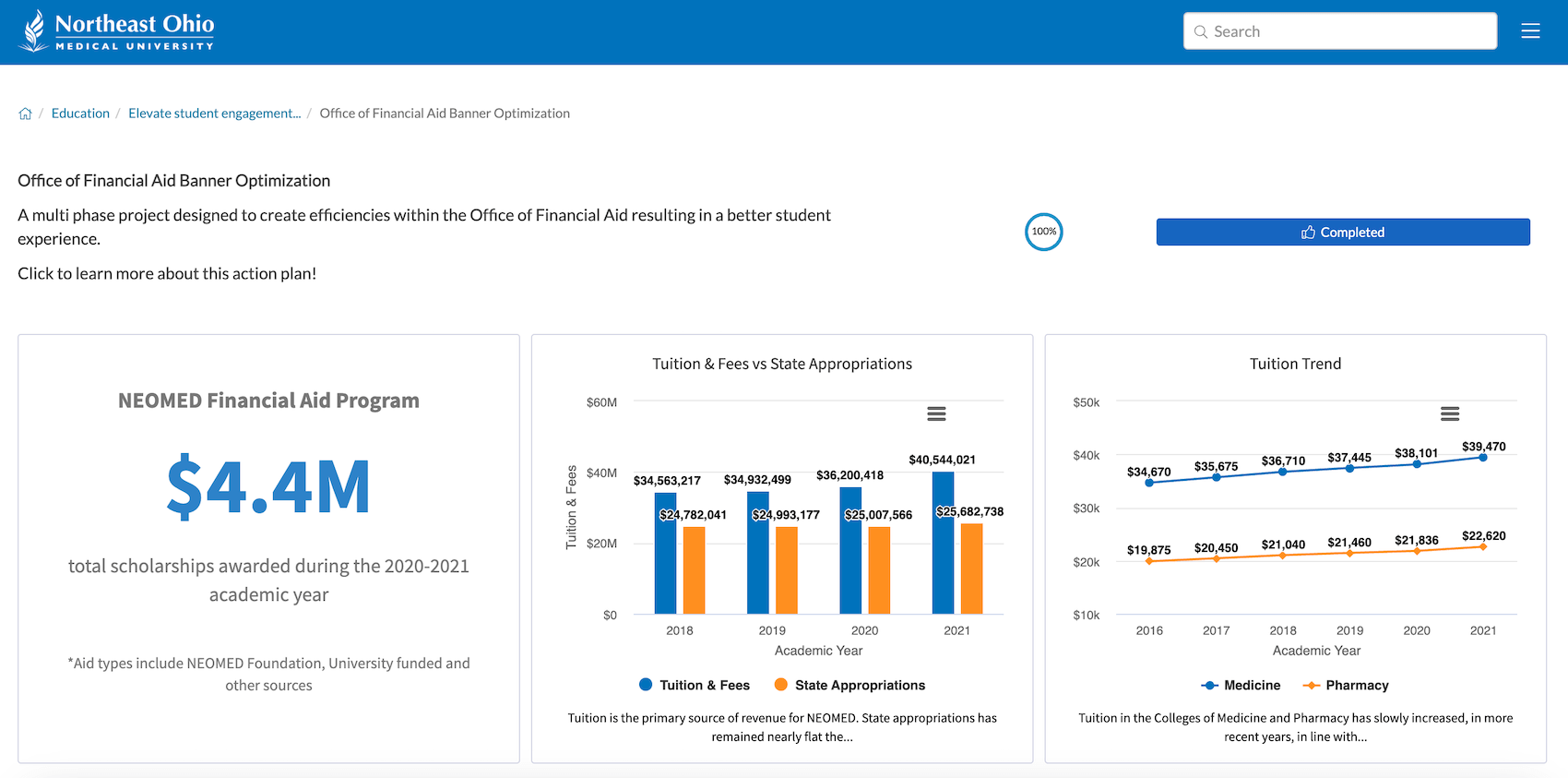 For instance, we can see with regards to their financial aid banner optimization, they are measuring the performance of this project against data regarding financial aid and tuition. Financial aid is a pressing matter for NEOMED–they want to ensure people from diverse backgrounds, including economically disadvantaged backgrounds, are able to attend medical school. They want to become experts in financial aid content, utilizing their expertise to educate NEOMED faculty, staff, and students about the available student aid policies and possible funding opportunities. Tracking data over time—such as seeing how many scholarships have been awarded over time—demonstrates how often these resources are being used, and can indicate how accessible they are.
—
It's important for higher education institutions to strategize effectively to maintain their relevance and competitiveness. Embracing progressive, innovative processes and being meticulous with data is a great way to lay down a strategic plan that also balances the complex network of relationships of internal educators, students, administrators, and the wider communities served. A higher education institution's strategic plan plays a pivotal role in the growth of the institution and the wellbeing of students! We love to see these strategic plans that embrace data to drive equity, make changes around accessibility, and push for better, more meaningful performance measures.
"All of the metrics related to our strategic plan live in Envisio, and we have assigned the ownership and agency of those data points to certain people. It's helped us develop a common lexicon, and it is the tool in which we demonstrate our progress. Oftentimes, the focus of it is really to celebrate all of the people who contribute to our strategic plan. All of those contributors, the 90 plus folks that are in Envisio, deserve to be recognized and congratulated and to see the impact of the work that they're doing. It's important to show the collective impact on driving the mission forward."

— Lacey Madison, VP Strategy and Transformation, NEOMED.
Get the Guide↓
So you've got your plan, but how can you go from strategy to operationalization? What about aligning your budget with your strategy? Our free, comprehensive guide From Strategy to Action: A Guide to Operational Planning for Local Governments & Public Sector Organizations, contains insights gathered from the experiences of over 150 public sector organizations, including higher education institutions.
Download now for practical guidance on operational planning now!